By Nick
Back in the day, my social media outlet was the DVC News Forums. I would write trip reports for each of our visits to Walt Disney World and Disneyland, and I'm sharing them here.
Some trip reports were more in depth than others, and this one is on the more descriptive side.
Also, as this was a "live" trip report, I jump back in forth in time, making live comments and then going on to describe activities earlier in the day.
Any commentary I make will be in italics.
Part Four: Monday 10/05/09
Part Three can be found here.
Day 4 - 10/5 - 9AM
We are watching the Disney cartoon channel at the moment. These are the classics from
the 30s and 40s featuring the Fab 5. the classic Goofy cartoon "How to Ride a Horse" just came on.
I was up at 630AM. Sat outside catching up on other forum posts.
Took a walk down to the resort store. I got the refillable mug, and got a coffee for me, and a grapefruit juice for Barbie. Okay, and I got a cannoli. It was pretty good too!
I need to go on a major diet after this trip.
When I got back I watched a bunch of turtles swimming in the canal. Not as exciting as what we've enjoyed the last few days, but at least it's wildlife! The only wildlife I see outside back home are my dogs barking at the neighbor's dogs.
Off to Downtown Disney to shop, and have lunch.
Kathy and Ron had 2 counter service credits left, and were generous enough to give them to us.
We are blessed to have met such a wonderful and generous group of people, all through this forum!
Thanks DVC News!
Day 4 - 10/5 - 525PM
Currently it's raining here.
This Disney cartoon loop station is great, but it is on a very short loop.
With the extensive cartoon library Disney has, they should have it on a much longer rotation.
Anyway, off the soapbox, and on with the report.
We got to Downtown Disney around 10AM. Went to the design your own t shirt place, but nothing caught our eye.
Walked through Art of Disney. Lots caught my eye, but we left empty handed. Bought 2009 Christmas ornament at the Christmas Store.
Around 11, we met Kathy, Ron and Tom in front of Wolfgang Puck Express.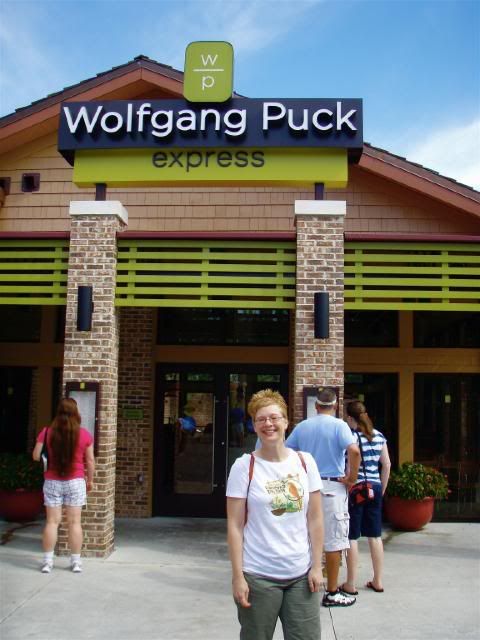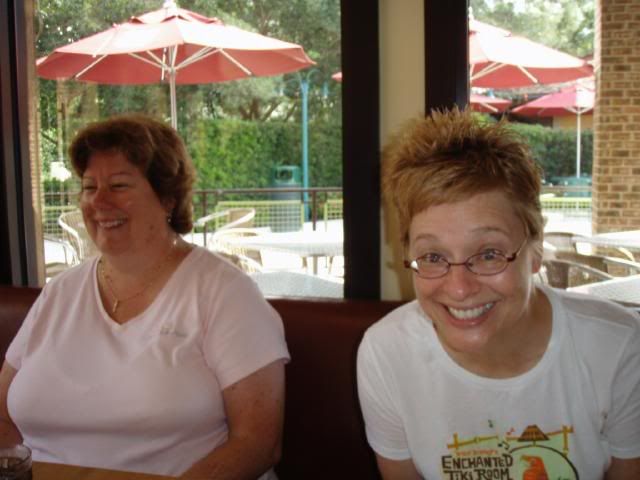 Lunch was very good. I had the Beef BarBQ, Barbie the spinach salad. For dessert we both had the Creme Brulee.
Everything was delicious.
After the gang left to fly home, we went to World of Disney. We picked up a few items, for friends and family, and got a really great rolling duffel bag for $18 with a $50 purchase.
We caught the bus back to BC. We got back around 2.
About 3, we went to Stormalong Bay. The water slide here is a blast.
Very long and fast.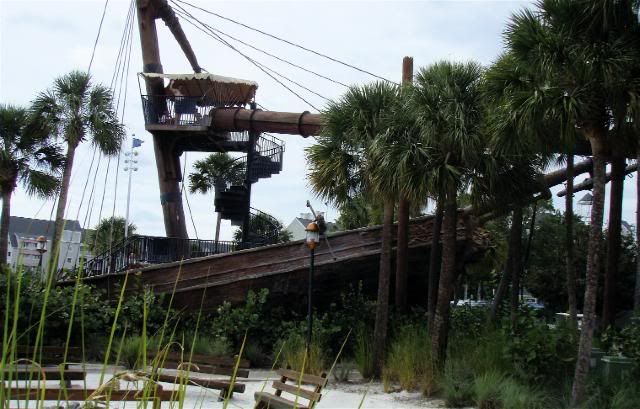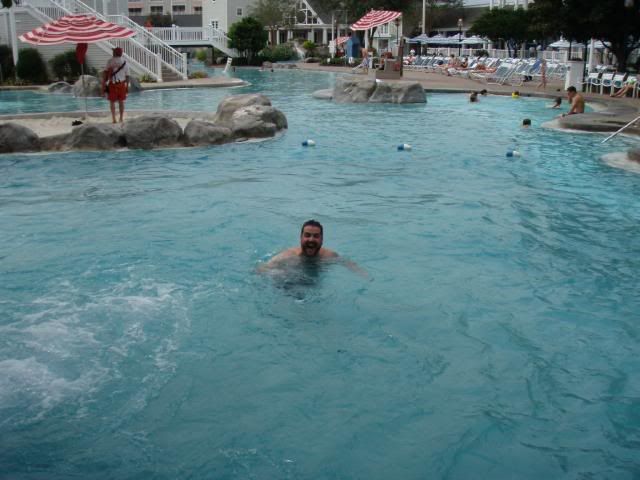 Around 430 we had a burger and shared banana split at Beaches and Cream. That thing didn't stand a chance, but Barbie went into sugar shock.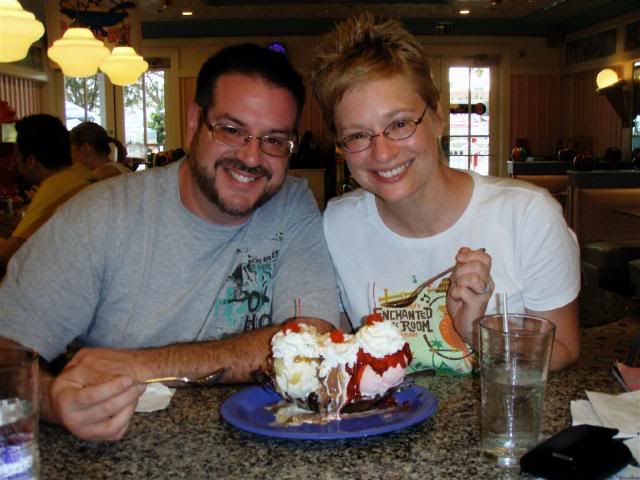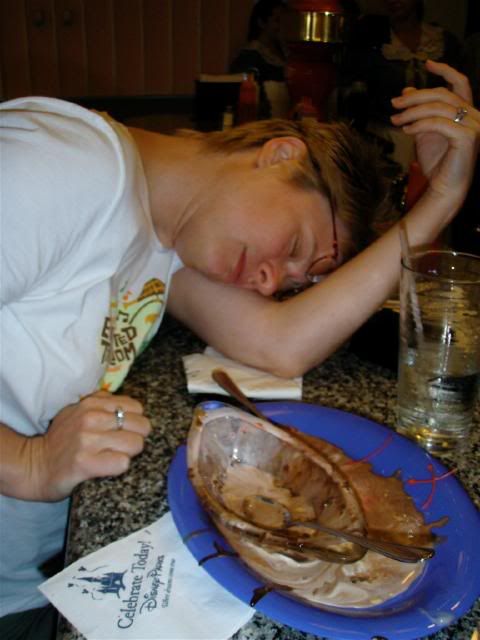 As we came out of the back of the Beach Club and walked towards the Villas, it started sprinkling.
We plan on going to the Disney Studios for Extra Magic Hours. Breaking out the ponchos.
Day 4 - 10/5 - 10PM
We didn't need the ponchos. The rain stopped by the time we left for the Studios. We took the boat over.
Went to the Tower of Terror, and walked on 4 times in a row. We rode every car, er, elevator, right to left.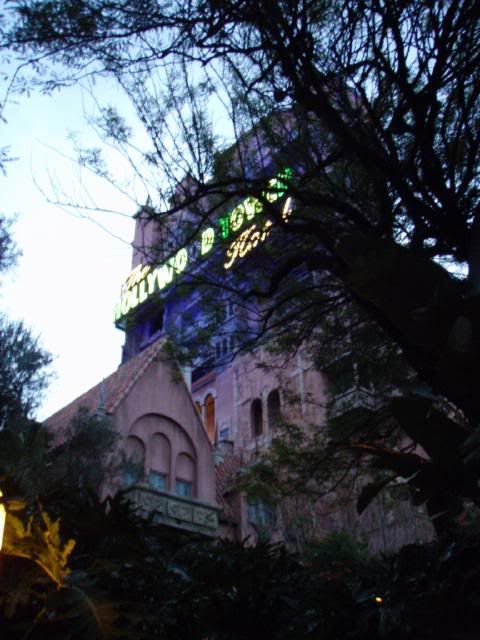 I feel the 2nd from the right is best, Barbie prefers the far left.
After that we walked back to Toy Story Mania to check the wait. It was 30 minutes, and it had started to sprinkle lightly, so we skipped that and instead went through some stores.
We decided to head back about 830, as it had stopped spritzing, and, as we had just missed a boat, we walked.
Man, it's humid out tonight.
We cut through the Boardwalk area, to see what was going on, and saw a bunch of scaffolding on the back, facing the pool.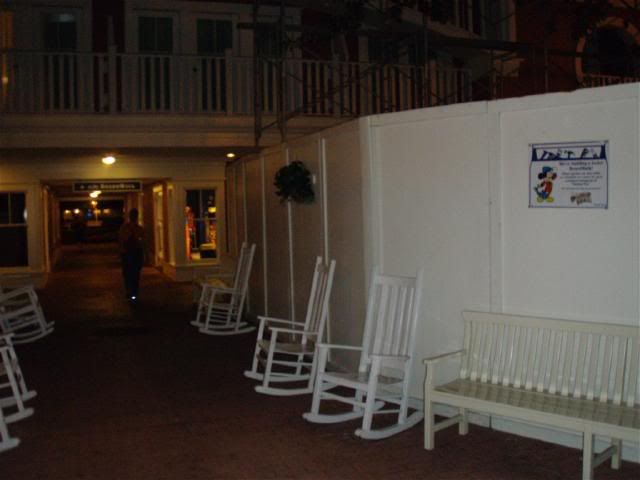 We stopped to watch the finale of Illuminations.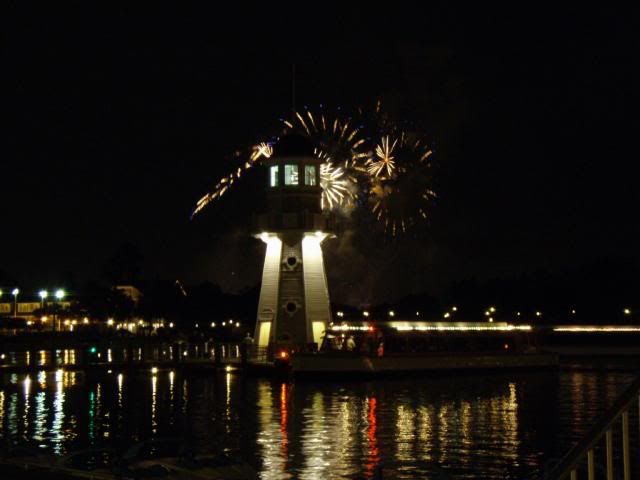 I was soaked by the time we got back.
We then cut through the Yacht club.
Well, that is a fancy lobby. And I looked like a street person, dripping sweat. The looks I got!
We joked about the uppity folks all the way back to the room.
"Did you see the riffraff they allow in here?! Why I never! Perhaps we should notify security."
Okay, time for a shower and bed.
Please stop by next week for part 5!