It's almost Halloween and Lisa Green (nice rhyming scheme) is doing some perfectly timed articles for this time of year over on her Living a Disney Life Blog.-Nick
By Lisa Green
So, I'm cooking dinner.
I do this a lot – cooking relaxes me and I like it. Maybe mowing the yard relaxes Raymond the same way. I hope so, since I wouldn't know how to start the lawn mower, much less maneuver it around the yard. But I digress. Back to the cooking. I'm waiting for the pasta to boil and the sauce to do its thing and I see the leftover wine from last night, secure in its bottle with my Haunted Mansion bottle stopper. That's how many of these blog posts begin – so many things around me to remind me of Walt Disney World and what I love about spending time there.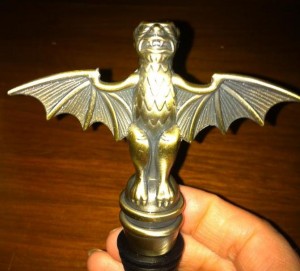 Haunted Mansion – My 10 Favorite Things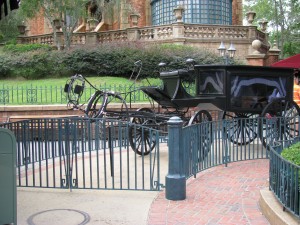 Location
– You can't beat the setting in Liberty Square – just at the edge of Frontierland. I prefer to approach from Fantasyland for the best first look of every visit – I'm weird that way, but hey! Makes me so happy!!!
Exterior
– Sure, the view from land is awesome, but the Mansion, viewed from the water (aboard the Liberty Belle), is breathtaking! The color of the stone, the shapes of the different wings, towers, and solarium, the black wrought iron fence, the green awning…all of it!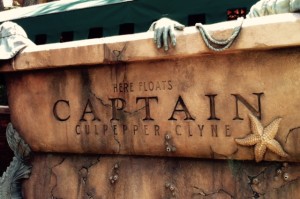 Queue
– Purists will lament the 2007 refurb that added many new elements to the waiting-outside part of the Mansion's queue. This was a huge improvement to us and we love all of it! Because the ghost horse & hearse and the cemetery are original and amazing on their own, don't miss them while you're taking in all the other interactive and hilarious elements. A feast for the senses, the Haunted Mansion's queue invites you to touch, look, and listen to an amazing number of details, large and small.
Costumes
– Some of the outfits Cast Members wear are less than memorable to me, but at the Mansion, they look great! Also, those appropriately-attired hosts know how to play their part. Sure, some are better than others, but overall, the Mansion's "help" couldn't be better!
Humor
– This is not a haunted house to be feared. Puns, sight-gags, and creepy charm abound. These spooks are friendly and funny – from the stretching room portraits to the ghoulies in the cemetery at the end of the ride…the mix of fun and fright is pure genius.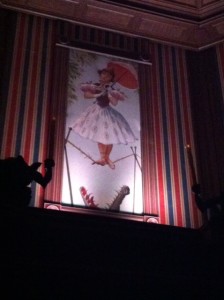 Doom-buggy
– What omnimover ride has a better vehicle? None. This shiny, black, rounded and oddly cozy capsule is the perfect transportation. The ghost host (voiced by Paul Frees) speaks directly to you! This makes the experience seem personalized and adds a special element to the fun.
Madam Leota
– Leota in the crystal ball, Little Leota at the ride's conclusion – I love all her forms! ("
Goblins and ghoulies from last Halloween…Awaken the spirits with your tambourine
!"). She's mysterious and beautiful and her voice is perfectly frightening!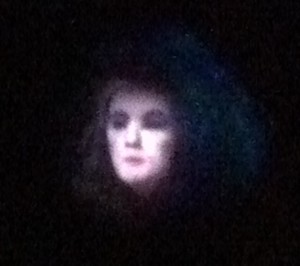 Wallpaper
– Now available on Disney's
Dooney & Bourke handbags
, the Mansion's wallpaper is but one of the hundreds of tiny details that make every tour special. I've ridden dozens of times and still, every time, I find some previously unnoticed element. This alone is why I may ride several times in a single vacation and more than once or twice in a single day. Glowing eyes, moving shadows, floating objects, ever-changing portraits, dancing, singing, partying spirits – all if it amazing!
Constance
– She's weird and clearly insane! Constance is the bride in the Mansion's attic. She's been busy, our Constance, and proof of her misdeeds is all around you as you glide through her diabolical history. If you're fortunate and you look carefully, you can find her ring outside in the Mansion's queue before you go inside.
Singing Busts
– I LOVE these guys! First of all, catchy tune! They're also fun to watch as you glide toward the attraction's finale. Lighthearted and well-crafted, the final scenes are clever and interesting.
"Hurry Baaaaaaack……Hurry BAAAaaaaaaaack….Be sure to bring your death certificate if you decide to join us. Make final arrangements now. We've been dying to have you…"-
Little Leota
What do YOU love most about Magic Kingdom's Haunted Mansion?