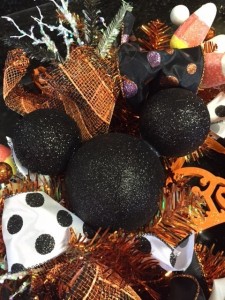 By Lisa Green
I haven't done a Disney DIY project since last Christmas and even though I find myself busier this fall than I ever thought possible (where's the free time my empty-nest status is supposed to afford?), I had an idea. I love Halloween! I like to dress up and I love cute and creepy decorations. So, I mad a new wreath over the weekend.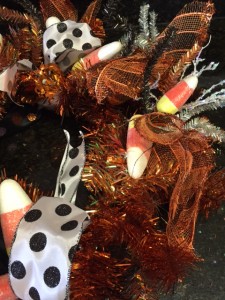 Maybe I should have called this post, "DIY Disney Halloween Wreath for the Lazy" or "Disney-inspired Halloween Door Décor for the Non-crafter" – basically, I made this wreath out of some things I had on hand and a couple of items I picked up at the local craft store (on sale, 40% off). If you like it and want to reproduce it, here's what you'll need:
Pre-made Halloween wreath from the discount store of your choice OR a plain orange, black, white, or purple wreath and 3-4 coordinating wide ribbons in a variety of prints/fabrics. My wreath came with sparkly candy corn, white ribbon with black polka dots, some orange and black plaid burlap-ish ribbon, and some sprays in orange, black, and white. It also had these very cool giant pipe-cleaners sticking out here and there in metallic Halloween colors.
Halloween/seasonal sprays of your choice if your wreath is plain
Christmas ornaments in two different, complimentary colors (to go with your wreath).
Any banner or accessory you'd like to add – I added the orange, sparkly "Halloween" because it was also 40% off and ended up being about $3.
Hot glue gun & glue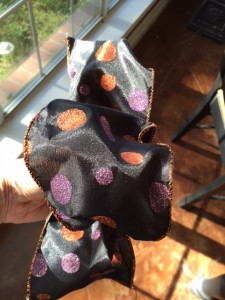 I wanted to add purple to my wreath
so I bought some wire-edged ribbon in black with orange and purple spots. Instead of bows, I just made some simple loops and wired the ribbon onto the wreath in a few random places. I made Mickey ornaments out of purple and black Christmas ornaments in two different sizes – just like I do for Christmas (see that project
here
) EXCEPT – I made sure the hanger was in the back so I could wire them onto the wreath and the hangers wouldn't show.
I'm not overly thrilled with the purple Mickeys because the ornament sizes weren't as suitable as the black ones were (the head is too small or the ears are too big – however you look at it), but overall, for slapping together a few inexpensive items, I'm pretty happy with my new Halloween-themed front door decoration.