By Lisa Green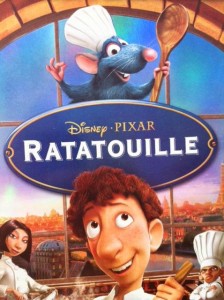 During the summer, my kitchen can get pretty crowded with fresh vegetables
. This means I sometimes have to be creative with new recipes so nothing goes to waste. I haven't yet resorted to squash-chip-cookies or eggplant-cupcakes, but someday it may come to that.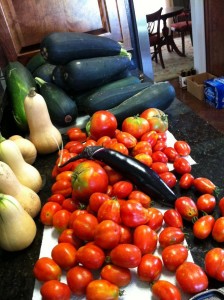 Last summer I made my own interpretation of Ratatouille
so we could have an at-home dinner-and-a-movie that both saved us some money for an upcoming Disney Cruise AND got us in the mood for one of the cruise's ports – in France!
I browsed in all my cookbooks and surfed my usual recipe websites
(plus a few unusual ones as well) and nothing sounded exactly right, so I used bits and pieces of several recipes, threw in my own version of "getting fancy with the spices" and the results were quite tasty. While Raymond and I are highly gluten tolerant omnivores, we regularly enjoy meatless meals and this turned out to be a great one. I served the leftovers with some baked mahi-mahi the next day!
The veggies in this meal
make a lot of juice which combines with tomato paste in the bottom of the baking dish to make a perfect sauce. Served over pasta, you've got a healthy, light, and satisfying meal. Grab a TV tray and press play. Enjoy
Ratatouille
and Ratatouille at the same time!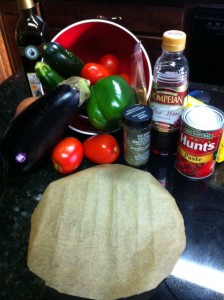 Lisa's Ratatouille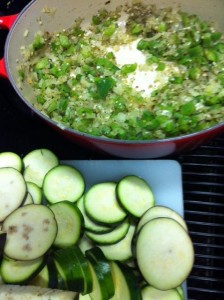 1 medium onion, diced
2-3 cloves garlic, diced
1 green onion, diced
Tomato Paste (use the 3 oz. or the 6 oz. can depending on how much sauce you like and how many veggies you use.)
2T extra virgin olive oil + more for drizzling
2t Herbs de Provence + salt and pepper to taste
pinch red pepper flakes
3-4 Roma tomatoes, sliced
1 eggplant, sliced
1-2 zucchini, sliced
sliced mushrooms (optional)
A couple of dashes of red wine vinegar (optional)
freshly grated parmesan cheese
Pasta of your choice, cooked al dente
Preheat oven to 375 degrees. Trace the top of the casserole dish you intend to use onto a piece of parchment paper – cut slightly inside the line to make a paper lid for your dish that will lay on top of the vegetables. Sauté the onion and green pepper in 2T olive oil until onion is translucent – add the garlic and cook for two minutes more. Stir in the Herbs de Provence and red pepper flakes. Remove from heat and set aside.
Spread tomato paste in the bottom of casserole dish. This is when I add a couple of dashes of red wine vinegar to the tomato paste. I like the tangy addition to the sweetness of the tomato paste – but this is totally up to you. (I'm sure it's still delicious without the vinegar.) Spoon about 1/3 of onion/pepper mixture over tomato paste. Then begin spiraling sliced vegetables in a single layer – drizzle with olive oil, salt and pepper (to taste), top with parmesan cheese and 1/3 of the onion/pepper mixture. Add one more spiral layer of veggies, drizzle with oil, top with the remaining onions and peppers, add more parmesan. TAH-DA!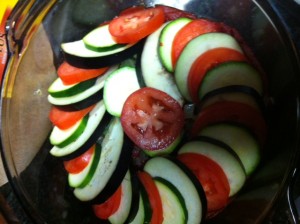 Now add the little parchment-paper lid and tuck your masterpiece into the oven for 40-50 minutes depending on how well-done you like your vegetables. Be sure you scoop down into the sauce at the bottom of the dish when serving.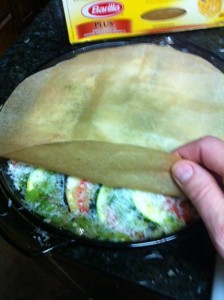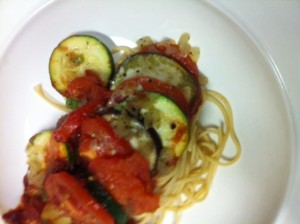 What's your favorite Disney dinner and a movie combo?
This article was originally posted on the Living a Disney Life Blog.