By Lisa Green
You know how a few years back 3D movies started to make a comeback in the theaters?
You can now pay extra to see many new movies in a 3D format. BAH! This new 3D business is nothing like the really cool original 3D movies! Those were the BEST! The audience would practically jump out of their seats and screams were guaranteed as the images in the movie seemed to fly right at you. People would regularly put their hands out to try to touch the 3D objects seeming to hover right in front of their faces. What fun! What thrills!
These new 3D movies are nice and all, but are not nearly as exciting as they were in the good old days.
Thank goodness for Disney World – where you can find some of the very best 3D movie experiences on Earth. They DO still make 'em like they used to and you can find one at each of Disney World's four parks. If you haven't visited before or if (GASP!) you passed up the chance, you really need to see at least a couple of these examples of motion picture genius next time you're at the World. Short on time? I'm sharing my three favorites with you and, surprise! I'll give you a little commentary about why I think each show is worth a visit.
1. Mickey's Philharmagic
– Do NOT miss this one. It is spectacular! Don your "opera glasses" for this show that highlights our favorite Disney movie songs and packs a few extra surprises you've absolutely got to "see". I believe it's called "smell-a-vision" – and in a really good way. Plus Donald has a very big role (and you know how I feel about Donald)! Fantasyland, Magic Kingdom. This 10 minute show is appropriate for all ages – some might even want to see it again and again. Let them, okay?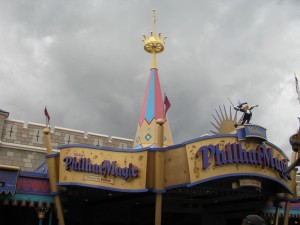 2. Muppet*Vision 3D
– This is an awesome way to take a big break from the Florida heat (or rain). This attraction includes a 15 minute introduction before the 17 minute film – but the fun starts long before you enter the theater. Take a few minutes to look around outside at the building before you enter the pre-show area. Once inside, be sure to notice in all the sight gags that abound here – just what we'd expect from the Muppets! If you notice a sign that says "
the key is under the mat
" – it's perfectly fine for you to check! I think all children from brave toddlers on up will find something to love about this attraction.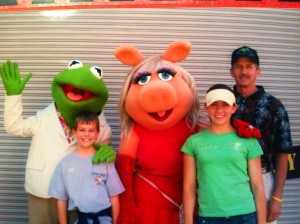 3. It's Tough to be a Bug
– Located beneath the Tree of Life in the Animal Kingdom park – this attraction is clever and unique. Reunite with some old friends from
It's a Bug's Life
and let them introduce you to the wonderful world of insects as you've never seen it before. For this attraction, you'll wear "bug eyes" to properly view the show. There are some pretty significant surprises in this movie that may be too much for small children.