By Lisa Green
Editor's Note: Barbie and I had a NOT so great Hoop-Dee-Doo experience a couple of years back, but, as I want to be a fair and balanced blog, I thought I should share Lisa Green's much rosier view of this Disney classic. -Nick
If you are looking for a fun, family-friendly-dinner-and-entertainment
all-in-one experience on your Walt Disney World vacation – you can't beat the Hoop-Dee-Doo Musical Revue!
Described on Disney's website as "A hilarious, high-spirited hootenanny the whole family will enjoy, accompanied by a finger-lickin' countrified feast" – good food meets good fun at the Fort Wilderness Resort and Campground's Pioneer Hall.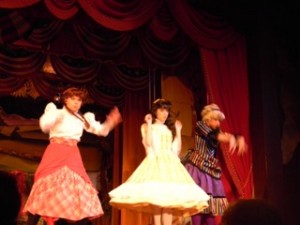 The Fam and I have seen the Hoop-Dee-Doo Musical Review on more than one occasion
and let me tell you – it is indeed hilarious and highly entertaining. I put it to the true test for any type of entertainment and once brought along not one, but TWO 15-year-old boys. If they gave it a "two thumbs up" rating (and they did), you know it's absolutely fantastic! They thought the show was corny – but in a really good way. Added praise – They both asked to go again the next time we went to Disney World.
The Pioneer Players
perform skits, sing, dance, and interact with the audience – it's energetic, a little bit silly, and completely different from anything else at Walt Disney World. The dinner lasts approximately 2 hours and while you're eating, you're bound to notice that the Pioneer Players clearly love what they do. With colorful characters like Claire de Lune and Six Bits Slocum – children and adults alike are completely captivated!
If you're using Disney transportation, you can catch a boat
at the Magic Kingdom or at the Contemporary Resort and enjoy a tranquil and relaxing cruise across Bay Lake to the Campgrounds at Fort Wilderness. Once the boat docks, it's just a short walk to Pioneer Hall. After checking in, you'll be seated at your table and the all-you-care-to-eat, family-style dinner will begin. Your server will bring cornbread, salad, baked beans, fried chicken, and BBQ pork ribs – all you want! Soft drinks and, for adults 21 and over, beer, wine, and sangria are included. Finally – the grand finale is Strawberry Shortcake – which is both a dessert and a musical production!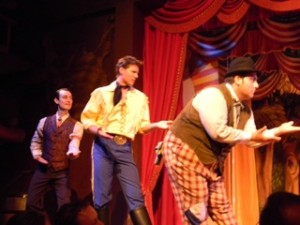 Pre-payment for the Hoop-Dee-Doo is required
and prices are based on where you choose to sit. Three seating areas are available: Main Floor, Category 2, and Category 3. The Main Floor puts you close to the stage on ground level. Category 2 is either floor level (back and/or to the sides of Category 1) or balcony tables directly out from center-stage. Category 3 is balcony seating to the right and left of the stage.
There's a reason this show has been running continuously since 1974 – it is delightfully excellent entertainment – and the food's good too.
Have you ever been to see the Hoop-Dee-Doo Musical Review? What did you think?
This article was originally posted on the Living a Disney Life Blog