By Lisa Green
I love Christmas time.
Even in an empty nest – Christmas is exciting. I start gearing up for the big day pretty early. I have a nine-foot-tall artificial tree that takes some wrangling to assemble and then all those darn branches need to be fluffed…really makes me miss my
free labor
darling children. I've got to work in stages and although time consuming, it's totally worth the effort. What do I love best about my big brute of a tree? It's a Disney Tree!
Raymond and I started collecting Disney ornaments when we first got married. Then, children tend to choose Disney ornaments
(if you're raising them right)
when ornament buying opportunities present themselves. I guess I should have known our tree would end up 100% Disney on a visit to Disney World a few years back….
Beginning Flashback Sequence…..
We took the bus to Downtown Disney. As I leaped from the bus and started skipping along to my most favorite store of all…okay, there may have not been actual leaping and skipping, but that's what I was doing in my mind…I felt a hand on my arm. Turning to Raymond with a questioning look in my eye (that's how married people communicate after a while), he looked at me very seriously and said, "Just have them ship it all home, okay?" What? – Needed a sec to digest the implication – OKAY! Yes, Dear, I will certainly do that. You can count on me! And off I skipped to Disney's Days of Christmas.
So now we have a few Disney ornaments
. Enough to fill a 9-foot tree. You think I'd be happy with that, but no, I still add ornaments every year. This year I have two new ones I bought while cruising in the Mediterranean on the Disney Magic. Enough? Nope. I like to make my own Disney ornaments too. They're easy and fun to make; plus you can save a bunch of money making them yourself – like maybe if you have to replace some broken ones or something.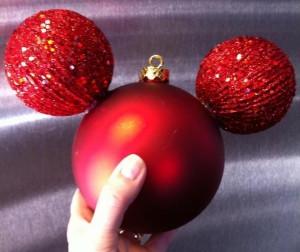 I made this ornament last weekend.
I've made this type before, but used sold black ornaments that were not shatter-proof – they turned out GREAT but now there aren't many left (I'm not blaming anyone or naming names). This year I was going for a little more sparkle (must have been thinking of Megan) when I hit the "50% off all Christmas decorations" sale at my favorite craft store. Please, promise me, if you make these ornaments you will not pay full price. Wait for a sale or download a coupon – you can always find a discount if you try.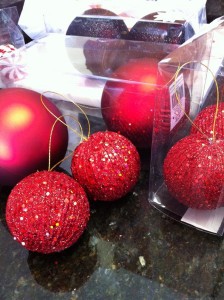 Do this:
Use shatter-proof ornaments if you can. Buy two sizes in any color you like that will work well together for the right effect. I loved the sparkly red and was super thrilled that they had strings for hanging (instead of built-in plastic hook holders) that could easily be removed.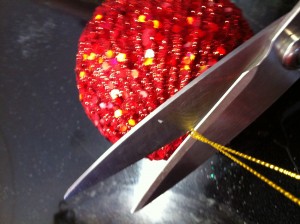 Cut off the string right down at the very bottom.
Fire up the glue gun and find the seam that runs around the big ornament you're using for Mickey's head – you want to glue the ears onto that seam.
No need to measure, just eyeball the ears (Ha! EYEball the EARS! Hahahhaha)…okay, I'm back. Put the glue on in a donut shape right were the string used to be and glue those ears on, one at a time. For best result, make the glue donut and wait 15 seconds (or so) for the glue to cool off a tiny bit before you stick the ears on.
That's it. Ta-Dah! Easiest (and cutest) DIY Disney ornaments in the world. Go. Shop. Make Some.
"…
And call me when you get back, darling, I do enjoy our visits."-
Edna Mode
, The Incredibles
This article was originally posted on the Living a Disney Life blog.