by Lisa Green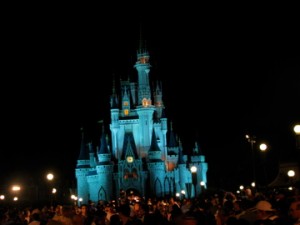 Visitors to Disney World have wonderful opportunities to experience amazing, truly magical nighttime shows in three of the four parks.
(RUMOR: Animal Kingdom may be getting a nighttime show of its own in the next couple of years.) Most people, after seeing them all, tend to have a favorite and may argue strenuously over which is the best – but everyone will agree on one thing: These shows are spectacular and for Disney fans, remarkably touching – the embodiment of all that we love about Disney World.
If you're headed to Disney World for the first time,
please make sure to see at least one (if not all) of these major events included with the price of your park admission.
TIP
: If your child is frightened by loud noises it would be worth the effort to try to work through that prior to attending a show with fireworks at Disney World. Disney goes all out – spares nothing for the sake of amazing and thrilling visitors. Unfortunately, this means some very loud BOOMs sprinkled throughout the displays.
Epcot's Illuminations: Reflections of Earth
-
While this one is my least favorite (don't judge – it can be your favorite and I won't think less of you), it is unique (sorry, I don't have a picture of the action). Disney's description is "Behold the past, present and future of Earth at this stunning fireworks show that celebrates the spirit of humanity." That's pretty deep for the young 'uns among us – so, here's my take: The show is actually in the middle of the World Showcase Lagoon, so position yourself strategically well ahead of show-time. Guard your spot zealously or a family with small children will infiltrate your camp by squeezing their smallest members between you and the fence – the parents will eventually follow and block your view completely – beware! Officially, the show is divided into three parts. Part 1: The Earth is Born. Part 2: The Triumph of Life. Part 3: Hope for the Future. – all played out on and around a 350,000 lb. Earth Globe – the "world's first spherical video display system". You kinda do need to see it at least once to understand how this all works – it's worth the effort and while small children my not understand the deeper meaning, they'll enjoy the special effects. The show is narrated by Jim Cummings (voice of Pooh, Tigger, and more).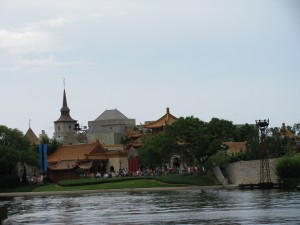 Fantasmic at Disney's Hollywood Studios
– This show uses a multitude of special effects in the most creative, unbelievable way and incorporates live and projected (on
water
) characters to enchant and thrill spectators. Oh, you'll hear whining here and there from people who don't like the fact that this show is so popular, you've got to arrive for a seat at least 90 minutes before show-time. Those whiners are also complaining that the show is tired, the same-old-thing and needs a re-fresh. I say Oh, puh-leeeze. If you think this Studios sensation has lost any of its shine, just take someone with you who's never seen it before.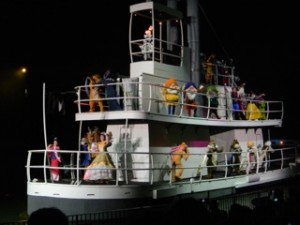 Magic Kingdom's Wishes
: My personal favorite! The voice of Jiminy Cricket over the park's speakers kick this show off (cue goose bumps). Then, weather permitting, Tinker Bell will actually fly down from atop Cinderella Castle before the most amazingly beautiful fireworks show begins. Get a spot down Main Street toward the front of the park (not too close to the Castle) and prepare to be amazed, astounded, and awed – you will say "ahhhhh"! Sentimental sorts, prepare to be teary-eyed – this show gets me every time. Watch carefully as the pyrotechnics will be unlike any you have ever seen (sappy me – getting choked up while I'm typing this – I'm not even there!). You go see Wishes and tell me you are not profoundly touched…the only thing that will ruin it for you is the guy blocking your view by filming the show on his Smartphone/mini-cam/iPad (devices vary) – which he holds up, right in the way, the entire time. Move away from that guy. Give him the stink-eye as you go.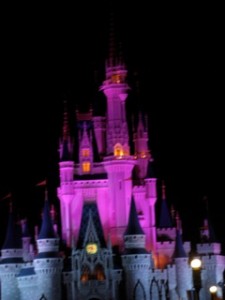 TIP:
If your little one just can't stand loud noises – the fireworks are still enjoyable from afar. Some restaurants at resorts on Bay Lake/Seven Seas Lagoon often offer Wishes-viewing-while-dining options.
There is actually one more show I need to mention
, but you can only see it if you're staying at a Magic Kingdom resort (Contemporary, Polynesian, or Grand Floridian, Wilderness Lodge, Fort Wilderness). It's the Electrical Water Pageant. This little light-parade-on-water makes its way around Bay Lake and the Seven Seas Lagoon. It's like a bed-time story – a little something special at the end of the day to say good-night and wish you sweet dreams. Starts around 9pm (visible at the Poly) and goes to around 10:20pm (passes the Contemporary last) – viewing depends on where you are. Note the cheerfully snappy musical accompaniment!
Time to weigh in – which nighttime show at Disney World is your favorite?
This article was originally posted on the Living a Disney Life Blog