By Lisa Green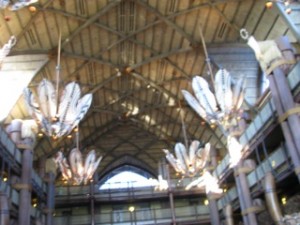 FIVE Great Things about the Animal Kingdom Lodge!
1. Gorgeous Lobby:
When you arrive at AKL and pass through its front entryway, be prepared for a breathtaking experience. The 6-story high lobby is stunning! Huge and open while still comfortable and inviting, the muted colors in this expansive, well-themed space welcome guests with an undeniable charm. If you feel like standing right in the middle and slowly turning in a circle to take it all in – go ahead! And don't forget to look up too!
2. Delicious, plentiful dining options:
The dining at AKL is so fantastic, we will eat here on every trip to WDW no matter where we're staying. It's a perfect way to end the day at the Animal Kingdom Park as it's just a short bus ride away. Of all the restaurant choices at Disney World, I consider AKL's dining options to be the most unique. Don't worry – Disney has a special way of making sure there's something on every menu to satisfy even the pickiest of eaters and the menus at Animal Kingdom Lodge are no exception. The Fam and I enjoy Boma – Flavors of Africa (buffet – home of the famous dessert called Zebra Domes) and Jiko – The Cooking Place (table service) so much, we've yet to try Sanaa (table service) although I hear it's wonderful. The Mara offers quick service dining and there are two lounges (Victoria Falls and Cape Town) as well as two pool bars (Uzima Springs and Maji).
3. Relaxing, well-themed pool areas –
Uzima Pool is an 11,000-square-foot oasis facing the Uzima Savanna. This pool offers gently sloping, zero-depth entry and a 67-foot-long waterslide. At Kidani, the Animal Kingdom DVC Villas, you'll find Samawati Springs Pool which, while smaller than Uzima, also offers zero-depth entry and has a 128-foot waterslide. Swimming not your thing? There are also playgrounds and jogging trails!
4. Learning opportunities for everyone.
There are programs for children, special sunrise safaris (including adventures just for tweens and teens), evening fire-side African story telling and more. The Fam and I have enjoyed meeting different Cast Members and learning about each one's home country.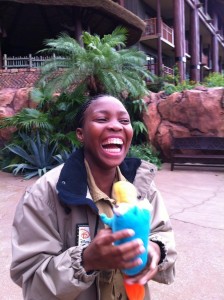 5. Oh, yeah – ANIMALS!
On three separate savannahs over 30 species of African wildlife are there – up close – for you to enjoy (no touching or feeding!). If staying in a savannah-view room, you can watch the animals from your window. If you don't have a savannah-view, don't worry. Right off the resort's gorgeous lobby is Arusha Rock, an elevated savannah overlook with great animal viewing all day long.
My two cents
: This is an incredible place to stay
IF
you have some extra time to invest. To appreciate the Animal Kingdom Lodge fully, you must spend time there – on Arusha Rock, visiting with Cast Members to learn about Africa, enjoying unique table service meals, and lounging or swimming at one (or both) of the pool areas. If you love resorts that are within walking distance of (or a short bus or monorail ride away from) your favorite park or if you spend all your Disney vacation time in the parks and none at the resort- Animal Kingdom Lodge is probably not for you.
This article was originally posted on the Living a Disney Life Blog.