By Lisa Green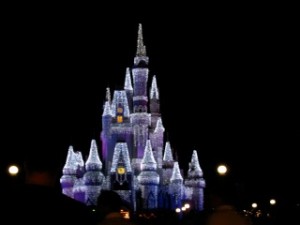 As I've mentioned many times, Disney's all about details.
That's what makes a Disney vacation so amazing and keeps bringing people (like US!) back time after time. No matter how often you visit a Disney park or resort, you will always notice new details, big and small.
The Christmas season brings on a whole new level of Disney detail magic.
It gives those Disney magicians the opportunity to go all out and delight you with their imagination, style, humor, and flair for presenting guests with unexpected surprises. If you've never been to the World during the holidays, you've been missing out on some wonderful experiences guaranteed to fill you with holiday spirit.
We've had the privilege of visiting Disney World twice during the holiday season
– and yes, because we went during the school break, the crowds were huge! Except for trying to get out of Epcot once after dinner on New Year's Eve, the throngs of visitors did not detract from our enjoyment of all the special Disney touches we found. I'm sorry we aren't able to visit this year – I hate to miss out on the Jingle Cruise – a new Disney magical surprise this year at Disney World that gives the Jungle Cruise a holiday overlay and seasonal Skipper dialogue!
I've put together a list of five of the special Disney holiday surprises we experienced once upon a time:
Chocolate sculpture at the Contemporary -
this was an amazingly extravagant scene from Pinocchio entirely made of chocolate. I'm sure this was a one-time-only bit of magic and I felt very lucky to have been there to see it!
Main Street USA and the streets of Disney's Hollywood Studios
all decked out in their holiday best.
Christmas Trees!
Everywhere and each one had its own design and special ornaments; themed for each tree's particular location. I was especially taken by the ornaments on the large tree outside the entrance to Animal Kingdom – fantastic!
Santa hats
– on everyone! Even the Spitting Stitch at Downtown Disney and the gigantic Dinosaur at Dinoland in Animal Kingdom.
Best of all – Cinderella Castle.
Pictures (mine, at least) cannot do justice to the beauty that is the castle covered in 200,000 lights. Some people say it looks dipped in sugar – I think it looks like Elsa from Frozen covered it in ICE! Stunningly gorgeous and completely breathtaking – for me, this is the very best holiday touch at Disney World.
If you're been to Disney World at Christmastime, what was your favorite bit of Disney holiday magic?
This article was originally posted on the Living a Disney Life Blog.