By Lisa Green
From our very own Disney Collection
(well, Joseph's anyway), I found a seasonal treat! This Disney Christmas album from 1980. (I hate calling it vintage – in 1980 I was in highschool.) Not only is the album cover adorable, the songs are just great! I mean who wouldn't adore an album from 1980 that features Molly Ringwald singing The First Noel?!?
Mickey, Minnie, Donald, Daisy, Chip, Dale, Goofy, and Pluto are joined by Larry Groce and the Disneyland Children's Sing-Along Chorus. Even Clarabelle Cow herself also makes a brief vocal cameo appearance!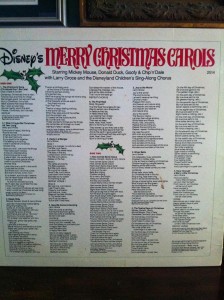 Track Listing:
1. The Chipmunk Song (Christmas Don't Be Late) – Chip 'n' Dale & Donald
2. I Wist It Could Be Christmas All Year Long – Willio and Phillio
3. Sliegh Ride – Mickey, Donald, Goofy & Larry Groce
4. Away In A Manger – Larry Groce
5. Here We Come A-Caroling – Larry Groce
6. The First Noel – Molly Ringwald
7. Here Comes Santa Claus – Mickey, Donald, Goofy & Larry Groce
8. Joy To The World – Larry Groce
9. Silver Bells – Larry Groce
10. The Twelve Days Of Christmas – Mickey, Donald, Goofy, Minnie, Chip 'n' Dale, Clarabelle Cow and Larry Groce
11. Have Yourself A Merry Little Christmas – Larry Groce
If you find yourself in the mood for some Disney Christmas songs of yesteryear, you can still find places online to purchase one of these timeless gems for yourself. Try etsy, ebay, Svoundtrack.com, or gemm.com – expect to pay $7 to $22 depending on album condition.
This article was originally posted on the
Living a Disney Life Blog
.