By Lisa Green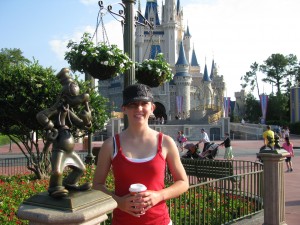 A Disney vacation is an investment.
It's an investment of both time and money and, I like to think, an investment in creating family memories that last much longer than
things
(like the latest video game or the trendiest jeans). Oh, there are plenty of ways to save money
on
your Disney vacation (a post on that at a later date), but I want to talk about saving money
FOR
a Disney vacation. If you are the kind of Disney fans we are – saving for that all important dose of Disney becomes a way of life. It doesn't feel like "doing without" or "making sacrifices" it's just doing what needs to be done to get where you want to be.
I wish I could say I've joined the extreme couponing bandwagon and get all our household goods virtually free. Yea…no. Our methods of saving are not of the "extreme" variety but save money they do and here's a list of a few that come to mind today:
I take my lunch to work everyday
– usually leftovers. No eating out at lunch unless it's a special occasion. Raymond works close to home, so he spends his lunch hour at the house – eating leftovers and taking Junior out for a mid-day run around the yard. If you think about eating lunch on a workday at a modest $5 a lunch for 50 weeks of the year for the two of us, we're saving about $2,500 a year!!!
We rarely eat out in general.
Before launching the
Vacation Initiative
, we ate at a sit-down restaurant at least once a week (usually every Saturday) – now it's more like once a month (if that). I'm not counting our standing Friday night carry-out pizza from the only pizza joint nearby with a drive-through window – it's Junior's big night out, going with us to pick up that pie, and I wouldn't dream of denying him the pleasure. I enjoy cooking very much and cook enough hearty meals that there are some pretty tasty leftovers to take care of lunches all week long.
We grow our own herbs and vegetables.
I don't consider myself a "living off the land" kinda girl (hello…I was raised in the city!), but living in Louisiana, married to a dreamy guy who knows agriculture – planting a kitchen garden is so easy, it'd be silly not to do it. I grow parsley, sage, rosemary and thyme (are you singing along?) and also basil, mint, and oregano. Raymond takes care of the spring and summer supply of things like peppers, mixed salad greens, tomatoes, corn, zucchini, eggplant, and butternut squash. I don't do canning, but I do freeze veggies and am so appreciative of being able to reach in my freezer and make butternut squash soup during the winter – it's great!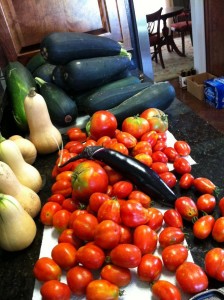 I learned to groom the dog.
Go ahead – I laugh when I think about it too, but the investment in some electric clippers and dog shampoo sure paid off in spades when Junior grew to 60 lbs and it cost $100 per grooming visit. Because he's part standard poodle, our little guy must be clipped regularly or he becomes a huge, shaggy, matted mess! Just today he got a haircut and he looks pretty cute if I do say so myself. I'd say I'm saving conservatively $600/year.
Finally – as you've seen if you've visited my little Disney blog before -
I make my own Disney Christmas ornaments and decorations.
And, as I've mentioned, I do not buy craft supplies at regular price EVER. I also like to make scrapbooks of our Disney trips…not super fancy ones like those incredible scrapbook artists make, but simple ones that allow Megan and Joseph to look back at those good times and remember. Remember how we were as a family through the years, remember the incredible things we saw and the adventures we had and hopefully, dream about the day they can share those happy times with their own children.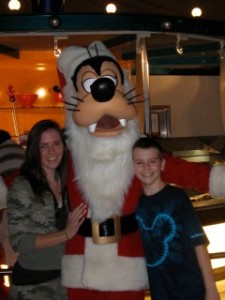 Share your tips for saving for Disney vacations!
This article was originally posted on the Living a Disney Life Blog.