By Nick
Back before I blogged, I participated regularly in the DVC News Forums where I would post trip reports, such as this one from November of 2011.
Obviously part of today's post contains our side trip to Universal. Please hang in there, we get back to Disney at the end!
Any current commentary will be in italics.
PART 5 : 11/15 & 16/11
Part 4 can be found here
Tuesday, November 15th
We got a cab over to Universal Studio's Islands of Adventure, and were there at opening. It was not very crowded, and we walked right into The Wizarding World of Harry Potter. We knew we should head right for the Harry Potter and the Forbidden Journey ride, but, wow. Just, I'm still really, really impressed, just looking at our pictures.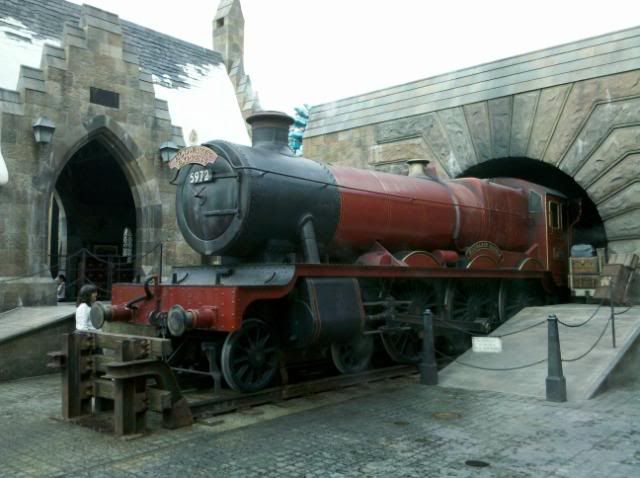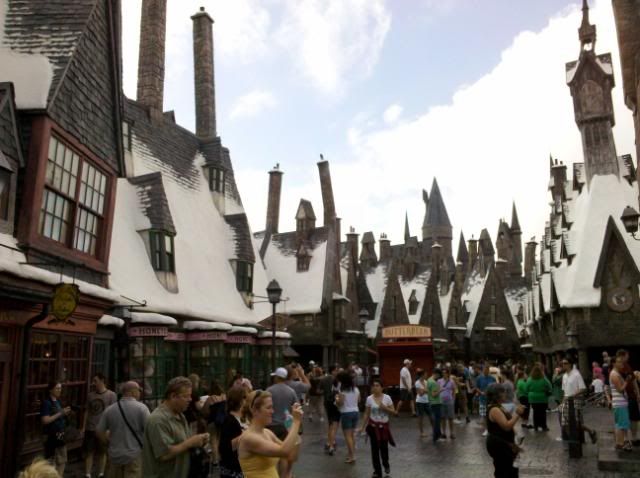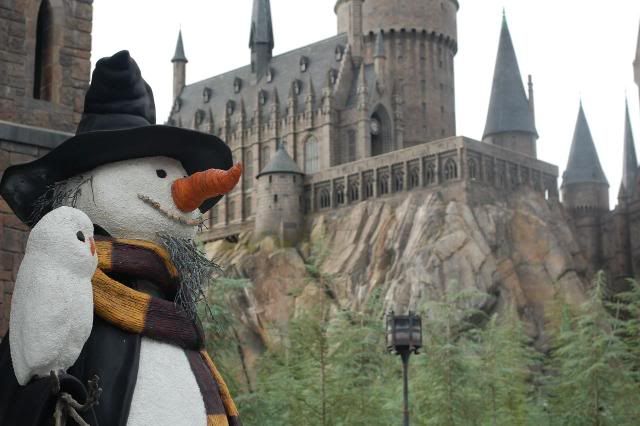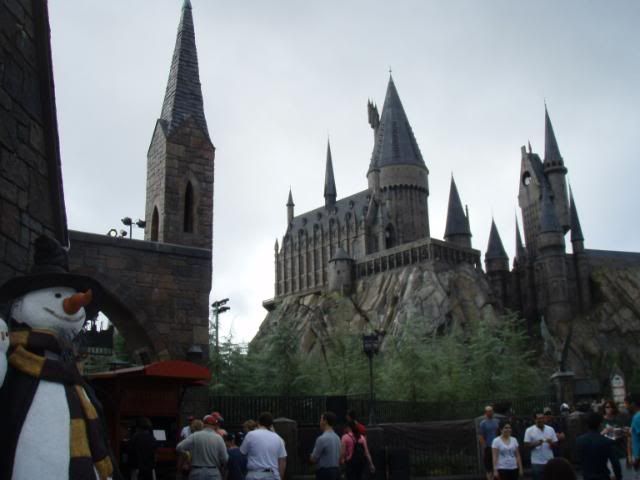 Absolutely fantastic.
We took some pics, and then headed for Forbidden Journey, which we walked right on. It was amazing. It also almost made me sick. I really need to find a motion sickness solution.
Barbie and Josh had no issues, and went right back on.
After that, we got Butterbeer. I am now an addict. Throughout the day, I had 4.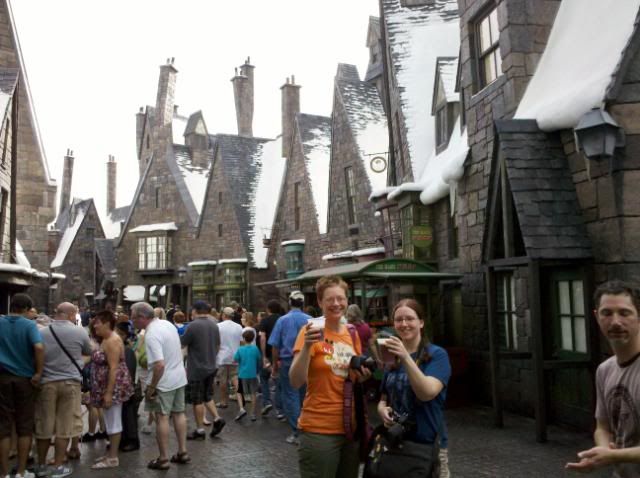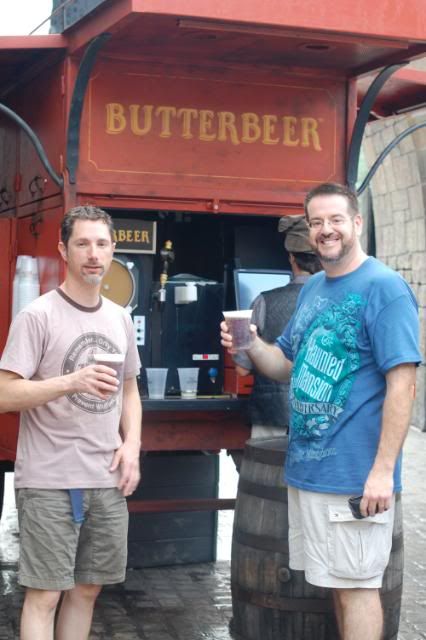 We walked around the shops, which look amazing, are beautifully themed, but are very tiny and cramped. In fact, that is a good way to describe most of this area. I'm hearing they are going to be expanding, and that will absolutely get me back in.
(Diagon Alley is now open and as wonderfully themed!)
We had an early lunch at the Three Broomsticks. The food was just so-so. I've been told that one central kitchen makes all the food for the restaurants in the park, and it sort of came over. The chicken and ribs were dry. The surroundings were gorgeous, the food looked delicious, but it unfortunately did not live up to the look.
(Back to Diagon Alley, the food at The Leaky Cauldron is terrific.)
After lunch, Josh and Barbie went off to ride both sides of the Dragon Challenge, while I had a real beer in the Hog's Head. I was told the beer was made just for there. It wasn't bad, very Killian's Red.
Jill and I walked through the queue of Dragons, which was very nicely themed. But the coolest queue is in Forbidden Journey, and we all walked through Hogwarts. You can walk through the castle to see the very well done effects. We easily spent 40 minutes in there.
I actually watched a teenage girl walk into the room where Harry, Ron, and Hermione are projected, telling you about how to go on your journey, and burst into tears. It is THE Mecca for Harry Potter fans.
It may seem like I'm gushing. Because I am.
By now, it was 1pm, and we headed to other park locales. We eventually made our way around to Spider-Man. Barbie, Josh and I rode, and for some reason, I was fine, so we rode again.
Barbie and Josh rode Hulk twice, and we walked back around for more Butterbeer, before leaving for the day.
That night we had dinner at Trail's End, and Barbie and I had an early evening, as we had to pack.
Josh and Jill went to the pool and hot tub.
Wednesday, November 16th


We were at rope drop for Disney Hollywood Studios, and went right on Toy Story Midway Mania.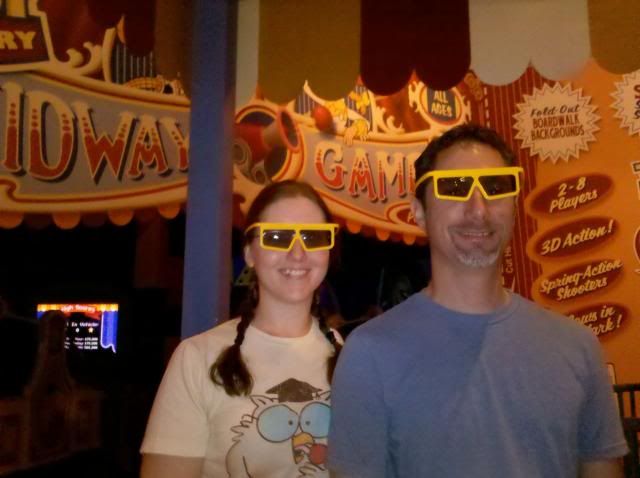 Josh and I headed over to Rockin Roller Coaster, while the girls went pin trading, and we got the front row.
We then rode Tower of Terror, and met the ladies afterwards, and had cupcakes for breakfast at Starring Rolls.
Peanut Butter and Red Velvet.
Barbie, Josh and I rode Star Tours next.
By now, it was around 11, so Barbie and I decided to head back. Josh and Jill stayed 2 more nights.
Barbie and I got off at the Wilderness Lodge and I grabbed a burger at Roaring Forks. We had a 120PM Magical Express pick up.
It was a great trip. Thank you for reading!
Thank you for following along on another trip, and Happy Thanksgiving to our readers in the United States.