Tomorrow marks the 60th Anniversary of the airing of Davy Crockett's Keelboat Race (I had to Google that) so I thought this would be the perfect time to post this article from Lisa's Living a Disney Life Blog! - Nick
By Lisa Green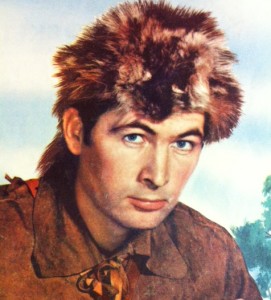 Way back in 1955 (a long time ago),
THE best show on TV was Davy Crockett. I wouldn't know myself, of course, because I wasn't born yet, but I have heard a lot about the show that was a mid-century marvel, the amazing Fess Parker and the role that made him famous.
"Davy, Davy Crockett, King of the Wild Frontier"
The 1955 season of this phenomenal hit consisted
of only three episodes about the life…and death of the famous Davy Crockett. Unfortunately, the show's hero died at the Alamo and that's how the first season ended. The explosion of Davy Crockett mania took off anyway! Coon skin caps and Davy Crockett lunch boxes were flying off the shelves, Davy Crockett comic books and bubble gum cards were all the rage, and "The Ballad of Davy Crockett" was at the top of the music charts for 16 weeks. Hundreds of millions of dollars in Davy Crockett licensed merchandise made it's way into the hands of children across America.
Walt Disney, having already killed off the main character
of his wildly popular program, did what he could to keep the momentum going by producing two more shows for the next TV season which highlighted Davy Crockett's legendary adventures. The entire Davy Crockett television series was only made up of 5 hour-long episodes – but that was enough to create a memorable national sensation!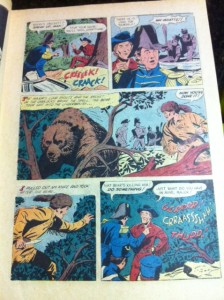 Fess Elisha Parker, Jr. (August 16, 1924 – March 18, 2010), born in Fort Worth, Texas, was forever known for his most famous role – that of Davy Crockett. Like me, you may remember him as another famous frontiersman, Daniel Boone – the role he took on in 1964 and played for six years. Fess Parker retired from television (and acting) in 1970 and went on to a successful career in real estate, opening a Santa Barbara resort hotel, The Fess Parker (a Doubletree by Hilton) in 1986. Shortly thereafter, Fess Parker turned his business talents in a new direction and purchased a 714-acre ranch – This year, the family owned and operated Fess Parker Winery will celebrate it's 25th year in business.
"Born on a mountain top in Tennessee
Greenest state in the Land of the Free
Raised in the woods so's he knew every tree
Kilt him a b'ar when he was only three.
Davy, Davy Crockett, King of the wild frontier!"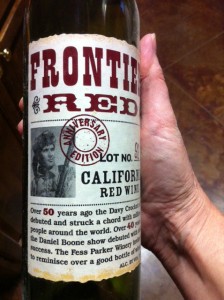 Special Note: My thanks to Joseph Green (and his extensive Disneyana collection) for allowing me access to his Davy Crockett Dell comic book! Me access to his Davy Crockett Dell comic book!