By Nick
Part Five of this Walt Disney World trip report from May of 2009 that I wrote for the DVC News Forums can be found here. Any commentary I make will be in italics.
Who: My wife, Barbie, my friends Todd and Meghan, and their baby, our Godson, Flynn who was 16 months old, and me.
Saturday, May 23rd & Sunday, May 24th, 2009
Saturday:
I looked out our room window (
at Port Orleans French Quarter)
at about 730am, and saw this blue stuff in the sky, where the previous 5 mornings, I'd only seen gray.
And, get this, sunshine!
Meghan had an early class (she was down for work). Because we'd had a late evening, Todd and Flynn slept in.
Barbie and I were at Epcot for rope drop. We took it slow, got pics of the topiaries around future world and did a little pin trading. Right at the main entrance, there were topiaries of Snow White and the 7 Dwarves, and the Grumpy was happy, which made me grumpy!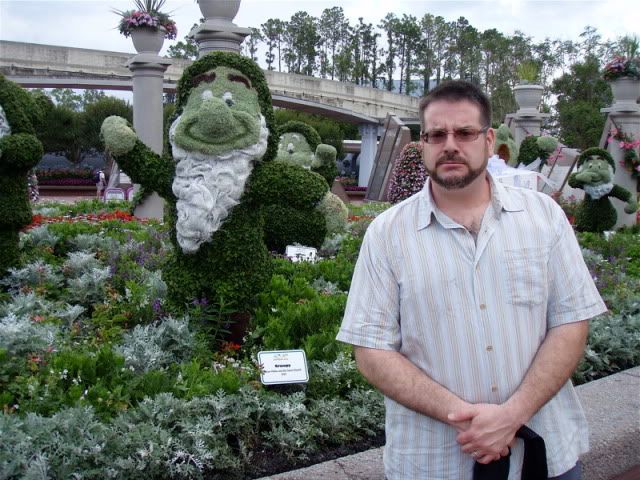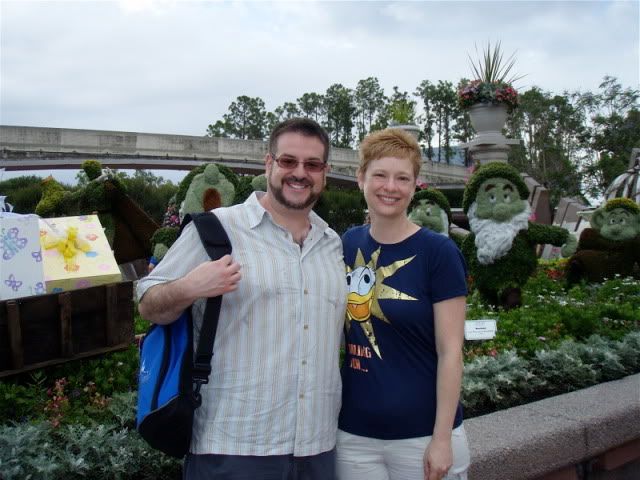 It started to sprinkle a bit, so we got our pics with Donald and Goofy at the meet n' greet across from Innoventions.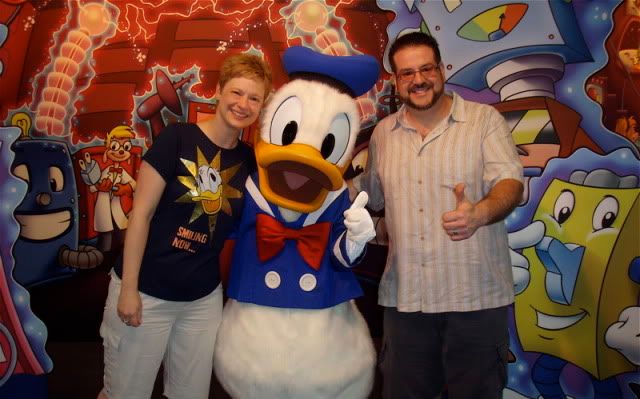 The rain passed very quickly, and blue skies returned for a short while.
We got Todd and Meghan (
paper
) FastPasses for Soarin', then walked as far into WS as we could, taking pics of the gardens.
About 1030AM we got a call from Todd and Meghan that they were on their way to meet us.
We headed up front to meet them, then headed to the Land to eat at Sunshine Seasons.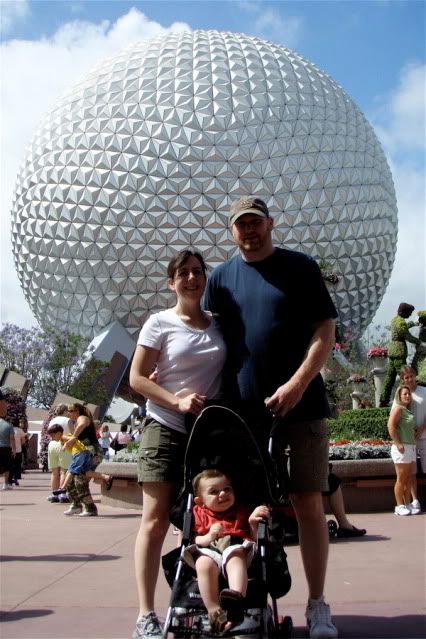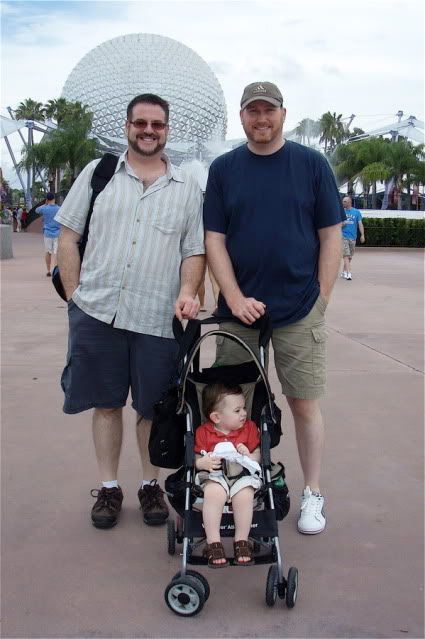 Then Todd and Meghan rode Soarin' while we watched Flynn. We rode The Seas with Nemo, and watched Turtle Talk.
We then headed over to Club Cool, and next, to the butterfly garden. Todd and Barbie then got FPs for Mission Space (
MS
), which Meghan and I had no interest in. We all rode Spaceship Earth, then returned to MS for Todd and Barbie to ride.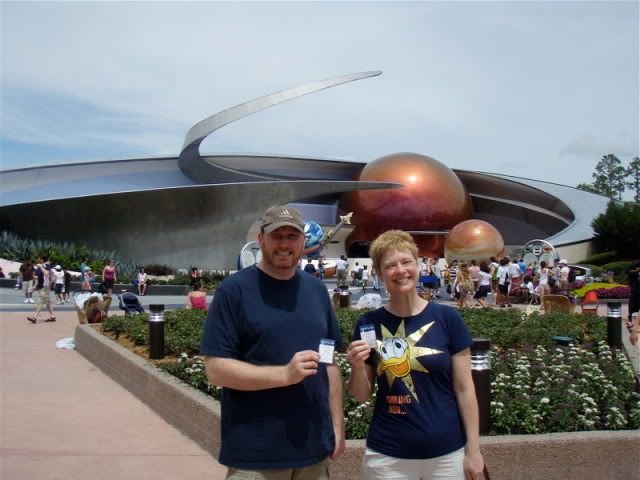 Megan and I played the interactive space mission game at the exit of the ride. Very fun, never realized it was there.
We then went to a play area that Barbie and I had noticed earlier in the day, for Flynn to play in.
Walked around WS till our 5PM Tokyo Dining reservations.
I had a few rolls, Barbie had the vegetable tempura.
After dinner, we stepped outside to see some very ominous clouds, and then heard the thunder.
So we left the park and got back around 630PM, just as the storm broke. Packed and watched Cars on the Disney Channel.
Sunday:
Up around 730AM. Meghan had a class, and I didn't want to disturb Todd and the baby,
so Barbie an I took a walk over to Port Orleans Riverside, and returned about 930AM.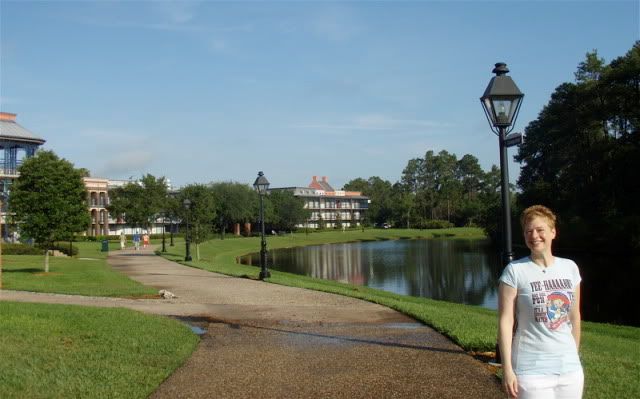 Meghan got back around 10.
We packed up the SUV, and drove over to Downtown Disney, where we had lunch at T-Rex. We were seated in the "ice room".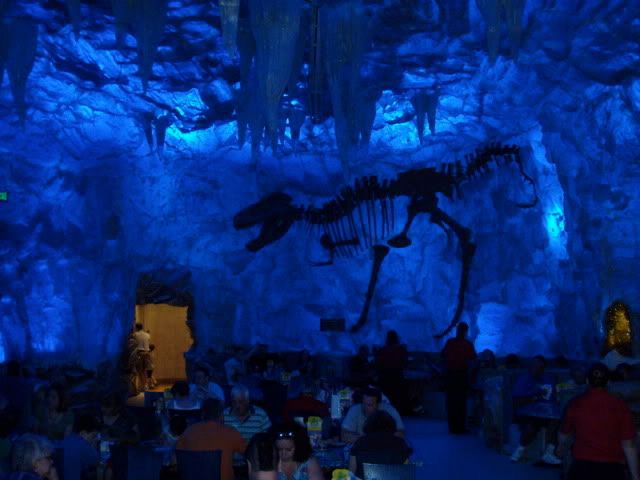 I'd heard bad things about the place, noisy, lousy food, and the like. Yes, the ice room was a little headache inducing after an hour, but it was fun, and the food was good. I had the chicken sandwich, Barbie the lasagna. The lasagna was better than I've had at some Italian restaurants.
After lunch, it was off to the airport.
Uneventful flight. Got home around 8PM.
All in all, despite the rain, it was a good trip. It was amazing to see Flynn's reactions to things.
Even if he doesn't remember anything, I have plenty of photos to remind him.
Thank you for going back to 2009 with us. Next Thursday, we return to another trip in 2009!