By Lisa Green
One of the most fun things to do while on vacation at Walt Disney World is eat! There are so many choices, so many foods! Snack food kiosks, counter service restaurants, sit-down table service dining, dinner shows…this list goes on and on! If you visit Walt Disney World, it's hard not to fall in love with certain foods and eateries that you'll want to visit again and again. One of those special places for our family is the Starring Rolls Café in Disney's Hollywood Studios. I know! You're thinking – that's just a little bakery, there are so many WAY better places to eat than that. I'd have to disagree.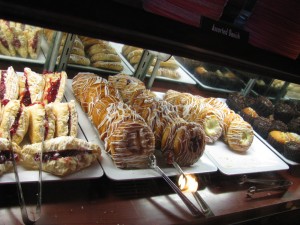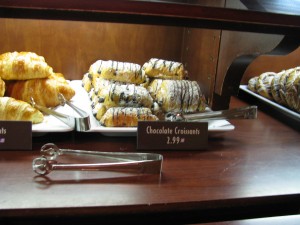 The reason we love Starring Rolls so much is that it fills a very specific niche in our dining lineup.
It's the one place I can think of where we will eat two or three times in a single WDW vacation. Here's why: We love to hit Hollywood Studios early in the morning and get right to our favorite rides and attractions. I've mentioned
before
that we bring packaged breakfast foods from home so we don't have to make time to eat while we get an early start on a busy park day. We get up and GO! So, at the Studios, once we've hit Toy Story Midway Mania, Tower of Terror, and Rock'n' Roller Coaster, we can sort of slow down a bit before moving on. We usually realize that our portable breakfast has long worn off by then and we need a little something to tide us over until lunch – THAT is what makes Starring Rolls perfect! Centrally located at the beginning of Sunset Blvd., this little bakery/café offers us just exactly what we need – when and where we want it!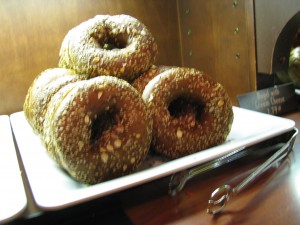 Bagels (and cream cheese), Danish, cinnamon rolls, sandwiches, sushi, fruit, cheese, yogurt, cupcakes – Starring Rolls is like a bakery and deli combined.
Big snack, small meal, breakfast, brunch, lunch, dessert – this place has got what you're looking for and the food is very good! Coffee, juice, water, tea, wine and soft drinks are all available to accompany your treat of choice. The cafe's outdoor seating area offers plenty of shade. The cupcakes at Starring Rolls are a very popular treat for good reason. One of the most popular is the
Butterfinger Cupcake
, but the Red Velvet is also excellent! During the Studios' Star Wars Weekends, the Yoda and Darth Vader cupcakes are a big hit!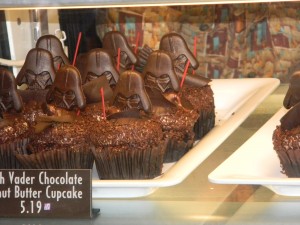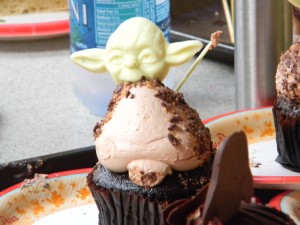 To me, great counter service restaurants are not the Studios' strong point. Starring Rolls allows our family to catch a tasty and filling brunch (or Second Breakfast if you're a Hobbit fan) while saving room for a more substantial dining experience later in the day.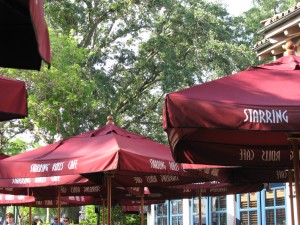 Are you a Starring Rolls fan? What's your favorite thing to order there?