By Nick
Back in the day, my social media outlet was the DVC News Forums. I would write trip reports for each of our visits to Walt Disney World and Disneyland, and I'm sharing them here.
Some trip reports were more in depth than others, and this one is on the more descriptive side. Also, as this was a "live" trip report, I jump back in forth in time, making live comments and then going on to describe activities earlier in the day.
Any commentary I make will be in italics.
Part One: Friday 10/2/09
Day 1 - 10/2 - 6AM
This will be a "live" report.
We parked at an off site lot, our 1st time doing this. We usually do Rapid Rover. (
A local airport shuttle service in the Philadelphia area.)
This was nice and convenient.
Since it was our 1st time, we got there early.
So early we were the only people on the shuttle, and the 1st people at the Southwest counter.
They don't open until 5AM.
So, here we are the only people at our gate at the moment.
I'd post this now, but Philly has started to charge for wifi!
Day 1 - 10/2 - 5PM
I'm sitting on our balcony. It's a standard room, as it doesn't face a savannah.
But we have a great view of animals. We are in a far from the lobby room on the "Kudu Trail".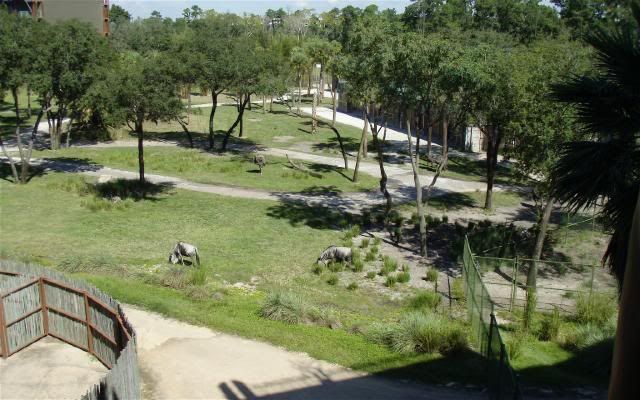 Room 4382. It faces a holding/ rest/ feeding area. Our 1st view was of several ostriches a couple of wildebeest, and a bunch of red river hogs, and a giraffe. At this very moment, the sunset safari is just
entering the safari under our room. The rooms are very nice. I will say that complaints of it being too dark are somewhat true, but only in the shower. Otherwise, it's a great room.
We arrived in Orlando 30 minutes early, and got to the AKL via ME about 11AM.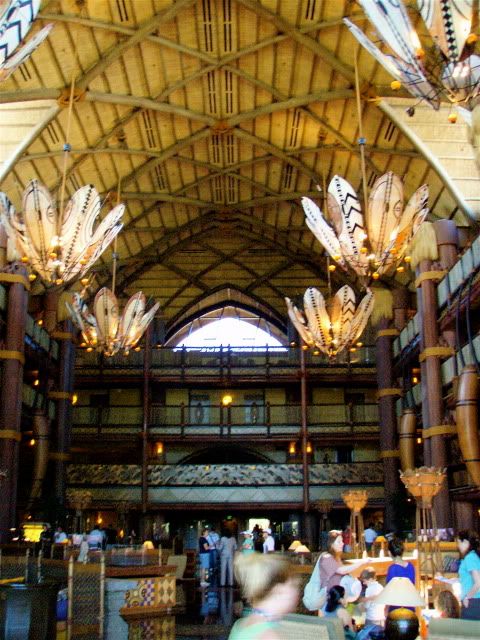 Our room was ready! So we went up and dropped of our carry on, and went to eat at
The Mara. I had the African Stew, DW the Mara Salad. The salad was good, the stew was terrific.
We came back to the room about 12, and our luggage had arrived!
We changed and went for a swim. It's a big, nice pool.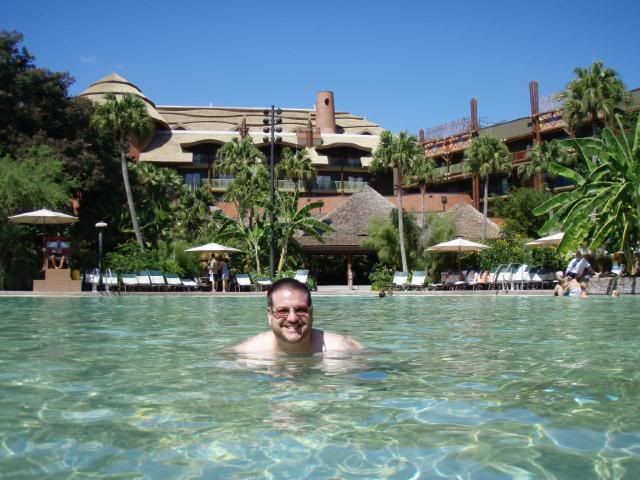 Then back to the room, showered, and went walking around the resort, checking out different
savannah overlooks.
We did pin trading with "The King Pin" at the Zawadi Marketplace, then relaxed till 4PM.
We took the Culinary Tour of Boma and Jiko. At Boma we got a soup sample of our choice, and
a Zebra Dome.
At Jiko we tried 3 different breads and 3 spreads. All excellent.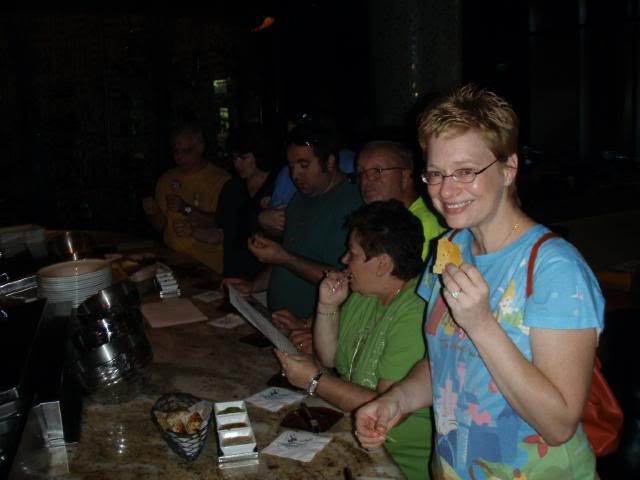 DW asked for the soup recipes, and they gave us a folder with 12 recipes.
Dinner at Boma at 625PM.
A giraffe just walked up, and started eating. This really is a pretty cool resort.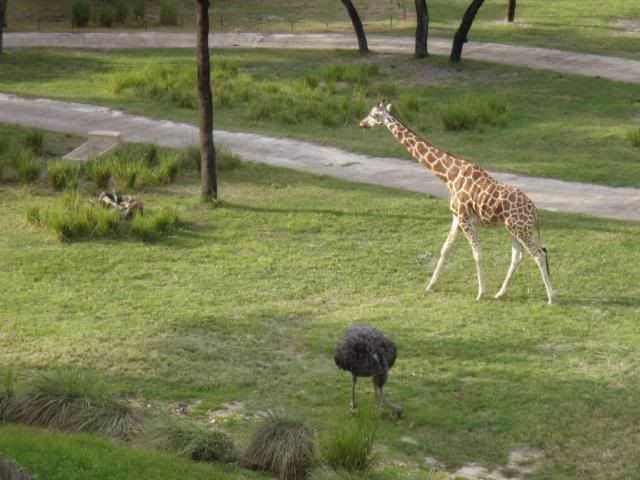 Day 1 - 10/2 - 845PM
Back in the room. Crashing out. Just downloaded and quickly went through pics.
Dinner at Boma was very good. The soups were great. The pork loin was very good, if you got a juicy piece, and the deserts are outstanding.
They have replaced my favorite dish from the last time we ate there, prime rib, with what they
say is a better cut of meat, but is not as tasty.
After dinner, on the way back to the room, we got a picture in the lobby.
The Fastpass CM, grew up in the same hometown as my wife, so they chatted for awhile.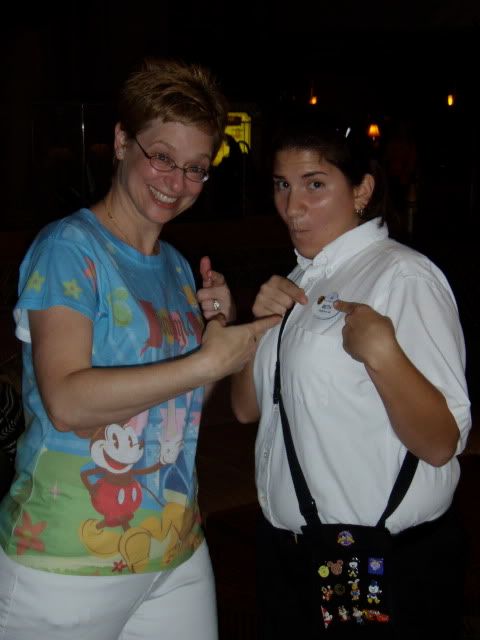 Time for bed! It's been a long day.
Please stop back next Thursday for part 2!