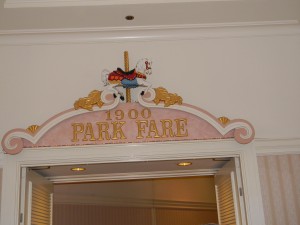 By Lisa Green
I have come to realize
that we will, most likely, never outgrow our love of character meals at Walt Disney World. Sure, our kids are now 18 and 23, but we still get a kick out of meeting and interacting with Disney characters. Combine that with food and hey – even more to love! C'mon, we can't be the only ones! Some of you can totally sympathize with this, I bet.
For many years, the Fab Five were our dining companions
of choice and no trip to Walt Disney World would be complete without a visit to Chef Mickey's at the Contemporary Resort. There's just something so perfectly, classically Disney about seeing Mickey, Minnie, Donald, Goofy, and Pluto. We used to always go for dinner, then we switched to breakfast, then, well, I started thinking about just how many pictures and memories we'd accumulated at Chef Mickey's…. So, when planning this year's family vacation, I thought it would be super fun to try something new! We could still have a character meal, but why not make it with a different crowd of Disney celebs at the Grand Floridian's 1900 Park Fare? Well, as usual, I was right!
1900 Park Fare
It's a buffet (like Chef Mickey's)
, but the setting is a bit different and where the Fab Five are silent while they happily pose for pictures and sign autographs, the characters at 1900 Park Fare are all face characters, meaning…they talk! Cinderella and Prince Charming are there to the delight of children of all ages – but the really FUN characters, especially for big kids (and kids at heart) are Lady Tremaine, Drizella, and Anistasia (the Step Sisters).
Not to diminish Cindy or Charming in any way
– they are certainly lovely to look at and as gracious and regal as one would hope and expect. They make their way from table to table like the seasoned royals they are – greeting guests, making polite conversation, paying compliments, posing for pictures, and signing what must amount to hundreds (if not thousands) of autographs as their adoring fans enjoy dinner (and the company of this very kind couple).
That's not why we ate there.
We specifically went to 1900 Park Fare, upon my recommendation, to see Lady Tremaine and the Steps. We'd met them before and we knew they'd be wildly entertaining. Getting the opportunity to mingle with them while we enjoyed dinner was just too good an opportunity to pass up! The are simply amazing. Lady Tremaine is constantly a tad stressed and looking for chocolate to soothe her nerves. And it's no wonder! Her "darling" daughters are enough to put any mamma on edge.
Prince Charming visited our table first.
He was, true to his name, charming. He was polite, an expert at small talk, and very willing to sign the items we'd set out for autographs (more on that another day). Once he left, we had plenty of time to make our first visit to the buffet. A HUGE variety of flavors are featured there – representative of all the "kingdoms" around the world. Just FYI: The pot stickers and sushi were actually really good! But, for the less adventurous, there was a good variety of dishes meant to appeal to the tastes of every guest.
Cinderella stopped by our table next.
Smiling, pretty, friendly and kind – just what you'd expect! She was also very willing to autograph any and everything we had placed at the end of our table (with several pens to choose from). Cinderella was so nice…I actually felt sorry for her knowing she'd be overshadowed by what we considered the evening's main event!
Lady Tremaine was all we'd expected her to be.
Short on patience (with commoners), with dead pan humor – she played the adoring and indulgent parent to the hilt! She was very pleased with our Joseph as a potential match for one of her beloved daughters. She was funny and slightly intimidating – just as she is in
Cinderella
! We thought she was GREAT! But the best was yet to come.
Drizella was the first sister to arrive at our table.
Enamored of the gold paint pen we'd set out with our autograph items, she wanted to know if it was "real" gold. We said YES! At once she asked if Joseph was a prince, where he was from, and how many castles he had. It seems those questions were answered to her satisfaction – she next hinted at their exceptional compatibility. Joseph offered her a blue gummy bear as a token of his affection and the deal was done – she shouted for her mother, informed Lady Tremaine of the impending nuptials, then proceeded to jump up and down!
At this point, Anastasia, tired of photo-bombing the pictures
recording our table's excitement, made her way over to introduce herself to her impending in-laws and offer advice. Joseph should begin ring shopping at once – using his nostrils to determine a ring's suitability. "If a diamond can fit up your nose, it's too small!" Embracing Megan as her future sister, Anastasia posed for pictures, signed autographs, and gave us pointers on how to look skinnier in photos.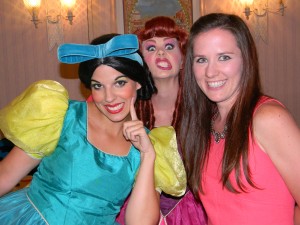 Charming in their own way, the Tremaine women
were also hilarious and the stars of the show at 1900 Park Fare! The character of these characters is indescribably fabulous! You just have to experience it to believe how great it is. Even more impressive? When Megan and Joseph ran into Lady Tremaine and the Steps in the Magic Kingdom the next day, Drizella immediately demanded of Joseph, "WHERE is my RING!?!"
Have you ever experience a character meal at 1900 Park Fare? What did you think about it?
This article was originally posted on Lisa's Living a Disney Life Blog.
She can be found on Facebook at https://www.facebook.com/LivingaDisLife
and on
Twitter at
@life_of_green
Please be sure to check out Lisa along with me and David Hodges on The Disney Exchange Podcast!