By Lisa Green
You don't want any Lost Boys!
This post was actually Raymond's idea.
We've been watching ABC'c Once Upon a Time (love it!) and the main characters are currently trying to escape from Neverland where Peter Pan and the Lost Boys are a little bit Lord of the Flies-ish. For some reason, it made Raymond think about one extremely memorable visit to Disney World when we witnessed first hand
what NOT to do when your child gets lost
.
Each member of The Fam can, to this day, recall the specifics of our encounter with the parents of a missing little girl named Sarah
– the entire incident was so
disturbing it is burned forever into our memories. We were just
coming out of Mickey's Philharmagic – right there near the exit, in
the middle of Fantasyland, Sarah's mom and dad had let the worst
thing possible happen (no, not the fact that they lost Sarah) –
they panicked. Number one thing NOT to do if your child gets lost.
Do. Not. Panic. Sarah's dad was frantically running back and forth,
up and down the walkway, calling for Sarah in a very upset tone of
voice. Sarah's mom was standing in one place screaming Sarah's name
over and over – Now, when I say screaming, I'm talking a scream
straight out of
Friday the 13th
– top of her lungs, abject terror, over and over and over – eyes closed, just screaming. Within seconds (literally), a Disney Cast Member was
beside Sarah's mom – Ma'am? It's OKAY! Here's Sarah – and, of
course, had the beloved and much-missed Sarah in tow.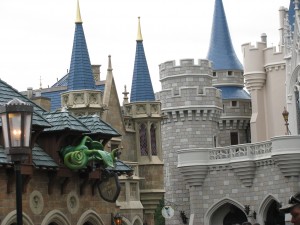 There are eyes and EARS (ha!) everywhere at Disney World
– never doubt it. Cast Members are very well trained in dealing with lost family members of any age. So here are my tips for keeping up with your children and what to do if you lose your child in Disney World:
1.
DO NOT PANIC.
Remain calm. Panic makes you irrational and unproductive. Let your imagination run away and you will not make good decisions. Carry your cell phone with you and
take a picture of your child
as you arrive at a park each day – this will help keep panic at bay and allow you to answer the simplest question with ease (just in
case) – what does your child look like?
2.
If your child is not old enough
to know
your
full name and cell phone number,
label them. Yep, I said
slap a label on 'em
. This can be a sticky label on a belt or a shoe
or a sewn-onto-clothing label, a pinned on label, or a marks-a-lot-message-written-on-their-skin label. Our kids were not prone to running off as toddlers, so we weren't worried much about
losing them at that age, but be saw plenty of runners that needed labels.
3.
Use those cute little backpacks with leashes
. Years ago, when our kids were small, there were only actual kid leashes and I just could NOT go there. When I saw Joseph looking at a child about his age that had a big strap on his arm attached to a leash, being pulled along,
I said, "See what happens to children who won't stay close and hold hands?" – Worked like a charm. (Oh, please, my children turned out fine.) But now they have these adorable furry animal backpacks that have a leash attached – looks less cruel and kids seem to actually
like them.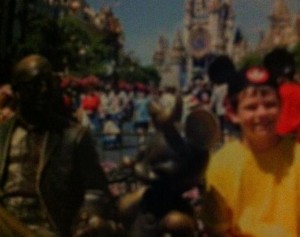 4.
For kids a little older
– Make sure they can recognize Cast Members and know what to say if/when lost. The Cast Members at
Disney are top notch – if you ask them for a practice run, they'll be glad to play along. Find a willing Cast Member, tell them what
you're doing, then have your child go up to them and say whatever "I'm lost" script you like. Have the Cast Member explain what would happen in the event of an actual "losing".
5.
For kids even older than that
– have a meeting place picked out. When our children were about 9 and 13, I remember we told them at the Magic Kingdom that if we got separated
for any reason, we would meet at the park bench with the Roy and Minnie statues on it. This is also good when you get to the point of allowing them a little freedom in the parks on their own. (After age 14 now according to Disney rules) Make sure they have a way of contacting you before you turn them loose, then give them a meeting time and place.
You should know
– if Cast Members cannot find the parents of a lost child immediately, they escort the child to a certain area (Baby Care Center) in the park. Alert a cast member immediately if your child is missing and ask them for directions to where your
child will be taken. If you're not alone, have someone stay where the child was last seen while you go check at the Baby Care Center.
Children and parents become separated at Disney World all the time
. If you're headed there on vacation, please make like a good Boy Scout and be prepared.
This article was originally posted on the
Living a Disney Life Blog
.