By Lisa Green
Summer Wardrobe for a Disney Vacation
– This post is part 2 of my Summer Sun Survival Tips. Link to
Part 1
.
Here's an important lesson my wise (and much older) sister taught me as I was growing up. (Thanks, Sandy!)
Always start the day looking the way you will at the end of the day – take into account any factors that may adversely affect your appearance and plan accordingly.
This advice is extremely applicable when visiting Walt Disney World in the summer months.
We (maybe I'm kinda mostly talking about women here) want to look super-cute on vacation (I'm sure some of you guys do too, right?). We shop for cute vacation wardrobes and plan out adorable outfits for every possible vacation contingency. I'm here to tell you…some forms of cute vacation outfits, in the summer at Walt Disney World, are potentially fraught with peril.
The best clothing tip I can give you for a summer Disney vacation is to take my sister's advice:
Start the day looking pretty much the same as you'll end up. Confused? Let me explain. It's HOT at the World during the summer. And incredibly HUMID! The combo of the two can be brutal! Everything is damp, your favorite tried-and-true hair products will totally fail you, makeup melts off completely – you may start the day looking super cute and fresh only to end up a sticky, wilted mess! Start the day looking perhaps a little less fabulous than originally planned with the idea that you will never look "less" than you do right then.
Here's my head-to-toe plan:
First things first:
Don't try to style your hair – caps, hats, ponytail, braid – you pick what works for you, 'cause if you think your perfectly coiffed 'do will hold up against the Florida sun and humidity (or worse, those two in the morning and a torrential downpour in the afternoon) – you'll be so sorry you didn't listen to me. Start the day with well-subdued hair, liberally applied sunscreen, very little makeup, and a good lip balm. Don a hat and sunglasses and voila! You'll end the day looking just the way you started – which is a LOT better than starting out like a movie star and ending up a caked-up, raccoon-eyed sweat-ball.
Wear cool comfortable clothing that breathes well and allows you to move freely
(for getting on and off attractions). If you're planning to ride attractions where you may get wet or the weather person has predicted rain, be sure to choose clothing that will dry quickly. I prefer cotton (or performance/athletic-wear fabric) tees and tanks paired with cotton shorts or running shorts. Shoes should be well broken in – vary shoes day-to-day to reduce the potential for blisters and raw spots. You could try comfy sandals one day, sneakers/trainers/running shoes the next and so on. Switch up the shoes!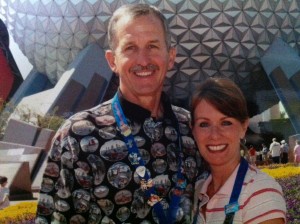 Finally, I hate to bring this up, but if this post is going to be of value, I'm going to have to mention something a bit delicate.
Shhhhh, come closer so I can whisper it…chafing. There. Now it's out. For many summer Walt Disney World guests, chafing is a very real risk. You might not be prepared for so much walking – in the heat and humidity – which results potentially in unprecedented sweating – which, in turn, results in "hot spots" where wet clothing rubs against tender skin. Distance runners and cyclists (of which I'm both) are unfortunately well-acquainted with the horrors of chafing and I'm happy to report there's an easy preventive measure that can be taken. Cover areas which may chafe with a smoothing substance made specifically for this purpose. One brand I'm familiar with and have used before is Body Glide – but I'm sure there are others on the market that will work just as well. The product comes in a convenient solid (like antiperspirant) – you just apply it wherever you think you may need it.
There you go! Take my advice and you'll be golden. While you're touring comfortably – look around at some of the other WDW guests – the limping ones are the easiest to spot – they didn't do their homework. Adopt the Boy Scout motto and Be Prepared!
For more on protecting yourself
from and treating chafing and blisters, there's a good article
here.
What did I leave out? Do you have any tips for comfortably dealing with the summer conditions at Walt Disney World?
This article was originally posted on Lisa's Living a Disney Life Blog.
She can be found on Facebook at https://www.facebook.com/LivingaDisLife
and on
Twitter at
@life_of_green
Please be sure to check out Lisa along with me and David Hodges on The Disney Exchange Podcast!