By Lisa Green
It may be because I'm half-German
or maybe because of its perfect location between China and Italy…just far enough from the beginning of the World Showcase (starting with Mexico) to have worked up a powerful thirst for a good German beer! Maybe it's the smells and tastes of the delicious treats inside Karamelle-Kuche – arguably the best sweets shop in Epcot. Whatever the reasons, I love the Germany Pavilion! Every detail about this area's tribute to all things German is just wonderful…er…wunderbar!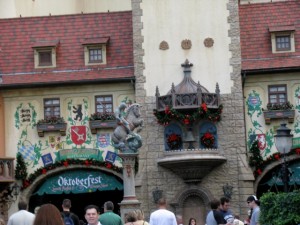 Just in case you need them, I'll give you five great things about Epcot's Germany Pavilion:
1. The Food –
Delicious options abound! Want a snack? Quick service meal? Full-blown Oktoberfest-style buffet? You can get them all in Epcot's little slice of Germany.
Karamelle-Kuche
– from the makers of Werther's candies, enter this shop and the aromas alone are amazing. I recommend a piece of chocolate-covered salted caramel – big enough to share (maybe).
Need a quick meal? Sommerfest is the place to be.
Enjoy a brat or Frankfurter for a simple lunch. Feeling brave? Try the Currywurst (bun-less brat with curry ketchup) or the Leberkaese Reuben (German meatloaf in a Reuben sandwich) – not to your liking? Well, then order the Nudel Gratin – not-your-momma's mac-n-cheese! Maybe just a pretzel to go with some beer!
Need a BIG meal? Biergarten
will satisfy both the urge to try out a variety of German flavors (it's a buffet!) and experience some authentic German entertainment at the same time.
2. The Buildings and Courtyard –
Right in the center of the action you'll find a statue of St. George and the Dragon. Look around! The architecture is modeled after 400+ year-old German landmarks. Colorful crests and symbols painted on the building's facades add to the festive atmosphere. The whimsical clock tower where, at the top of each hour, figurines come out to visitors' delighted surprise.
3. The Shops
– I love the variety! Be sure to check out the store with the genuine Black Forest Cuckoo Clocks! You can also buy many other fantastic German items like beer steins, hats, books, dolls and more.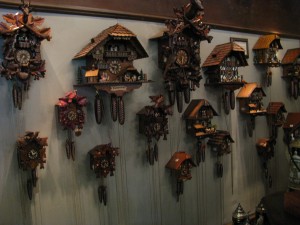 4. The Beer –
The Schofferhofer Grapefruit beer has a near cult following. Try it out on a sunny, hot afternoon and see why! Not to your liking? Grab the darkest brew on the menu to go with that Sommerfest pretzel – that's what I do and..well…it's perfect and makes me feel both happy and GERMAN!
5. The Scavenger Hunt
– Germany is one of the countries you'll visit on your quest if you choose to participate in
Agent P's World Showcase Adventure
. If you're visiting right away, you might want to try out the brand new (rumored to be only for the Flower and Garden Festival) Muppets Most Wanted-themed adventure.
Bonus feature:
The miniature village and model train are super cool – located right next to the pavilion. Don't pass it by.
If you've passed by the Germany Pavilion without exploring, I hope you'll give it a visit next time you're in the World! If you're already a fan, what's your favorite thing about Epcot's Germany?
This article was originally posted on Lisa's Living a Disney Life Blog.
She can be found on Facebook at https://www.facebook.com/LivingaDisLife
and on
Twitter at
@life_of_green
Please be sure to check out Lisa along with me and David Hodges on The Disney Exchange Podcast!