By Lisa Green
The last day of school is right around the corner
and for those of you counting down to a summer vacation at Walt Disney World…YIPEE! I'm right there with you! So excited! ADRs and FastPass+ all squared away! Packing early! Prepping for sun survival! You're doing all that too, right? Especially that last part – don't forget to pack your sunscreen and be prepared to use it – early and often – to make sure no member of your travelling party has their vacation made uncomfortable by a nasty sunburn.
We live in Louisiana where the heat and humidity are pretty extreme
in the summer – when I say extreme, I'm not kidding! We have very similar highs and lows to Orlando (average highs in June, July, and August around 90-degrees), but less rainfall. Even though we're used to it, we still prepare especially for a Walt Disney World vacation, because if we were at home, we wouldn't be spending as much time outdoors as we do on vacation.
Here's what I know about the sun in Orlando
– it's not only HOT, but it can produce a serious sunburn in record time. Thankfully, I don't know this from personal experience, but from watching countless fellow Walt Disney World guests suffer from the effects of a bad burn. There's no reason for this to happen to you.
According to the American Academy of Dermatology
, there are a few basic sun protection guidelines everyone should follow. These include:
Apply sunscreen to everyone! Including toddlers and infants 6 months and over.
Use broad-spectrum (UVA and UVB protection), water-resistant sunscreen of at least SPF 30.
Sunscreen should be reapplied every two hours or as often as the product label recommends.
Dermatologists say that a one-ounce "serving" of sunscreen is approximately enough to fill the exposed areas on an adult body – this is enough sunscreen to fill a shot glass!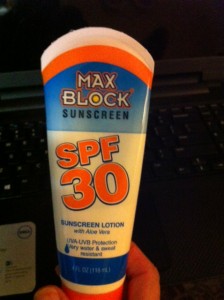 Utilize hats with large brims, sunglasses, and long-sleeved shirts
for extra protection. I will often tie a plain white linen button-up, long-sleeved shirt around my waist – if I have to spend too long in direct sunlight, I put it on over my clothes. White reflects the sunlight and linen isn't too hot/unbearable for a short time as extra sun-protection.
Cool Fact:
The FDA requires that all sunscreens retain their original strength for at least 3-years.
When applying sunscreen
, don't forget ears, the back of your neck, the tops of your feet, bald spots, all around sleeves and straps (that's what gets me every time!), the backs of your legs, lips, and eye area.
Important:
Sunscreen should be applied 30 minutes before sun exposure.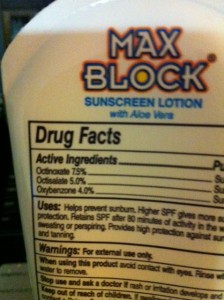 My two cents:
I like "Max Block" sunscreen – and I've tested it for this post during the past two weekends. It works very well for me – is indeed (for me) very water and sweat resistant, as the label claims. It absorbs well, is non-greasy, and has a very pleasant, mildly tropical scent. I bought and paid for this product and these opinions and tests are nonclinical, unofficial – the results are my own experience only.
Watch for more Sun Survival Tips coming soon!
What are your best sun-survival tips for Walt Disney World vacations?
Find complete information
on selecting sunscreen from the American Academy of Dermatology
here
.
This article was originally posted on Lisa's Living a Disney Life Blog.She can be found on Facebook at https://www.facebook.com/LivingaDisLife
and on
Twitter at
@life_of_green
Please be sure to check out Lisa along with me and David Hodges on The Disney Exchange Podcast!