By Lisa Green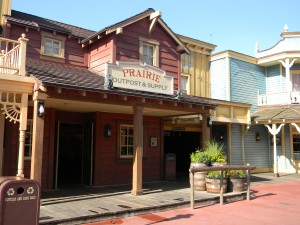 Every land in the Magic Kingdom has its own charm and magic
, but Frontierland holds a special place in my heart. I'm not sure I can explain why I love this particular section of the park more than the others, but it's true nonetheless. It's not the Churro Cart or the Turkey Legs, it's not the Country Bears or the Shootin' Arcade – it's the combination of the parts, the blending of the sights, sounds, and smells that make up Frontierland; it's that mixture – the sum of the parts that makes Frontierland the place I love the most.
Stand on the walkway
(no, not right in the middle blocking traffic, pick a place out of the way) between the Shootin' Arcade and the Country Bear Jamboree. Turn slowly in a circle – see the weathered buildings? Look across the water at Tom Sawyer Island, check out the red rock of Big Thunder Mountain, scan the briar patch and watch for a giant burst of water from Splash Mountain's water cannons. Nowhere else, to me, demonstrates the perfection of Magic Kingdom than this one place.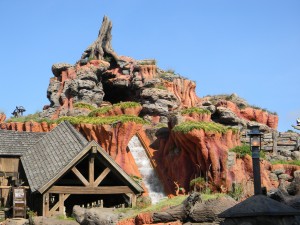 Where else can I hear Dallas McKennon say
, "
Now then, hang onto them hats and glasses, 'cause this here's the wildest ride in the wilderness!
" before climbing aboard Big Thunder Mountain's train for four minutes of unsurpassed scenic excitement? Then visit Splash Mountain and hear,
"Zip-a-dee-doo-dah, Zip-a-dee-ay! My oh my, what a wonderful day! Welcoming back Br'er Rabbit today. We always knew that he'd get away."
while floating along, soaking up some of the very best characters and music Disney Imagineering has ever designed. And if that's not enough, I can listen to Henry, Wendell, Liver Lips and the gang croon their bear-y special brand of country music in Grizzly Hall. Who wouldn't be charmed by "
Momma Don't Whip Little Buford"
? The Frontierland entertainment options are amazing!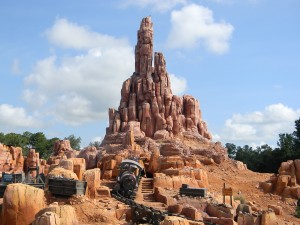 If I'm hungry in Frontierland
, I can stop at the very popular Pecos Bill Tall Tale Inn and Café for a quick bite of basic fare (burgers, salad, wraps, and famous fixin's bar). If I want a snack, there's always the churro cart and the Golden Oak Outpost – which has recently introduced some very delicious-sounding waffle fries…the Barbeque Pork and the BLT fries both sound great to me!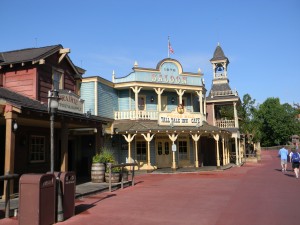 Frontierland is wonderful
– the atmosphere, the details, the attractions, the excitement and even the corny, cheesy Country Bears! It all works together to make magical, memorable vacation happiness!
What do YOU love most about Frontierland?