By Lisa Green
If you're a fan of Disney vacations and you visit the Mouse as often as you can, you understand me. You'll also totally understand what it's like to have friends and coworkers completely puzzled by this passion for Disney. Yes, I'm talking about that most annoying of questions we Disney fans are constantly asked – "You're going AGAIN?" – that query holds genuine puzzlement, usually with a sprinkling of scorn or worse, pity – as if we're too immature or unsophisticated to know how and where to vacation properly. "You do know that Disney World's for little kids, right?" Non-Disney fans ask me (and you, I'm sure) why we keep going to the same place for vacation over and over, year in, year out. I save my answer for the ones I think really, genuinely want to know. I've thought about my response a lot and I've had a lot of practice explaining what it is that makes Disney vacations so special to me. I'll tell you what it is and maybe you'll leave me a comment and let me know why YOU love Disney vacations too.
What IS it about Walt Disney World?
Let me start with a couple of quotes – they're basically the foundation of what Walt Disney World has meant to me over the years…
"Over at our place, we're sure of just one thing: everybody in the world was once a child. So in planning a new picture, we don't think of grown-ups, and we don't think of children, but just of that fine, clean, unspoiled spot down deep in every one of us that maybe the world has made us forget and that maybe our pictures can help recall."-
Walt Disney
"Too many people grow up. That's the real trouble with the world, too many people grow up. They forget. They don't remember what it's like to be 12 years old." – Walt Disney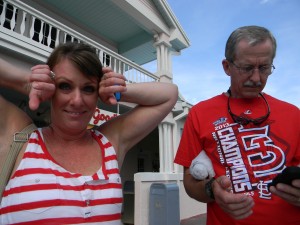 For me, that's the major draw of Walt Disney World – remembering. When I was a child, I couldn't wait to grow up. I dreamed of going to college, getting a good job, getting married one day…maybe having a couple of children of my own. Over time, though, I think the pressures and responsibilities of becoming an adult and focusing on achieving your dreams can cause you to lose a part of yourself – that "original" person you once were before all that life happened to you. When I'm at Walt Disney World, I rediscover that person – the first me. The me that was more carefree, less full of the sense of responsibility that comes with being a grown-up.
I'm more patient, more interested in little details, more relaxed, and certainly…lighter, for lack of a better word, when I'm on a Disney vacation. I also think it gives my family a chance to get to know the original me a little bit more than they can at home when I'm worried about getting supper on the table, or whether washing whites or darks will have the biggest benefit for the immediate future. At Walt Disney World, I totally let go of life's troubles for a while – I'm not worried about how Joseph manages to make so many holes in his socks or how I'm going to help Megan pick out a new dress on my lunch hour and still make it back to the office to make a presentation on time. We just have fun. Together as a family, we are completely ourselves, being together, enjoying a wonderful, magical place.
"Dreams, ideas and plans not only are an escape, they give me purpose, a reason to hang on." – Walt Disney
After every Disney vacation, we start planning the next one. It may be far into the future, but we will be planning a way to return to the place that makes us so happy and holds some of our best memories. We've got countdown calendars and when we're having a bad day (bad week, heck – sometimes just a bad month), we use that future vacation as a reason to keep moving forward, solving problems, supporting each other, getting on with conquering whatever challenges come our way.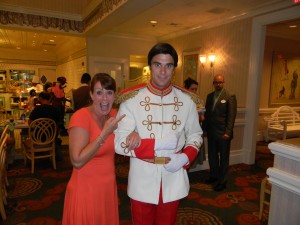 It's become kind of rare for the four of us to be at home for supper these days, but when we have an evening together, we almost always do the same thing…At some point, one of us will silently raise their hand. This is the "I'm going to Disney World" sign and, one at a time, as we notice what's happening, we will each raise our hand. Once we all have a hand raised, we carry on as if nothing unusual has taken place – but we've each been reminded that no matter what's happening today, we have something extraordinarily fun in our future. We will all be returning to a place where we are uniquely happy, together.
"When you believe in a thing – believe in it all the way – implicitly and unquestionable." – Walt Disney