By Lisa Green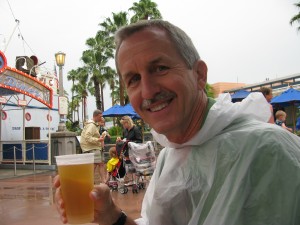 Nothing says Walt Disney World vacation like a rain poncho with Mickey Mouse on it.
The fact that we're willing to pay $8 (technically $7.51) for a big piece of plastic and some snaps says a lot about how important it is for us to sport such stylish rainwear. We all know it would save a big bunch of cash for a family of four to buy generic ponchos at the local dollar store. Okay, okay – maybe we sometimes buy those pricey Disney ponchos out of necessity…I mean those unexpected afternoon "showers" can be extreme torrential downpours and maybe we left our cheapo ponchos back at the resort. However I come by it, I wear my Disney poncho with pride – it adds a certain panache to my vacation wardrobe that cannot be underappreciated. It also has other practical uses. You didn't know? Well….I'll be glad to enlighten you! We need to get our $8-worth out of those puppies!!!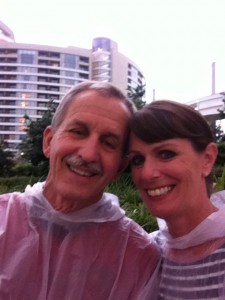 The Many Uses of a Disney Rain Poncho:
Protection from the elements
– Using the poncho for its intended purpose. When last we were at WDW, it didn't just rain, it didn't just pour – it HAILED! We were huddled inside our ponchos in a tiny alcove outside the entrance to Tower of Terror waiting for our FastPasses to "mature" with about five minutes to go when a storm of biblical proportions struck. Catch the video
here
. Check out the poor guy who let his little one use his poncho (by the strollers) – he was soaked!
As a means to stay dry on water rides
– No way would I ride Kali River Rapids without a poncho. Getting soaked from head to toe would completely ruin my day. I'm not a fan of shoes that squish when I walk. But I want to ride Kali, so I don my trusty poncho and let the river take me where it will.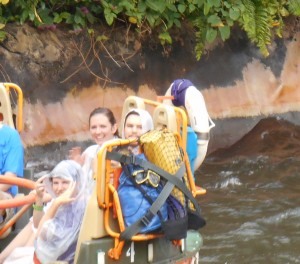 As a seat cushion – a. k. a. Posterior Preserver
– Have you ever decided to sit on the curb, in a sunny spot, in Magic Kingdom to stake out a favored parade viewing area? That concrete can be scorching hot! Like sitting-on-the-surface-of-the-sun hot. Just slide that folded-up poncho under your buns and you are golden! See? Rain or shine, the poncho ROCKS!
Protect your gear
– Say you want to go on Splash Mountain or even Pirates of the Caribbean and there's a chance your camera, cell phone, or bag will get wet. Wrap your poncho around your gear to make sure everything comes out safe and sound…oh, and dry, too.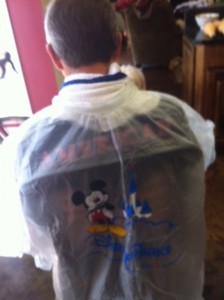 Salon smock
– You think I'm kidding? Oh, I assure you I am not. Tuck in the hood, add a towel around the neckline, secure the poncho tight with a clothes pin – and snip away. Home or away, you can keep hair trimmings well away from a body with a Walt Disney World poncho!
Do you buy Disney rain ponchos? Are there any uses that I've missed?
This article was originally posted on Lisa's Living a Disney Life Blog.
She can be found on Facebook at https://www.facebook.com/LivingaDisLife and on Twitter at @life_of_green

Please be sure to check out Lisa along with me and David Hodges on The Disney Exchange Podcast!