By Nick
Part One of this Walt Disney World trip report from May of 2009 that I wrote for the DVC News Forums can be found here. Any commentary I make will be in italics.
Who: My wife, Barbie, my friends Todd and Meghan, and their baby, our Godson, Flynn who was 16 months old, and me.
Tuesday, May 19th, 2009
Rain. Pretty much non stop rain.
We went to Disney's Hollywood Studios and made rope drop. Rode Toy Story Midway Mania.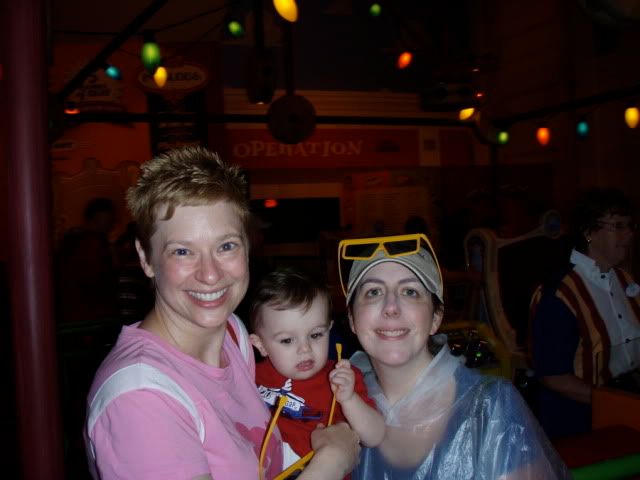 Barbie and Meghan's ride vehicle didn't work. They offered to give them another ride, but Meghan decided not to make Flynn wait.
Then headed over and rode Tower of Terror. Had a Mickey premium bar.
Got fastpasses (
yep, paper FastPasses, remember those?
) for Rockin' Rollercoaster, and went to see Muppetvision 3D. Flynn was scared by some of the louder scenes, otherwise, he was okay. He didn't like wearing the 3D glasses at all.
By this time, it was 11:15AM, so we just hung around the area and waited for our 12 noon Mama Melrose reservation.
I had the Spaghetti with Clams and Mussels, Barbie had the anti pasta. We all enjoyed our meals.
This is the only restaurant we've eaten at each trip that has been consistently good.
After lunch, we decided to skip RRC and head back for a nap. We gave our FPs away to some kids waiting to eat,and headed back to POFQ (
Port Orleans French Quarter
).
Got up around 4PM and got ready for our 5PM ressies at Fulton's Crab House.
It was, of course, pouring. We walked the short distance from our building to the POFQ dock, and took the boat to Downtown Disney.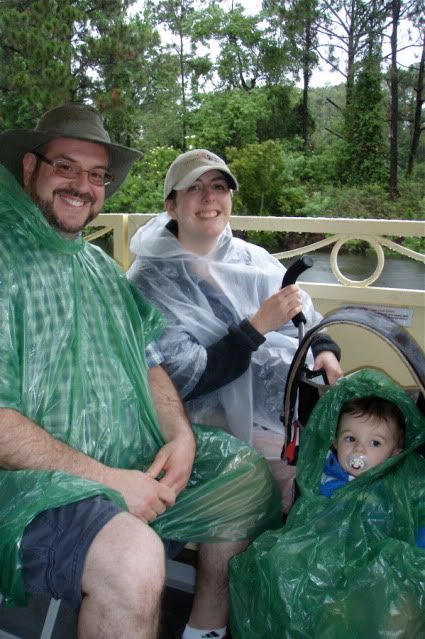 Our boat captain told us that the water was so high that there was no boat service to OKW
because the bridge clearance was too low, and that we would be getting lots more rain over the next couple of days.
Great.
Got to Fulton's just as it really starting raining. With the wind blowing, you'd have thought a hurricane had blown in.
Had a very good meal. Barbie and I had the lobster and crab bisque, the mussels and clams, and the crab cakes.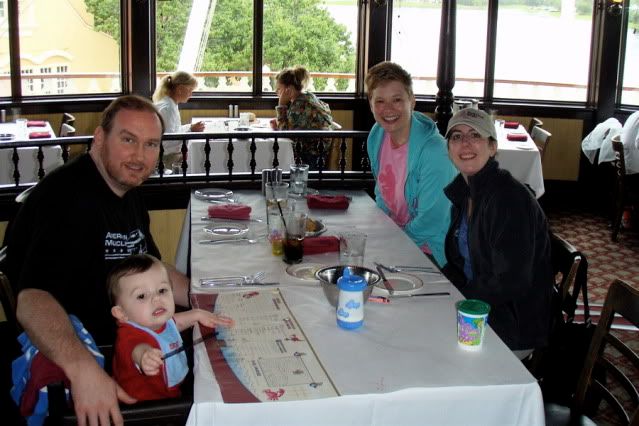 Our server, Wayne, was fantastic, very personable, and I would ask for him again if we ever return.
The place was very pricey, but Flynn was paying, so what the heck.
We walked over to World of Disney afterwards, where, after shopping and playing with Flynn for awhile, we went to check out, and I discovered I'd lost my credit card!
I called and put it on hold immediately, and hoped that lost and found would turn up with it within the next 24 hours,or it would be canceled.
Oh, well. That and the rain didn't stop us from having ice cream at Ghiardellis.
Then, back to the room, where we had a couple of cocktails. Got to sleep around 10.
Please stop back next Thursday for part 3!