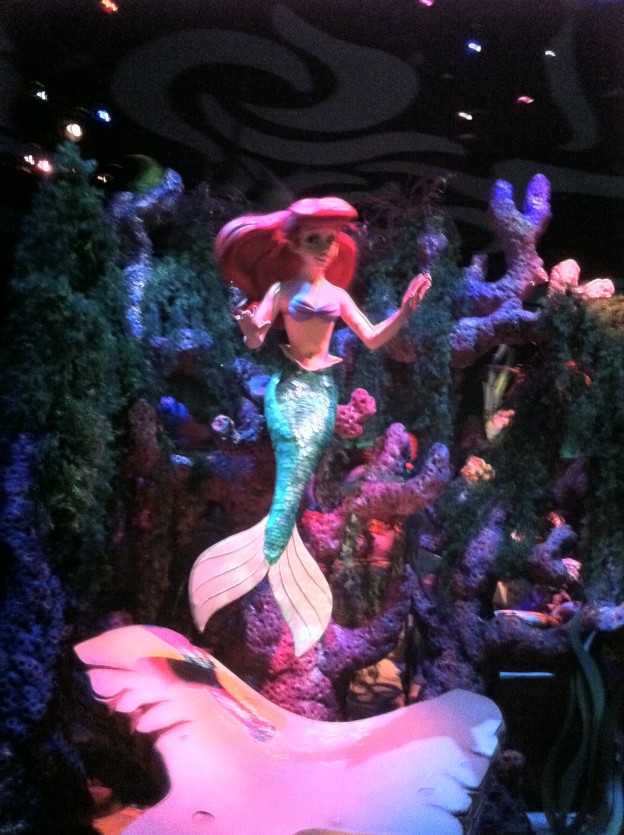 By Lisa Green
In Walt Disney World's Magic Kingdom, Fantasyland has always been a favorite place
for parents and grandparents to take small children and enjoy some of Disney's more whimsical, milder rides and attractions. These are the ones made for every age – low or no height requirements, no rough twists and turns, no scary surprises – The kinds of rides Walt Disney himself had a hand in creating so children and adults could have fun together.
As part of the Magic Kingdom's new Fantasyland expansion
, the Little Mermaid ride (officially: Under the Sea-Voyage of the Little Mermaid) is an adorable tribute to Ariel's story – full of all our favorite characters and scenes. Tucked beneath Prince Eric's castle, guests board clammobiles for a fun and fanciful journey through familiar scenes – brought to life, straight from the movie! As you approach the attraction, there's a great photo op and most likely a Disney photographer will be standing by to snap your picture in front of a ship with Ariel as the figurehead!
The queue is full of clever surprises
– so much so that I was actually disappointed that the line moved quickly and I couldn't look at the details as long as I would have liked. The queue starts outside where you'll feel just like you're at the seaside walking in and out of caverns carved by the ocean's waves. Look down and you'll see a variety of seashells under foot. Look along the walls and find starfish and barnicles. Once you go inside, there are interactive parts to this queue involving Ariel's treasures and some cute and funny little blue crabs.
The indoor part of the queue is cool and dark
– as is the ride itself. Lighting effects make you feel like you are truly going under the sea in your clam shell. Unlike Epcot's The Seas With Nemo & Friends which offers a new storyline continuing where Finding Nemo left off, Under the Sea – Voyage of the Little Mermaid (similar to Peter Pan's Flight) offers only a selection of scenes straight from the movie. This is what divides visitors' opinions about this attraction – Little kids (and Mermaid fans) love seeing the familiar scenes reproduced in great detail and larger than life. Big kids and adults are often disappointed by the scenes' simplicity and how the ride offers nothing new or different – basically just replicates parts of the movie exactly (with low-tech animatronics to boot).
Judge for yourself!
This attraction is worth at least one visit for the experience. The highly detailed, interactive queue is very well done and the ride itself is a great place to sit down and cool off for a bit from the Florida heat. This is a continuously loading attraction, so you may want to save a FastPass for something else as the line moves pretty quickly. Personally, I liked the ride okay, but I LOVED the queue! I have to agree with the folks that would have liked a little something new or different in the Little Mermaids story – there seems to be wasted potential.
Have you ridden the new Little Mermaid ride? What did you think about it?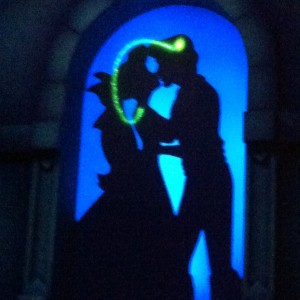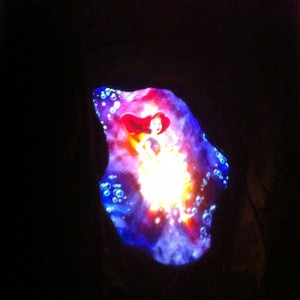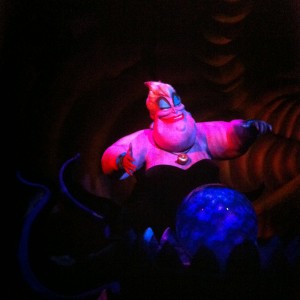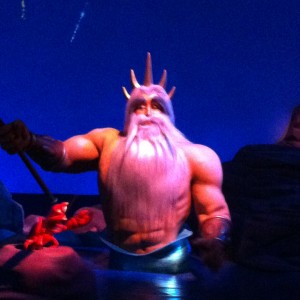 This article was originally posted on Lisa's Living a Disney Life Blog.
She can be found on Facebook at https://www.facebook.com/LivingaDisLife
and on
Twitter at
@life_of_green
Please be sure to check out Lisa along with me and David Hodges on The Disney Exchange Podcast!