By Nick
Part Three of this Walt Disney World trip report from May of 2009 that I wrote for the DVC News Forums can be found here. Any commentary I make will be in italics.
Who: My wife, Barbie, my friends Todd and Meghan, and their baby, our Godson, Flynn who was 16 months old, and me.
Thursday, May 21st, 2009
The day started off overcast, but no rain! Humid in the morning, then breezy and comfortable! For awhile.
Went to the Magic Kingdom for Extra Magic Hours. Got there a little late, about 815AM, and by then Dumbo was a 30 minute wait.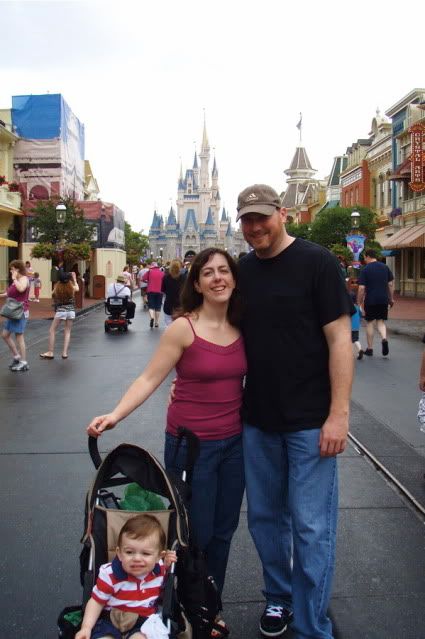 Todd, Meghan and Flynn waited to ride, while we went and got FastPasses for Peter Pan's Flight.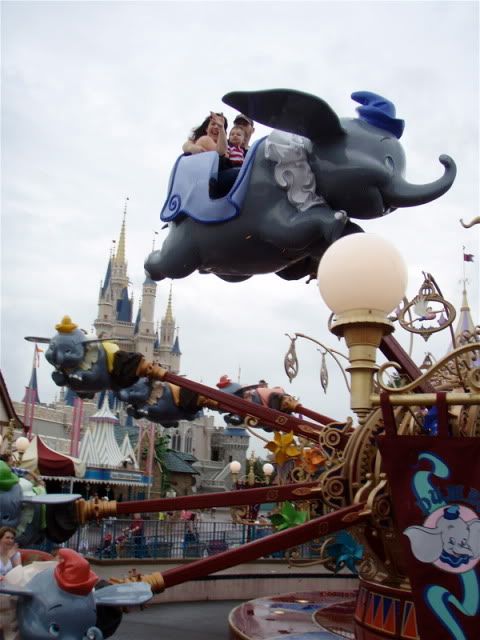 After they rode Dumbo, Barbie and Meghan rode the carousel, and then we all rode Snow White, then Pooh.
We then played with Flynn in the Pooh play area.
The reason we decided to come to Florida this time of year is because Meghan had a program she was doing for work. Meghan left for her first class at around 10AM, while we went and got burgers at Pecos Bill's.
After that we used our FPs for PPF, then went for the ever favorite Dole Whip, before hitting The Carousel of Progress.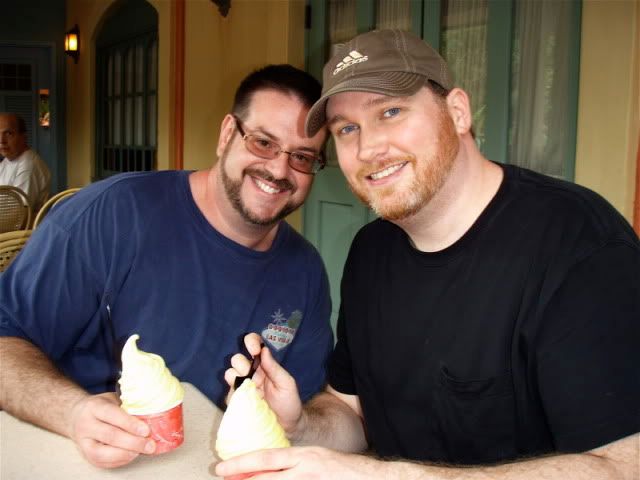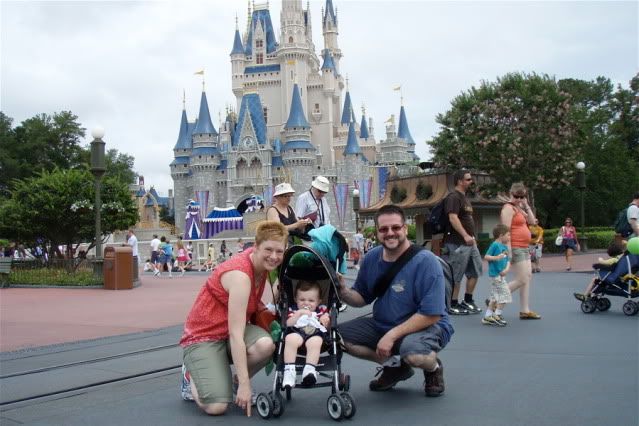 By now it was about 1230, so we headed back to the room to swim and rest.
We went to the baby pool with Flynn, the main pool was even colder than the previous day.
After Todd and Flynn went back for naps, Barbie and I went to the hot tub. After showers, we walked around the resort until it started to sprinkle a bit.
We returned to our room for rest, and a little later, after it had cleared, and Meghan had returned,
Todd, Barbie and I took a walk to PORS (
Port Orleans Riverside
).
We then had a cocktail at the POFQ (
Port Orleans French Quarter)
pool bar, then returned to the room to join Meghan and Flynn.
We had 7PM ressies at Marrakesh, so we headed out for Epcot.
Now, I think that the PO properties are beautiful, and I liked the room, the pool, etc., but I didn't like the bus service.
During, what I am assuming are non peak hours, POFQ has combined services with PORS, and there are 4 stops there, compared to POFQ's 1.
It seemed like forever going to their stops. We got to Epcot and had to head right back to the restaurant for dinner. By the time we hit World Showcase, it had started to sprinkle. Dinner was very good, I had the Chicken Bastilla amd Shish Kebab, Barbie had the Moroccan Salad for 2.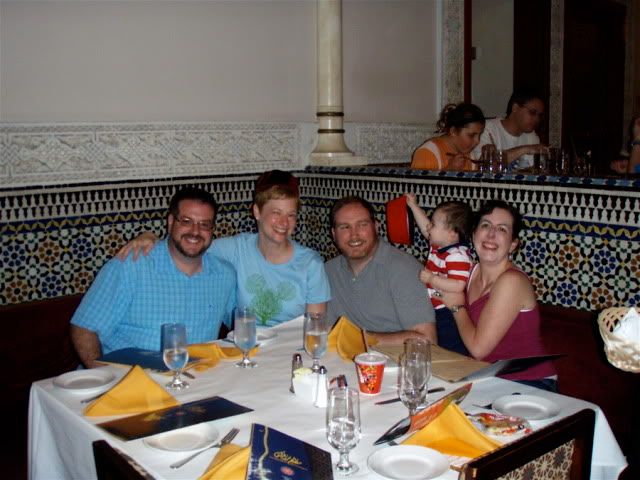 After dinner, it was raining a bit heavier. Meghan and I split a chocolate croissant from the Patisserie in France.
We headed to our favorite Illuminations spot, which I can't reveal, as I've been sworn to secrecy by our friends Kathy and Ron.
By then it was raining steadily, but by the finale, it had pretty much stopped. We did a little shopping at Mousegears on the way out.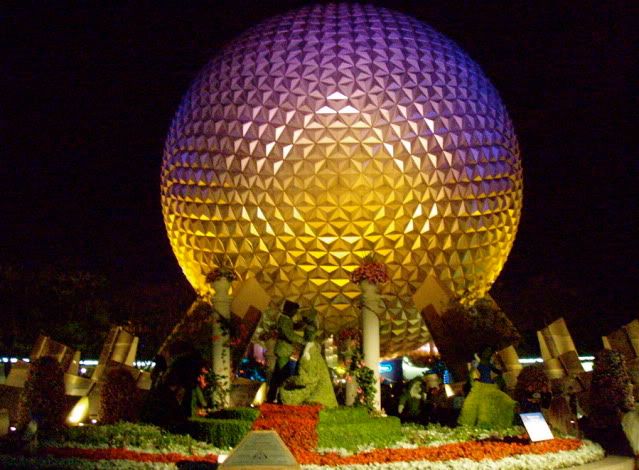 Back to the room by 1030PM.
Please stop back for part 5 next week!