By Nick
Part 1 can be found here.
Sunday, September 28th, 2008
After a, surprisingly, good nights sleep, I woke up at 5:30AM.
We checked out of Pop about 6:30, and were at the
Boardwalk Resort
by 7.
I asked for a room on the 5th floor, facing the green. The CM at the desk said there would be nothing facing the green available on 5, in fact the only thing available would be 2nd floor. I said we were really hoping for a higher floor. She started clicking away, and after maybe 2 minutes said there was something close to what I'd requested. So, I said that would be fine.
Off we went for coffee and a danish at the
Belle Vue Lounge
.
We took a
walk around the Boardwalk
, and by then it was almost 8:15, so we walked over to
Disney's Hollywood Studios
.
We were one of the 1st people in line, and immediately after rope drop, we, along with everyone else, headed for
Toy Story Midway Mania
.
After riding, Barbie got in a conversation about pin trading with a nice couple from the Netherlands,
while I waited in line for FastPasses to TSM. I waited longer for FPs than I did to get on initially.
Barbie made some great
pin trades
, we walked over to TOT and rode twice. Nobody was there.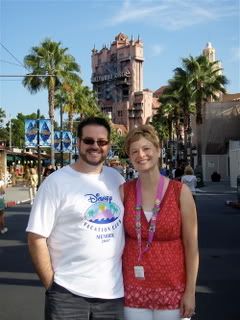 We walked through some shops till it was time for our FPs at TSM, and rode again. It was 11:15, and the wait was already 70 minutes.
After the ride, we walked over to
Mama Melrose
, where we had ADRs for Noon. While waiting for the restaurant to open, I found a couple of hidden Mickey's, and wound up starting a hunt with some other nice folks. We found 1 more in the lobby, and was told there were more, but, it was time to eat!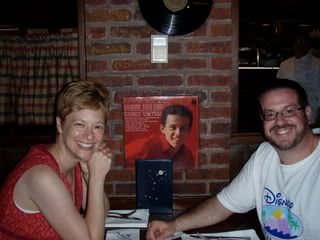 After lunch, I called to check if our room was available. It wasn't so we walked back to the Boarwalk, and grabbed our swimsuits out of luggage, and took a swim.
I love the Kieister Coaster. We stayed at the pool for 2 hours, till 4, and called and got our room. It's a good thing I love the pool, because our room was dead center overlooking it. Room 5060 is indeed very near where I had requested, it's across the hall from the room I'd hope to get!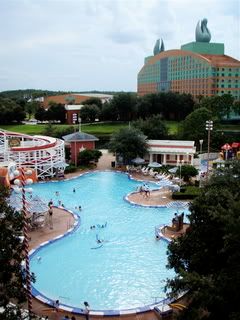 By now it was 4:30, and we had tickets to
Mickey's Not So Scary Halloween Party
.
I wasn't sure about the weather, but it turned out to be a lovely evening. I was Fred Flinstone, Barbie was a hippie.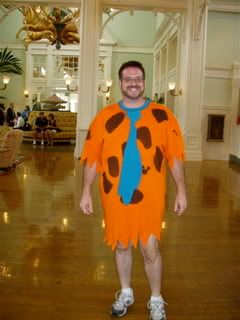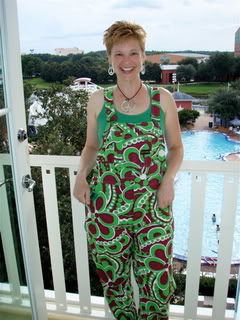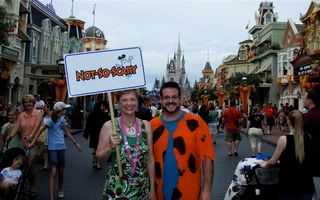 When we arrived I called our friend Pam, and told her we were there. A little latter we met Pam and her husband Tom at The Haunted Mansion.
We had a blast trick or treating, getting pictures with characters, and riding rides.
There is a story behind why Barbie and Tom are looking off to the side, and that can be found here.
At about 8:45, right after the 1st parade, we staked out a spot on a bench facing the castle, next to the Partners statue and watched the 9:30 fireworks from there.
Great show. Then we got some more candy, rode Pirates, and went over to Frontierland and got a perfect spot for the 10:30 parade. Afterwards we rode Big Thunder, and walked around the rest of the park, getting candy. By that time it was 11:30, my feet were on fire. We headed out. Pam and Tom drove us back to the Boardwalk.
I showered and don't even remember getting into bed.
Part 3 next Thursday!