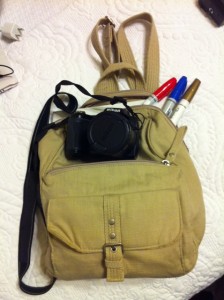 By Lisa Green
I felt I needed to add a qualifier to this post's title.
If you've got little one's (especially of the diaper-wearing variety), this article won't be very helpful – in the end, you're going to need a bigger bag than any of the ones I'm about to recommend. I'm also not recommending a specific brand – the three bags featured today ranged from cheap (discount store) to not-so-cheap (upscale outlet mall) to pretty-darned-expensive (major department store). You can find the perfect bag or bags for your next Walt Disney World vacation at a multitude of stores – brand doesn't matter.
When choosing a bag for a day of park touring, I take a few things into consideration:
What size camera will I be carrying?
Will I be going back to the resort mid-day or to dress for dinner or not at all?
Will I be toting anything for gathering character autographs?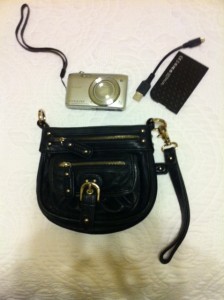 Once I know the answers to those questions,
I can choose from among the three bags I bring along. They are: the small backpack, the smaller hipster, and the teeny, tiny wristlet. I know what you're thinking: THREE bags? This chick is bonkers!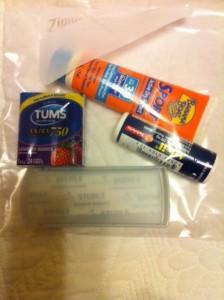 All I can say is that after a dozen trips to Walt Disney World, I know what I like.
I like choices! I don't carry the same stuff everyday and I don't want to tote around a larger bag than absolutely necessary. Also – I want my bag to always fit in the "stuff holder" provided on many rides and attractions. If I'm not going to be collecting autographs, I don't want to carry those supplies. If I'm carrying my super-small camera, I don't need a big bag. If I'm not going back to the resort before dinner, I may need supplies for a little hair or make-up refresher. I like to travel as light as possible and still have everything I need. See how that works? You don't have to have multiple bags, one or two of the perfect size will do.
In EVERY bag, I need to carry:
Travel-sized sunscreen
Emergency medical supplies (ibuprofen, antacid, band-aids)
Smartphone and portable charger
Camera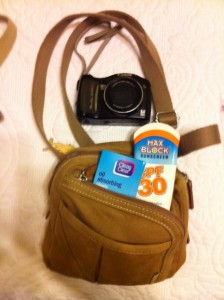 Optional things I may WANT to carry:
Extra pins for trading
Photo mats / ornaments / pens (for autographs)
Visor and/or hair utensils (I refer to as hairaphernalia, 'cause I'm clever that way)
Touch-up supplies like lipstick, oil blotting papers, pressed powder, etc.
Rain jacket or poncho (folded tightly)
When packing, I put the unused bags inside each other and they don't take up much room or weight in my suitcase. For touring without a bag, see my tips
here
.
What's your favorite bag like? Do you bring multiple options with you? Do you have any tips to share that I haven't mentioned?
This article was originally posted on Lisa's Living a Disney Life Blog.
She can be found on Facebook at https://www.facebook.com/LivingaDisLife
and on
Twitter at
@life_of_green
Please be sure to check out Lisa along with me and David Hodges on The Disney Exchange Podcast!