By Lisa Green
We once rented a car for our Walt Disney World vacation
– once being the important word here. I'm not counting the time we rented a car for one day so we could run errands and visit Downtown Disney the day before our Disney Cruise departure. I'm talking about driving to Disney World from the airport and driving from the resort to the parks, restaurants, and so on. Epic mistake! Disney transportation is wonderful, convenient and way more than just a mode of travel from points A to B. In my usual way, I give you…
FIVE great things about Walt Disney World Transportation:
No need to know how to get where you're going
(or remember where you parked) – Once we enter the
Disney Bubble
, maximizing the magic of the Disney vacation experience is a must. If we had our own car, every time we got in it, I would feel like I was at home! NO WAY! That would interfere terribly with shutting out the rest of the world for the duration of our vacation. If we had a rental car, we would have to know how to navigate the roads, streets, and avenues of Disney property – we might also (GASP) be tempted to visit Orlando attractions outside the World of Disney – thus diminishing the power of the Bubble.
Cool and comfortable
– Think about this: You're visiting the World at the peak of the summer. You want to leave a park and go back to your resort hotel for a rest – the inside of your vehicle will be roughly the same temperature as the surface of the sun. Seatbelts, car seats, steering wheel – all burning hot. By the time you get way out into the parking lot, find the car and cool it off, you'd already be on your way (if not arriving at your destination) in the comfortable, refreshing coolness of a Disney bus (or monorail, or boat).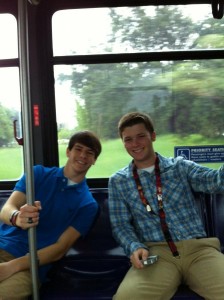 As a form of entertainment
– The people-watching opportunities are excellent! You can see a wide variety of #DisneySide displays in the form of hats, clothing, shoes, even nail polish. You can check out other travelers' pin collections and sometimes souvenirs. On a crowded bus, you can teach your children courtesy and good manners – offer a seat to others who may not be able to stand for the duration of the trip. Also, just riding the monorail to take a look around or relaxing on a scenic trip aboard the boats that cross Bay Lake can be wonderfully entertaining journeys. Board a boat (Blue Flag Launch) at the Contemporary boat dock and just stay seated when it stops at the Wilderness Lodge and Fort Wilderness – or get off and explore, then catch the boat back to where you started. Ferry boats will take you from the Magic Kingdom to the Ticket and Transportation Center and there are boat from many resorts to Downtown Disney.
Included in the price of your stay –
You are already paying for it, why not use it? I'm not picking on control freaks, but as our friend Elsa would say, "Let it go!". Put yourself in the capable hands of the Disney drivers and let yourself experience Disney's world class hospitality. Save the control for when you get back into the real world and just be a kid again on vacation.
Wine and Dine –
Enjoy some wine with dinner, make the loop on the monorail pub crawl, enjoy tasting the exotic adult beverages along the World Showcase – I'm not saying you should overindulge, I'm just pointing out how convenient it is that Disney provides a designated driver for you. So, when dessert has been ordered and the nice Italian server you have at Tutto Italia says, "You look like a limoncello fan to me" – feel free to say, "Yes, indeed!"
Complete, official deets on Disney transportation can be found
here
.
What do you like most about Disney Transportation?
This article was originally posted on Lisa's Living a Disney Life Blog.
She can be found on Facebook at https://www.facebook.com/LivingaDisLife
and on
Twitter at
@life_of_green
Please be sure to check out Lisa along with me and David Hodges on The Disney Exchange Podcast!