We've been collecting and trading Disney pins for about 10 years.
On that
one
visit to Walt Disney World where we first took notice of all the adults and children wearing pin-filled lanyards and saw all the fun and clever pins for sale – well, we jumped right onboard! Once we figured out how to make pin trading and collecting into a game – like a scavenger hunt, we became even bigger fans!
Yes, I know what you're thinking – it's another Disney trick to get you to part with your money
– and you have a point. If you let it, the cost of buying pins can easily amount to a significant chunk of change. I've been to some pin trading events (at WDW resorts and on Disney Cruise Line) and there are people who have spent thousands of dollars and many, many hours accumulating impressive pin collections (I imagine some of them have similar amounts of Beanie Baby or Pokémon items, as well). All things in moderation is my motto!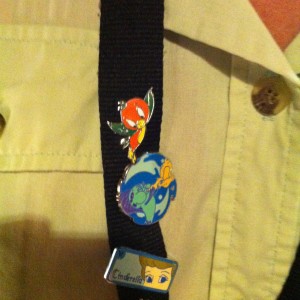 Rather than break the bank, our family likes to make Disney pin trading into more of an adventure than a passion.
We each pick out several pins from our existing collection that we're willing to part with before we leave for Walt Disney World (so we have some to trade away). We think about any series of pins we have that may be missing one or two pins to complete the set and decide what we'll be hunting for. For example – when we were at WDW a couple of weeks ago, I was looking for the last Orange Bird pin I needed – the "flying" Orange Bird. Everyone knew what to look for and, like a scavenger hunt, we all looked for that one pin until it was found (by Raymond on a Cast Member's lanyard in Animal Kingdom).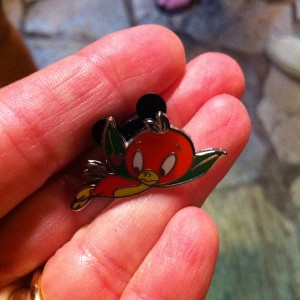 Raymond and Joseph were looking for Jessica Rabbit pins – old or new, to buy or trade – and they managed to find a couple to add to our collection. Megan just wanted a Frozen pin – any one would do. This proved the most difficult challenge of all! After chasing down several leads – most of which were fruitless, we finally found some Olaf pins early one day in Magic Kingdom (I'm sure they sold out later).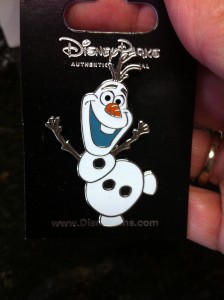 Hunting for a particular pin adds another level of fun to a Disney vacation!
Whether at a Disney park or on a Disney cruise, we all get into the spirit of the hunt and, by doing that, we're able to keep our pin purchases from eating up our entire souvenir budget.
Do you collect or trade Disney pins? What are your favorite pins to find?
Just getting started with pin trading? See this post for tips.
This article was originally posted on Lisa's Living a Disney Life Blog.
She can be found on Facebook at https://www.facebook.com/LivingaDisLife
and on
Twitter at
@life_of_green
Please be sure to check out Lisa along with me and David Hodges on The Disney Exchange Podcast!