By Nick
Day 3, Monday, September 29th.
An unprecedented occurrence, Barbie was up before me at 8AM.
The previous day was a lot of fun, but on this day I could hardly walk. I've had blisters on my blisters.
Barbie took a swim while I lay on a lounge chair, waiting to die.
After she was done swimming we went to the
Belle Vue Lounge
for coffee. That made me feel better.
We strolled over to
Epcot
, and down to
Test Track
. It was 10:30am, and we walked right on. Afterward, we walked around
MouseGear
.
At around 11:15, we made our way back to
World Showcase
.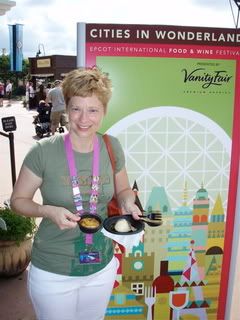 We gave Pam a call, and met with her and Tom. We tried a few things at various kiosks on our way to
Mexico
, where we were joined by friends Kathy and her husband Ron.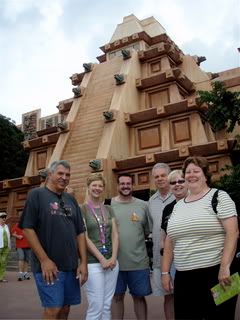 After that we tried some more food kiosks, and then made our way to
Future World
and the
Food and Wine Welcome Center
. The free wine
(yes, they used to be free!)
event was full, so we headed over to
Club Coo
l for some International
Coke
products.
Then rode Imagination, and afterward made our way back to WS.
We tried more foods, and had some adult beverages.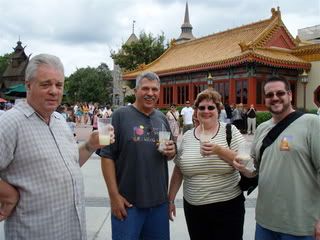 We were having such a great time, Pam suggested we join them at
Tutto Italia
for dinner. So we canceled our ADRs at
O'hana
at the
Polynesian
(this was many years before you would get charged for cancelling within 24 hours)
, and Pam added us all to her reservation.
About 4 we returned to
BWV
and took a swim.
Barbie and I walked back over to
World Showcase
at about 6:15. We all met in front of the restaurant and were promptly seated.
I'm glad we decided to cancel our ADR's at
O'hana
, my meal was fantastic, as was the company. I had the Pasta with Crab, Barbie had the Roasted Chicken. Our server Stefano was great.
And the deserts were amazing. I had the Tiramisu, Barbie the Melt In Your Mouth, Chocolate Hazelnut, If I Die Right Now, I'll Be Happy, Torte.
At least, I think that was the name of it.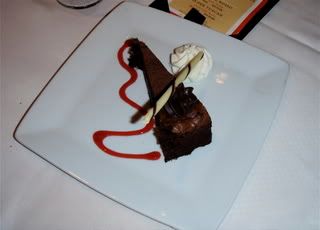 After dinner, we walked to the front of
WS
to get a spot for
Illuminations
. Excellent location. We sat and talked post show for a while, and then headed over to the
BWV
, where we sat and talked till midnight.
Please check out
Part 1
and
Part 2
and stop back next Thursday for Part 4.