I felt this article by Lisa was appropriate as we celebrate Independence Day in the United States. -Nick
Disney World – Magic Kingdom's Flag Retreat
By Lisa Green
Better than the Hall of Presidents,
more heart-melting than The American Adventure in Epcot, the Flag Retreat, if you haven't seen it, is a must-do for your next Disney World visit! The Voices of Liberty may give you goose bumps, but the Flag Retreat will touch your heart (and maybe make you cry)!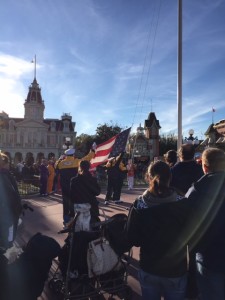 On Disney's website, the Flag Retreat doesn't sound like something worth stopping for.
They describe it this way, "Pledge allegiance and hear patriotic songs as the flag is lowered, folded and a special Guest is selected to participate." It's so much more that that! A veteran is pre-selected to gather by the flagpole at the beginning of Main Street U.S.A. with the uniformed Color Guard members who lower the flag. On the day we were there, The Dapper Dans were standing by to bring their special musical flair to the solemn and extremely patriotic 15 minute ceremony. The veteran chosen that particular day had served in the US Coast Guard and he stood at attention, eyes on the flag, as the Color Guard slowly and carefully brought the flag down and meticulously folded it.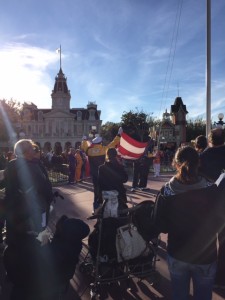 At this point in the Retreat, the announcer invited guests to join the Dapper Dans in singing God Bless America
(one of my most favorite patriotic songs) and I tried – I wanted to sing with the Dapper Dans and the rest of the gathered crowd, but a huge lump had moved from my chest right up into my throat and I could feel the sting of tears in my eyes. I watched those very serious and reverent cast members hand that flag to the serviceman, moving in uniformed precision and I couldn't sing a single note. Moments later, a certificate was slipped into the veteran's hands behind the flag. The announcer introduced the special guest and the ceremony concluded as the Color Guard, veteran, and other Cast Members marched away.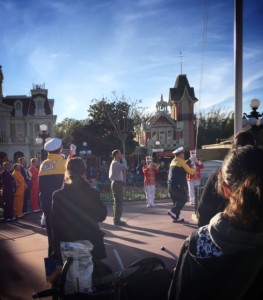 I'd been hoping to see the Flag Retreat for a long time.
We arrived after the Pledge while the National Anthem was playing and when I realized what was happening I practically ran over to see as much as possible. This short, seemingly routine daily activity is a wonderful opportunity for Disney guests to remember those who have fallen for our freedom and show appreciation for those brave men and women who put their lives on the line every day to keep us safe. I encourage you to put this 15 minutes of extra-special Disney magic in your plans for the next time you visit the Magic Kingdom at Disney World – you won't be sorry.
This article was originally posted on Lisa's Living a Disney Life Blog.
She can be found on Facebook at https://www.facebook.com/LivingaDisLife
and on
Twitter at
@life_of_green
Please be sure to check out Lisa along with me and David Hodges on The Disney Exchange Podcast!