I rode Kali River Rapids once. Once. I got SOAKED. But Lisa shares why it's worth riding again. Not that I will, but you may enjoy riding it as much as you'll doubtless enjoy this article. -Nick
By Lisa Green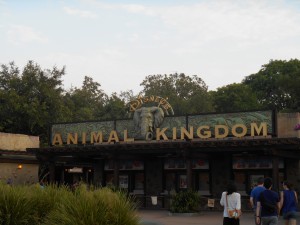 I've mentioned several times before, but it bears repeating – Disney's Animal Kingdom is NOT a half-day park.
If you think so, you're not giving Animal Kingdom the time and appreciation it deserves. You make me mad, you half-day person. You should go away from here now – we don't see eye to eye, so kindly remove your eyes from this blog. Of course, I mean that in the nicest way possible under the circumstances.
Still here? Love Animal Kingdom as a FULL DAY experience? Good! Me too.
Let's talk about Kali River Rapids, want to? I like Kali River Rapids in general – well themed, great queue, fun ride (most of the time).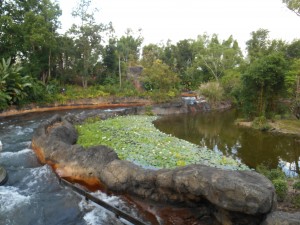 There's a tiny detail that always gives me pause, though – you may ride it onetime and barely get a drop of water on you…but, ride it again and you may get completely soaked from head to toe! It's a risky proposition, that ride. Lots of times I think I'll ride it, then chicken out because of the uncertainty. Still, on our last visit to Animal Kingdom, I was fully committed to riding everything except the train to Rafiki's Planet Watch – if I want to go there, Animal Kingdom becomes more than a full day park for me!
So, back to Kali…
I wanted to film our trip down the rapids with my new GoPro camera.
I like the experience of riding in the round raft and I like making friends (or at least trying to) with our fellow passengers. I don't like being soaked and especially don't like wet shoes (which you are NOT allowed to remove for the ride, by the way). So as we made our way through the ride's queue (it has some of the best, most beautiful details in all of Animal Kingdom!) I dug our rain ponchos out of my backpack and handed them out all around. As we approached the boarding platform, we all suited up, so to speak, and took our seats.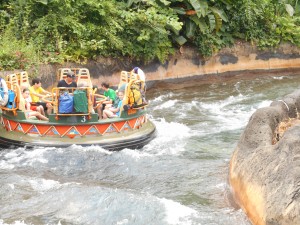 There's a bar around the boat's middle section you can put your feet on
– don't know if that helps keep them dry or not, but it makes me feel more prepared. Since I was wearing my poncho over my backpack, I didn't feel the need to store it in the bin provided in the middle of the boat, but the bin is there if you need it. GoPro at the ready, we found ourselves in the boat with a couple of other families who were really friendly and nice and gave me permission to film them knowing I'd put the
video on YouTube
. I made a joke as we left the dock – you can hear it on the video – I joked that we were the people who were going to stay dry since we were wearing ponchos while everyone else was going to get wet.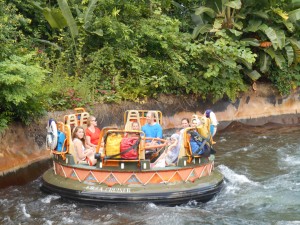 In the end, WE were the ones on the side of the boat that got completely drenched.
Thank goodness we were wearing ponchos and had the hoods up! My shorts were somewhat wet – as was the front of my hair, but in no way was I as completely soaked to the skin as I would have been without proper protection. SO glad we'd come prepared! The best part was this frog that hitched a ride during the big splash and ended up jumping right on me which was really funny.
Have you ever ridden Kali River Rapids? What did you think of the experience? Which side of the boat were you on?
This article was originally posted on Lisa's Living a Disney Life Blog.
She can be found on Facebook at https://www.facebook.com/LivingaDisLife and on Twitter at @life_of_green

Please be sure to check out Lisa along with me and David Hodges on The Disney Exchange Podcast!