By Lisa Green
Note:
This post actually has an accompanying video (such as it is) of my first ride on the Seven Dwarfs Mine Train. If you're interested in watching, catch the action
here
(twice for some reason!) on Living a Disney Life's YouTube channel.
So much hype! Such incredible buildup!
Those walls were up in Fantasyland for years! Could the Seven Dwarfs Mine Train ever live up to the sky high expectations? Sadly, it couldn't. Probably, not much could have proved worthy of all the massive promotion. Nothing, realistically, could be as spectacular as the excitement generated by years of rumor and speculation, promises of cutting-edge ride vehicle technology, and the fervor created by a huge media blowout event. All of that pre-excitement was counterproductive, maybe – stealing the thunder from what could have been a great final reveal.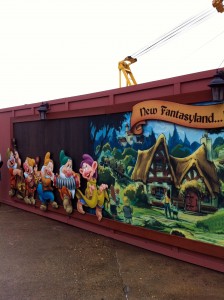 I recently (finally!) rode the Seven Dwarfs Mine Train and I loved it.
Was it as amazing as it was cracked up to be? Not so much. But – it was new, it was fun, and it has a lot of charm. Some will call it a Kiddie Coaster (must be 38″ to ride), but I consider it more of a Family Coaster because the incredibly smooth ride will appeal to adults who don't care for the rougher coasters like Big Thunder and Space Mountains. I can see grandparents riding this with their grandchildren and making happy Disney memories.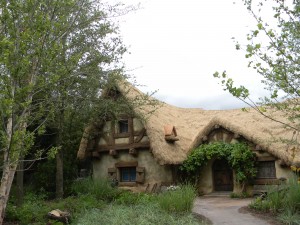 We had previously held fastpasses for the day we arrived
(5/25, during soft opening) but our dinner ADR and a torrential downpour nixed those plans. So, while I DID get to ride the Seven Dwarfs Mine Train on May 30th, I only rode once and did not get to see any of the interactive standby queue. That standby line was loooooong and some friendly Cast Members were on hand with cups of ice water to keep everyone properly hydrated and as cool as possible. I will be returning to Walt Disney World in October and hopefully, time will allow us to use the standby queue – I've heard so much about it!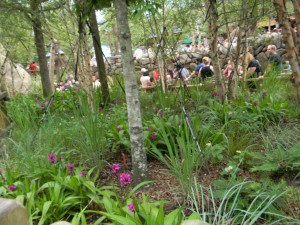 The highlights of the ride
(for me) included the landscaping, the indoor/outdoor aspect (which I also love about Expedition Everest, Big Thunder, and Splash Mountain), the mine scene with the Dwarfs and familiar music, and yes, of course – it's the little details, once again, that make this attraction a winner! The shadows of the Dwarfs walking that are seen along the mine's walls are a great touch! It's also a ride that begs to be ridden over and over because of the different details riders will spot that went unnoticed on the previous ride(s).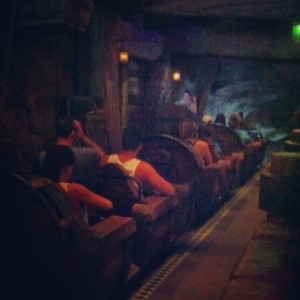 What would I change?
Well….that's easy. I'd make it a little longer (it's only about 2.5 minutes), I'd make Snow White easier to see (she can briefly be seen through a cottage window, pay attention or you'll miss her), I'd add just a few scary details, like maybe some of those scary trees that reach for you with their bare branch fingers. I'd also probably toss in a few more friendly woodland creatures just for fun.
Overall, the Seven Dwarfs Mine Train is a winner.
There's a true feeling of quality to the ride, scenery, and perfectly aged, realistic details and animatronics. The swaying, suspended-over-the-track mine carts are a fantastic innovation that do create a very smooth, quiet coaster experience. The lap bar, though!
Heed this warning
(thanks to Joseph for pointing it out before Raymond and I took our first ride): The lap bar pulls down smoothly and soundlessly (no clicking into place) – it's very easy to pull it down too far – once it's down, it doesn't go back up until the ride's over. If you squish yourself in too much with the bar after you sit down, the ride can be extremely uncomfortable as your body shifts over the hills and around the turns.
Talk to me!
Have you ridden Seven Dwarfs Mine Train yet? How did you feel about it? Did it meet your expectations? If you haven't ridden it yet – how high are your expectations for this new experience?
This article was originally posted on Lisa's Living a Disney Life Blog.
She can be found on Facebook at https://www.facebook.com/LivingaDisLife
and on
Twitter at
@life_of_green
Please be sure to check out Lisa along with me and David Hodges on The Disney Exchange Podcast!