By Lisa Green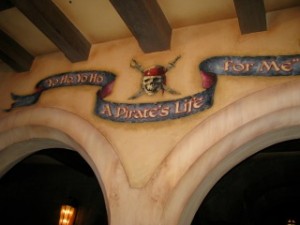 When family and friends ask about must-do rides and attractions at the Magic Kingdom
in Walt Disney World, I'm always tempted to direct them right to the mountains: Space, Splash, and Big Thunder. I think "thrills" first and foremost – everything else second. Wrong way to go. I should be steering newbies to the best, most quintessential, iconic attractions first. The most Disney-ish rides of all. While I have (surprise!) several favorites in that category, today I'm just going to focus on one…Pirates of the Caribbean. Why? Multi-generational appeal, superior theming, top-notch effects, and old school Disney style.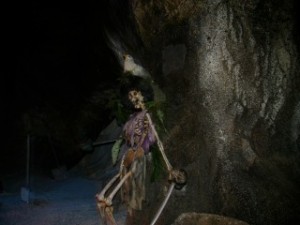 The queue for Pirates does a great job setting the mood
– you descend into underground caverns. Stone walls, arched doorways, cannons, cannonballs, barrels of gunpowder – all set just the right tone for what happens once you board your boat.
"Dead men tell no tales"
– the haunting voice repeats the words over and over as the ride begins. You set off on your journey by sailing through several scenes with a multitude of very spectacular effects to take in – if you get to ride twice, pick a different side of the boat each time – there's so much to see.
Purists may be bothered by the modernization of Pirates
, but the 2006 refurbishment kicked the ride up a notch with fantastic new things to see and hear! The addition of Captain Jack Sparrow and Captain Barbossa (and other
Pirates of the Caribbean
movie tie-ins) at several points during the ride added more excitement – especially for first-time visitors who have seen the movies. Those partial to the theme song from the movies will love that it's now in the ride. And, guests still get to visit Port Royale and see all of the original and beloved animatronics that make this ride a classic!
Pirates is cool and dark
– If you've been outside in Florida's scorching summer sun, this ride is a perfect way to cool off! There are no major twists and turns and only a little bit of up and down (one big-ish drop) as your boat sails leisurely through the pirate-infested waters. Before FastPass+, Pirates rarely had a long wait – it's my understanding that things may be different at this time. I would still recommend you spend your valuable FastPass+ choices on other rides, but it may be worth trying to fit Pirates in early – at the very least, keep an eye on the wait times via your
My Disney Experience
smartphone app and catch the ride when the lines are shorter – otherwise be prepared to wait 30 minutes or more.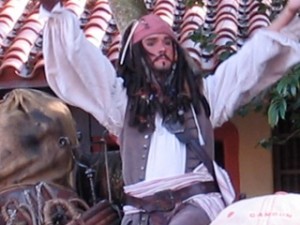 The gift shop at the ride's exit is one of the best in the parks
. The unique and plentiful merchandise is as fun as the ride! Even if we don't make a purchase, we love to take a few minutes to look at all the pirate gear. Parents of little boys may want to keep this particular shop in mind when planning souvenir shopping.
If you're really lucky, you may even run into the real live Jack Sparrow outside the ride entrance!
What's your favorite part of Pirates of the Caribbean? Is it a must-do ride for you?
This article was originally posted on Lisa's Living a Disney Life Blog
Editor's Note: Lisa can also be found co-hosting The Disney Exchange Podcast along with Dave Hodges and myself! - Nick