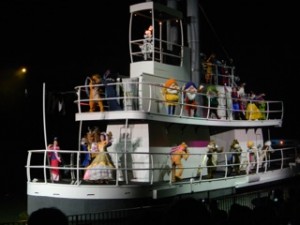 By Lisa Green
Fantasmic at Disney's Hollywood Studios is an incredible evening show.
We think it's a "must do" attraction and so do thousands of other people. This show is very popular. For good reason! Characters galore, very special effects – lights, water, music, villains – it's just super. Might be a tad scary for little ones, but it's unlike anything else at Walt Disney World and is worth the wait. And wait you will! The only real options now to avoid the 60 – 90 minutes usually required to arrive early enough to secure a seat are:
Book a Fantasmic Dinner Package – eat at select table service restaurant (Mama Melrose, Hollywood Brown Derby or the buffet at Hollywood and Vine) for lunch or dinner and receive a VIP pass for reserved seating at Fantasmic. We've done this at Mama Melrose and were offered food choices from a special (abbreviated) menu. You still need to arrive at least 30 minutes prior to show time.
Book a FastPass for Fantasmic. A FastPass will get you into reserved seating like the dinner package will, but you'll be using not just one of your three FastPasses of the day, but you'll be using one of the "Tier 1″ FastPasses. Disney's Hollywood Studios and Epcot have tiered FastPass systems which allow you to choose only ONE headline attraction with your FastPass choices at that park for the day. At the Studios, if you burn your Tier 1 FastPass on Fantasmic, you will be giving up a FastPass for one of these: Toy Story Midway Mania, Rock'n' Roller Coaster, or Beauty and the Beast – Live On Stage. No WAY would we forfeit either Toy Story or Rock'n' Roller Coaster for Fantasmic when we don't much mind waiting in the theater for the show to start.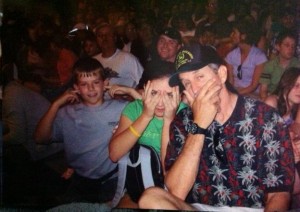 Can't decide what to do? Here are FIVE things to do while waiting for Fantasmic to start:
1.
Snack
– Pick up some treats on your way to the theater (best choice) or hit the concession stand near the back of the theater (long lines). I've read posts on message boards about people who make a festive picnic out of their wait-time in the Fantasmic Theater. Our favorite counter service places in the Studios are not far from the theater down Sunset Blvd.
2.
Play games, look at pictures
– Bring some small puzzle books or coloring books and a few crayons. Play some games on your smartphone. Review the pictures you took on your digital camera that day and share with the group.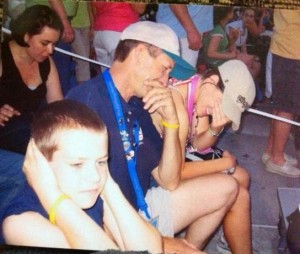 3.
Bring along some glow accessories to share.
You know, like those glow sticks, necklaces, and bracelets you can buy at the dollar store? Buy up a few packages specifically for this purpose. While waiting for the show to start, break those babies out, tell the people around you that you brought the glow-jewelry just for this purpose and start passing them out all around. Makes your little corner of the World a little brighter AND you're sharing and making new friends. What could possibly be a better use for some spare time than that? (We've also done this with bubbles on our Disney Cruises for the Sail Away party – small party bubbles are really easy to pack and SO much fun to share!). For $25 you can purchase a "
Glow With the Show
" earhat to wear, but that won't give you anything to share with your new friends.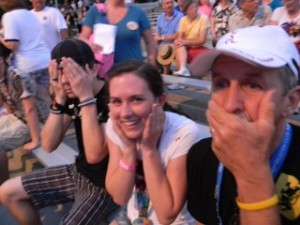 4.
People watch
– check out the cool Disney shirts and pin-filled lanyards on your fellow Fantasmic Theater-mates. You can also watch the people who DID spend $25 on a Glow With the Show earhat and see what all the hubbub's about.
5.
Our favorite…..Take the SAME picture of your family every time you're waiting for Fantasmic to start!
Yep – we are the weird family with the strange Disney traditions (like the
hat tradition in Epcot's Norway
Pavilion) and this one is just another in a long list. So, why not. You too can pick a pose and get busy with the photography – just repeat for every visit.
What's your favorite way to kill time waiting for Fantasmic to start?