By: Lisa Green
Call me crazy
(no, really -it's okay, lots of people do) but I think there are some really fun activities that everyone should do – as a group – while vacationing at Walt Disney World. I'm not talking about the usual stuff like ride this ride or eat in this restaurant – I'm talking about specific group events that, if you'll take my advice, are certain to enhance the enjoyment of your entire travel party! What's perfect is that these are suitable for all groups – children, adults, friends, family – everyone plays, everyone has fun.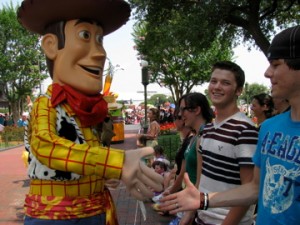 Ready?
My 5 Walt Disney World Group Activity Must-dos: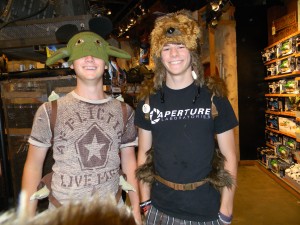 1. Try on Hats
– No, really – it's almost symbolic of embracing your ability to let go and enjoy being in the moment. Be silly! There are thousands of hats at Walt Disney World in nearly every shop, in every park and resort. Try on hats in each country in Epcot's World Showcase. Chapeau, lid, cap, sombrero…just have fun! And have your camera ready.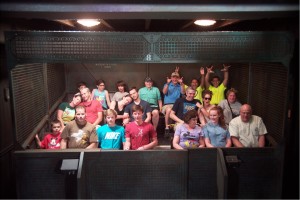 2. Stage a Ride Photo
– Nothing says "I had the best time EVER" like a ridiculous ride photo. Once you figure out where the cameras are, get busy! You will have to fork over a few bucks to buy the picture(s), but what could make a better souvenir than you and your – insert group description here – having the time of your life on iconic Disney attractions. Need suggestions? Check out
these hilarious pics
!
3. Meet a Character
– If you have a few extra bucks, especially if you're travelling with children, spring for a character meal. At the very least, make the time for at least one character meet-and-greet. Nothing brings out your group's collective inner-child like the chance to pose for a picture with a favorite Disney character.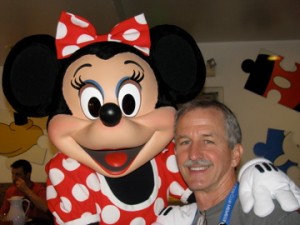 4. Hunt for Hidden Mickey's
– You can find the classic shape of Mickey Mouse's head hidden everywhere. Big, small, obvious, subtle – make it a group activity and throughout your entire visit to Walt Disney World you'll be amazed and astounded by the number of Hidden Mickey's there are and how much fun it is to look for them. Bring a little gift bag along and keep score – the person who spots the most Mickeys wins! Find everything you need to know
here
.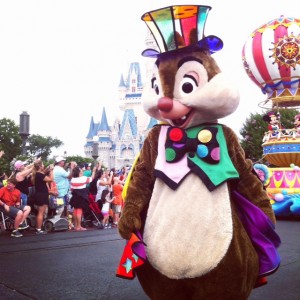 5. See a Parade or Nighttime Show
– I know a lot of people who don't take the time for this – I think they're missing out on some incredible Disney magic! The Festival of Fantasy Parade in Magic Kingdom (most days, 3:00 pm) is simply breathtaking! The Main Street Electrical Parade, also in Magic Kingdom (most evenings, sometimes twice) is completely different, but unique and super entertaining. See Fantasmic (Disney's Hollywood Studios) or Illuminations in Epcot – choose one or see them all! I cannot think of a better way for your entire travel party – be it friends, family, or both – to stop and relax for a few minutes and be amazed…together! Of all the shows, our family's favorite is Wishes (Magic Kingdom) which takes place most nights and involves audio, video (projected on Cinderella Castle), and fireworks – all combined in a way guaranteed to bring goose bumps at the very least. It usually makes me a little teary-eyed.
Have you and your friends or family done any of these? What are your favorite group activities?
This article was originally posted on Lisa's Living a Disney Life Blog.