By Lisa Green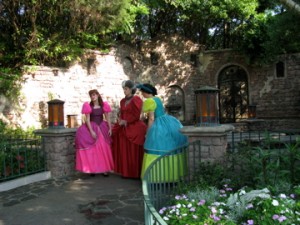 If you're taking little ones to Walt Disney World, you will, of course, want to take them to see their favorite characters.
The Fab Five, Princesses, Winnie the Pooh and Piglet too! Character autographs, character meals, character meet and greets –
opportunities abound
.
Again – I want to point out
(I'm not trying to make you sad, I promise) – your kiddos won't stay little forever. The importance of character interaction will wane a bit as you find yourself with tweens, teens and young adults. This may surprise you, but meeting characters becomes a whole lot more interesting when your children get a little older!
Enter the more "sophisticated" characters.
Characters that can be intimidating or downright terrifying to small children are absolutely wonderful for interacting with older kids and adults. Examples include the likes of Captain Hook, Jafar, and – to me, truly the very best characters for older children,
Lady Tremaine and the Step Sisters
.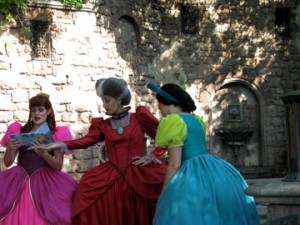 We first ran into Lady Tremaine and the Steps
unexpectedly near
Cinderella's Wishing Well
in the Magic Kingdom – we laughed hysterically at their antics. Lady Tremaine is dead serious in her unflappable adoration of her beloved offspring. Anastasia and Drizella are pretty amazing in the level of selfishness and conceit they display! At that time, Megan and Joseph could appreciate the humor, but weren't quite ready to be a part of the "show."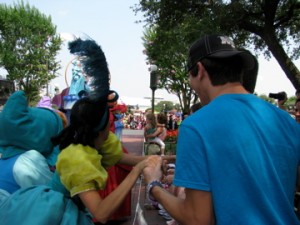 We next ran into Lady Tremaine, Anastasia, and Drizella during our magical VIP parade seating.
Joseph was old enough to really interact with the Steps and knew just what to do. He showed them some attention and, as expected, that was all it took before one of the girls, Drizella, screamed, "MOTHER! I want this ONE!"
Later that night during the Main Street Electrical Parade
, Joseph saw Drizella and Anastasia again on a parade float and blew a kiss – Drizella immediately focused all her attention on Joseph as the float went by. As it moved along the route, Joseph stood with one arm longingly (and dramatically!) outstretched towards his now favorite character as she reached towards him with equally passionate dismay. C'mon – that's hilarious! Priceless Disney magic….character interaction for big kids is every bit as fantastic as it was with little ones.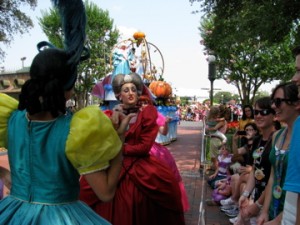 Need to tell them apart?
Drizella is the oldest and wears blue / green. Anastasia is the younger sister in Pink.
It's your turn:
Who do you think are the best characters for older children? Who are your favorite characters to interact with?
Portions of this article was originally posted on Lisa's Living a Disney Life Blog.