I think the Hall of Presidents in Walt Disney World's Magic Kingdom gets a bad rap. Sure, there's the fact that it's not a ride – there is in fact no spinning, twirling, climbing, or thrilling drops. It might even smell a little bit educational and you know what? When most folks go on vacation, the last thing they want to do is be educated. History is boring, right? Patriotism is for old people maybe. Politics is a bad word. Whatever the reason, the Hall of Presidents isn't all that popular unless it's an extremely warm day and you're looking for a quiet place to nap. Not me, though. I actually like the Hall of Presidents – I love history, I love the animatronics, and I love knowing that Walt Disney would have loved it too.
Located in Liberty Square, the Hall of Presidents (modeled after Independence Hall) is an original Magic Kingdom attraction and opened on October 1, 1971. Obviously, since there have been seven additional presidents since Richard Nixon was in office, the attraction has changed quite a bit over the years. My fascination with the experience starts right when I walk through the door into the theater's lobby.
The Great Seal of the United States is front and center. That's pretty awesome, but the perimeter of the room is what interests me the most. The paintings are cool, the artifacts are interesting, but I love the first ladies' dress displays.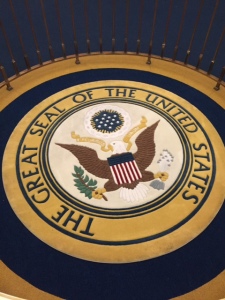 I can't help it – I love fashion and I think seeing different styles worn by first ladies like Laura Bush makes the imagined historical figures seem more real. If I arrive early enough, I take a long, slow stroll around the lobby to take it all in before entering the theater.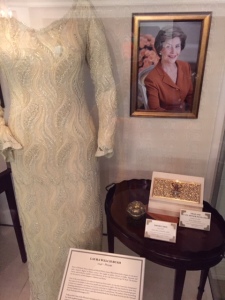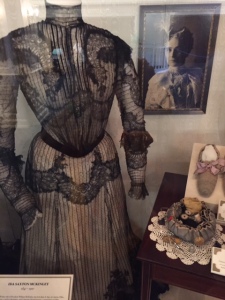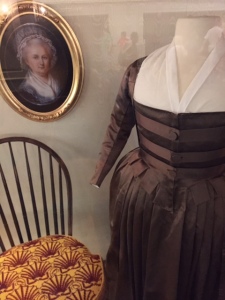 Morgan Freeman could read the phone book to me and I'd gladly listen to every name and number. The fact that Mr. Freeman is the narrator of the show in the Hall of Presidents makes it perfect. The show's use of multimedia effects holds my interest. I really enjoy sitting close enough to study the details on each presidential figure.Honest Abe just floors me! And gives me goose bumps. I'm sappy, sentimental, and get all puffed up with patriotism during that show!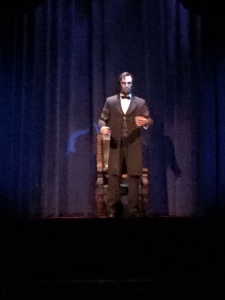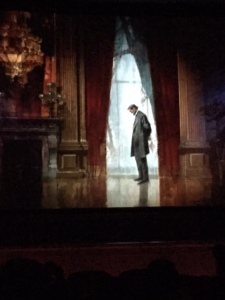 I don't have to visit the Hall of Presidents on every vacation at Walt Disney World, but I'd be devastated if it ever closed. Many people feel the American Adventure in Epcot is the better "American" attraction – and I'll agree that Epcot's show is also excellent, just not exactly the same.
Walt Disney had the idea for bringing American Presidents to life in animatronic form – he knew the impact that could have! Seeing our founding fathers and those that followed all together in one place makes quite an impression. At least to me.
What about you? Are you a fan of the Hall of Presidents or not so much. If you've never seen it or it's been a long time since you've experienced it – are you willing to give it a chance?