By Lisa Green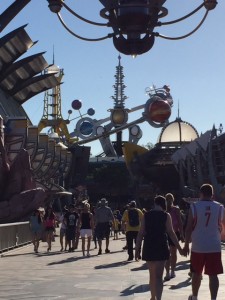 In all the visits I've made to the four parks at Walt Disney World,
there are a few attractions (rides and shows) that stand out to me as holding a special sort of power – the power to make kids cry! Sure – we know that meeting characters can cause a fright, but I'm talking about seemingly kid-friendly stuff. Check out my list and then comment with your own experiences and observations – this topic will certainly need to be revisited from time to time. Especially since we've got a bunch of new attractions to look forward to with Pandora coming to Animal Kingdom and Start Wars Land in the future for Disney's Hollywood Studios.
Disney World Things That Make Kids Cry
Fantasmic
– If the wait alone doesn't do it, some of the elements of the show have a considerable fear factor. Any time there are villains involved, there's the potential for unhappiness. In the case of Fantasmic, I think it's the mixture of big images projected on water, pyrotechnics, and live characters – lights, sound, and a lot of action! After waiting for the show to start, I imagine some little ones are terribly disappointed – doesn't help that it's also probably past their bedtime.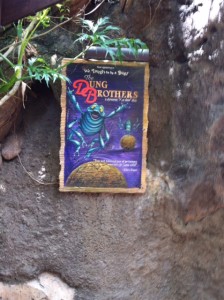 It's Tough to be a Bug
– This one seems like it will be so much fun! Beneath Animal Kingdom's Tree of Life where it's cool and dark and the walls are plastered with fun insect movie posters, the wait for the show is deceiving. This 3D experience is no Mickey's PhilharMagic! Even little ones who are not usually afraid of bugs find this show horrifying. I've seen it enough time that when certain parts are about to happen, I think, "cue the crying!" and sure enough, parents are bee-lining for the door (see what I did there?). Seriously, if you're considering this attraction for children under the age of seven, consider letting them sit on your lap. Trust me.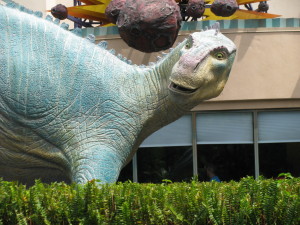 Dinosaur
– Our daughter is 24 and still plugs her hears during this ride's trip back in time in Animal Kingdom. The idea that dinosaurs are all around you is scary enough – add jerky, unpredictable motion and loud noises and you've got the perfect combination for a major cry-fest. This is one of those just-because-they're-tall-enough-doesn't-mean-they're-ready attractions.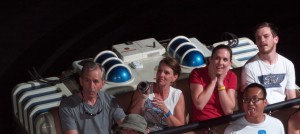 Stitch's Great Escape
– This one made
me
cry. Horrible doesn't begin to describe what I thought of this Tomorrowland attraction in Magic Kingdom. To say I hated it would be an understatement. I'm a big fan of Lilo and Stitch, but this ride, formerly the ExtraTERRORestrial Alien Encounter (1995-2003), uses major seat restraints to keep hapless guests in place while they're tortured by Stitch's antics. This includes some periods of complete and total darkness. I don't know if Stitch still burps chili-dog breath in your face (I've heard that was gone), but I wanted out of that place so bad – I can only imagine what a 40″ tall (the minimum height requirement) child would go through in there! This one may look fun, but I say keep walking!
What about YOU?
What attractions do you think should be added to the list?