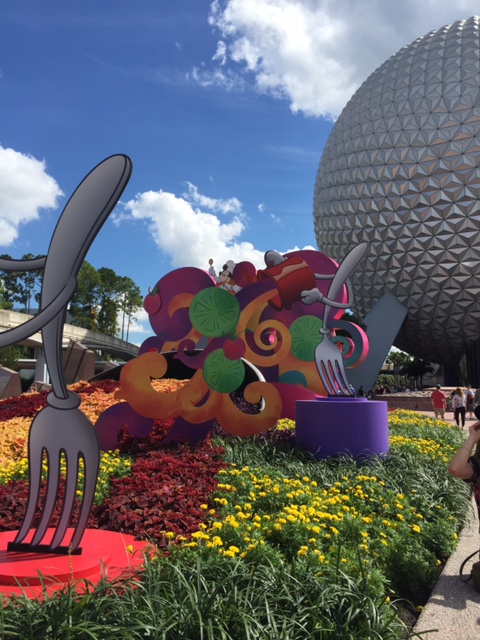 When I choose articles for Saturdays with Lisa, I usually go back into her archives, but this post from her Living a Disney Life Blog from just a couple of weeks ago is too perfect, as we have been planning our trip to Walt Disney World which overlaps with Lisa's for a couple of days, and the last episode, of The Disney Exchange Podcast , which Lisa co-hosts with our friend Dave and me, have dealt with Food and Wine planning. - Nick
By Lisa Green
My countdown calendar finally feels like it's moving.
The days are ticking by ahead of our long-awaited return to the Epcot International Food & Wine Festival. I couldn't be more excited! This may only be my second visit during Food & Wine, but I feel like a seasoned veteran after our weeklong 25th Anniversary celebration at F&W in 2014. This year we'll be a party of seven and our plans are really shaping up. With only two-and-a-half months to go, it feels right around the corner. It's Friday today and that means a Friday Five is in order. Dear Readers, I give to you…
WDW Vacation – Getting Psyched for Food & Wine
Pick a week and book it! – This is the first phase of excitement. Thinking about going changes after you know exactly when you'll be there and where you'll be staying – makes it real and you can set your countdown calendar! Because I'm a planner I'm also, in this very early stage of vacation prep, starting to think about where we'd like to eat when we're not enjoying the Food & Wine offerings. Which brings us to…
Make some ADRs (Advance Dining Reservations) 180 days out – "Some" being the important key here. I think you can over-book dining reservations which may detract from the joy of strolling around World Showcase sampling all the excellent flavors that Food & Wine has to offer. I like to ensure plenty of festival time, so I book just few carefully chosen reservations that will leave us a plenty of free afternoons and evenings for hopping from country to country on an international culinary tour. Once those ADRs are booked, I feel more like I know what our touring plans will be each day and that makes me even more exited!
Wait impatiently for the booths and menus to be announced – I've searched everyday for weeks and finally the kiosk and menu info is available – This is a major factor in getting psyched for the trip! Sure, it's fun to see what musical groups will be playing during our visit, but that's not (for us) the primary draw. You can print out those menus and narrow down all the food and beverage choices to the all important Top-Ten-Must-Try list (yours could be whatever number you like). I'm not too picky, so I'm leaving room to be flexible and spontaneous in food selection. It's not imperative to have a list, but it sure is fun to strategize a festival food plan. Yes, more excitement! Check out this year's lineup here.
Book those FastPasses ASAP – If you're staying on property, this means there are only 60 days left before your vacation! My strategy for Epcot is all about making sure we don't have to come and go repeatedly from World Showcase once we start our feasting. On this trip, we've got one whole day reserved for Animal Kingdom and I'm excited about having breakfast at Tusker House and dinner at Tiffins…while maximizing attraction enjoyment in between. On most of the other days, we'll be park-hopping to keep Epcot part of the action as often as possible.
Reminisce or surf the web (or both) – I like looking back at pictures and blog posts from our last trip to Food & Wine. I also like reading about other people's trips as well as food reviews, booth rankings, and touring tips. This will keep me entertained and build excitement right up until the day we leave for vacation. Are you headed to Epcot's Food & Wine Festival this year? What are you doing to get psyched for the trip?