By Lisa Green
Some of the best magic at Walt Disney World is achieved with the careful cultivation and placement of thousands (and thousands!) of trees, shrubs, bushes, flowers, and topiaries. I've heard staggering statistics on the army of gardeners and horticulturalists it takes to keep the World looking so beautiful. Sometimes, Disney park designers and Imagineers come up with incredibly imaginative uses for trees and, out of necessity, those trees must be fake! That's what I want to talk about today. Fake Trees – aka Faux Flora! There are bunches of fake animals at Disney World, too, but I'll save the faux fauna discussion for another day.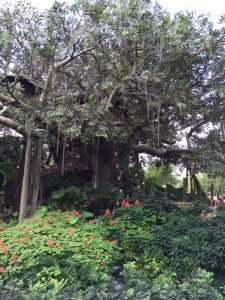 This is not an all-inclusive list of every artificial plant in every Disney park – I just want to talk about a few of my favorites ones. Ready?
Swiss Family Robinson Tree – This Adventureland marvel in Magic Kingdom gets overlooked a lot. Probably because it is low-tech and, well, a bit boring. The TREE though has been standing there since the park opened in 1971 looking pretty awesome! Next time you pass by, at least check out the details of the artificial tree, even if you don't want to climb the 116 steps to see how the Family Robinson lived.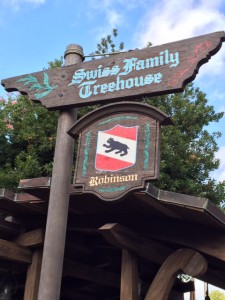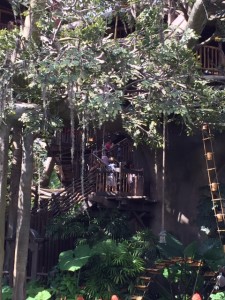 Tomorrowland Palm Trees – They're sharp-looking and don't try to be something they're not. Perfect for Tomorrowland's futuristic feel, these were steampunk before that was even a thing.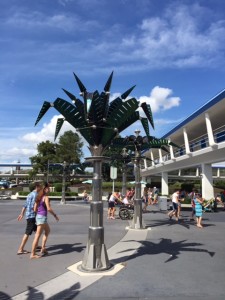 The Tree of Life – 50 feet wide and 145 feet tall, it's more a work of art than just a fake tree. This completely artificial plant plays an important role as the icon for Animal Kingdom. Built using an oil rig for stable frame, this Animal Kingdom icon boasts over 300 animal carvings, 7891 end branches and more than 102,000 artificial leaves in 5 shades of green. The tree's roots shelter the theater for It's Tough to be a Bug. If I'm on vacation, I can often be found studying the minute details of the different animal carvings.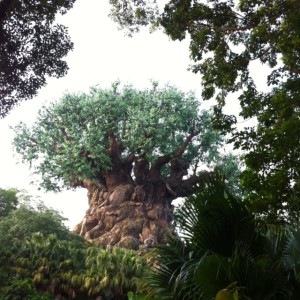 Boabab Trees – You know these trees – they're the upside-down-looking ones on Kilimanjaro Safari. Admit it – the safari just wouldn't be the same without them!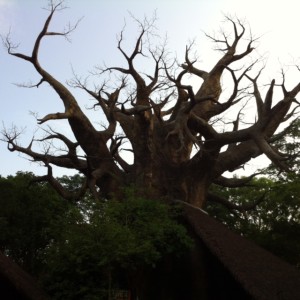 DiVine
– She gets a lot of flack. I hear people dis this living but artificial figure in Animal Kingdom all the time. I think she's cool! If you don't know what I'm talking about – check out my DiVine-specific article
here
. I haven't seen her in a while, but make a point to look for her on every visit along the path between Asia and Africa.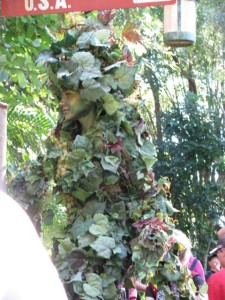 Know about any faux flora I've left off my list? What fake trees are your favorite at Disney World?