By Lisa Green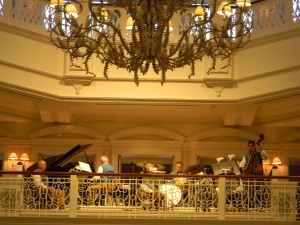 When we find ourselves with a few minutes to spare before a dinner reservation in the Magic Kingdom resort area, we like to choose a spot along the monorail route to enjoy an adult beverage and relax for a while. Once in a while we hit more than one lounge in a single day, so we call this habit the Resort Loop Pub Crawl (others call it the Monorail Bar Crawl). Recently we found ourselves with a good 30 minutes we could use for just such an endeavor and chose Mizner's Lounge at the Grand Floridian Resort and Spa.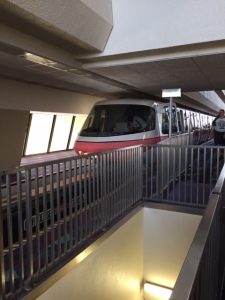 We decided on Mizner's for three reasons: Our dinner reservation was at Citricos (also at the Grand Floridian), we'd never been to Mizner's before, and the awesome Grand Floridian Lobby Society Orchestra (long name, amazing sound) plays literally just outside of Mizner's doorway. We'd gone back to our room at Bay Lake Tower to clean up after a busy day that started with rope-drop at the Studios and ended with an afternoon in the Magic Kingdom. By the time we boarded the monorail in the Contemporary, we were more than ready to sit down and be still for a few minutes. We arrived to find Mizner's only about half-full and were able to find a table for two by a window.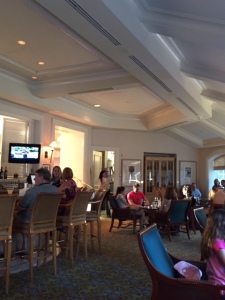 Like everything in the Grand Floridian, Mizner's is open, airy and bright
with an upscale, fancy-feeling atmosphere. Seats are available in well-cushioned chairs at the bar and in big, comfortable club chairs at tables situated throughout the lounge's interior. We were starving, but resisted ordering a snack from
Mizner's very tempting menu
to save our empty stomachs for the delights at Citricos (review
here
). We chose a Cabernet from the impressive (and expensive) beverage menu and settled back to enjoy our glasses of wine and listen to the Orchestra play some of our favorite Disney tunes.
As far as Disney lounges go, Mizner's was more family friendly than most and had a hushed, subdued crowd. Like us, the other guests appeared to be there for relaxation and quiet conversation. Maybe Mizner's is livelier later in the evening, but for a place to enjoy a pre-dinner cocktail, it was perfect.
What's your favorite lounge on the resort loop?