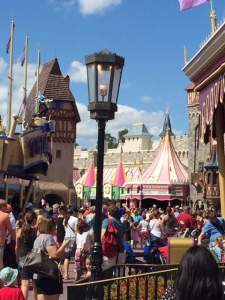 You know I love a good list. Most of the time I'm preaching to the choir when I make lists like this. You're probably here because you love a Disney vacation as much as I do. Many of you could teach me a thing or two about Disney travel. Just in case you've stumbled upon this post today and you've not yet enjoyed that first trip to Walt Disney World or if your friends and family accuse you of being a grumpy jerk, this post may be for you.
Five Ways You Must Not Be at Disney World
1. Don't Be In a Hurry – This one's my biggest downfall. I was born in a hurry. I want to get from points A to B in as little time as possible. Always. Allowing yourself to be rushed is a big problem at Walt Disney World. Crowds will not part for you, lines will not shorten, and running after rope-drop has been banned. There are actually Cast Members in Magic Kingdom who escort the first park guests to rides and attractions after park opening. There is no walking quickly as these Cast Members, by their own admission, specialize in "mosey". If you're using Disney transportation, busses seemingly go slower if you're trying to get somewhere quickly. Over-planning is the biggest cause of this first item on today's list. Underestimating how long it takes to get somewhere is also common. Attempting to squeeze just one more ride into the plan often results in being tardy for an important event – I'm guilty!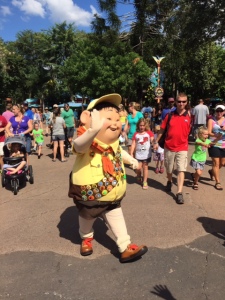 2. Don't Be Unprepared – We all need to make like a good Boy Scout and be prepared for the Florida sun and heat, sudden rain showers, hunger and thirst, and coping with allergies. But we also need to be prepared for unanticipated vacation-happiness-killers like high prices, long waits, major crowds, closed or broken rides, and changes in plans. Flexibility is a virtue anytime, but on a Disney vacation, it's an invaluable skill! One last thought before I move on – ALL kinds of people vacation at Walt Disney World, including not-so-nice and dishonest ones. There's no magic bubble of protectiveness around your stuff. Do not leave valuables unattended in a stroller and watch your bags, backpacks, and purses. Being the victim of a crime will never be a fun or happy vacation memory. Oh, and use that in-room safe at your resort when leaving anything important behind in your room.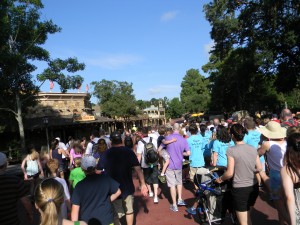 3. Don't Be Uncomfortable – There might not be a way to avoid being at least a little uncomfortable some of the time, but there are things you can do before and during your trip that will make a huge difference! Low hanging fruit here: Wear sunscreen, comfortable clothing and shoes, bring pain-relievers and snacks, and drink plenty of water. Food for thought – if you are not used to walking long distances, you might consider using the weeks/months leading up to your vacation to get ready for the major amount of walking required to see and do all the great activities Walt Disney World has to offer. In October, we took it easy during our Disney vacation and still averaged over 8 miles of walking each day. I'll confess I wore really cute sandals on our first day there. I've always subscribed to the old adage "it's far better to look good than feel good". Well, I'm an idiot. Don't do as I do, do as I say. Please – protect your feet with sensible and comfortable shoes!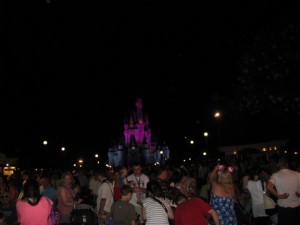 4. Don't Be Distracted – Sounds silly to mention this one, doesn't it? There are a million awesome sights and sounds in the World! Distractions are part of the fun, right? I'm actually talking about being so distracted by your cell phone that you miss the amazing Disney details. So distracted working out the logistics of making that next FastPass on time that you don't realize your child has wandered off (or is touching the bottom of the person in front of them in line. Repeatedly). The kind of distracted that allows you ram people in the backs of their legs with your stroller. For best Disney vacation results – pay attention to your travel party as well as what's going on around you.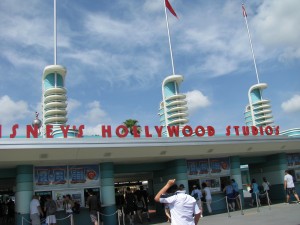 5. Don't Be THAT Guy (or THOSE people) – If you insist on doing any of the following, expect to be reviled by your fellow Disney guests:
Hold your iPad up over your head to film parades and shows so the people behind you cannot see.
Use flash photography in dark rides like Pirates of the Caribbean or Spaceship Earth.
Walk three or four side-by-side and block anyone who may need to pass you.
Leave your trash behind on tables at counter service restaurants.
Stop or hang out in the middle of busy, crowded walkways.
Cut in line.
Stand by and pretend not to notice while your children misbehave.
Yell, scream, chant, cheer, or act in any other unnecessarily loud and disruptive manner.
Change your baby's diaper in any dining area – especially on the table.
If there's a time to be a friendly, patient, polite, prepared, glass-half-full kind of person, it's at Walt Disney World. The point of going, after all, is to soak up that Disney magic and have some pure, old-fashioned fun.