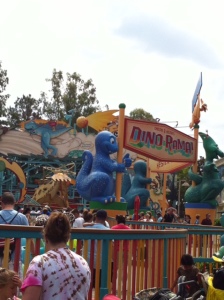 Here's what happens – you arrive for the first time at Disney's Animal Kingdom, you pass through the entrance and immediately become drawn in by the amazing details. You see the incredible Tree of Life, you step into Africa and explore the savannah on safari. You meander over to Asia and are completely swept away by the Forbidden Mountain's breathtaking mystery. Then you make your way to Dinoland U.S.A. and, after you recover from the shock, you do one of two things – you love it or you hate it.
Dishing on Disney's Dinoland U.S.A.
It's garish, tacky, cheap, and ridiculous, but completely in-your-face honest about its identity! Dinoland U.S.A. is surprisingly different from anyplace else in the World and you may find yourself thinking, "What the heck just happened?", but there is an undeniable draw. Who doesn't love dinosaurs? The improbable blend of carnival and science, realistic and make-believe, scary and comical – it's all there! Like an off-key yet surprisingly catchy tune. Do not resist its pull – there are many things to love about this particularly quirky side of Animal Kingdom.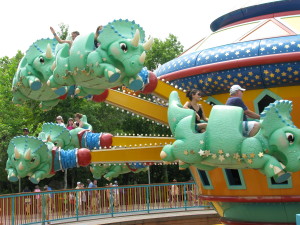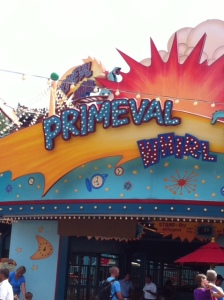 There's Chester and Hester's Dino-Rama!
Cheap carnival rides, midway games, silly snacks – all with a pretty weird and wonderful
backstory
! Personally, I've never played any of the midway games (they cost extra) but I absolutely LOVE Primeval Whirl. Once I decided to give the ride a chance (thought it might make me sick with too much spinning, but I was wrong), I fell in love with it. Mostly, I just want to hear Megan scream during every single spin – which she does in the most hilarious way! Yes, the rides are very ordinary, basic, pre-fab-county-fair stuff, but still, there's something lovable and familiar about them. Step right up, folks!!!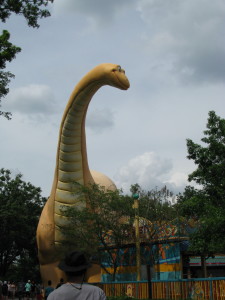 While I've never been there, I hear the Boneyard is a great place for kids to burn off some pent up energy. Never underestimate the importance of allowing the little ones to run free and let off some steam! The Boneyard is a pretend dig-site with plenty of things to explore! Interactive displays, bones to dig, rope ladders to climb, tunnels to explore.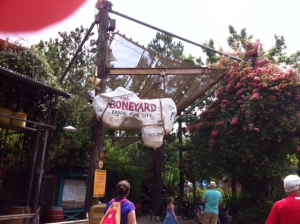 Dinosaur is an interesting attraction (must be 40″ to ride) – even if you don't love the ride itself, the Dino Institute is packed with fantastic displays – including a replica of Sue, the famous Tyrannosaurus Rex fossil discovered in 1990. Dinosaur may be a tad intense for smaller children, but the story – the queue, the pre-ride show, the ride itself – is very creative and immersive.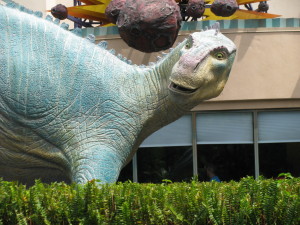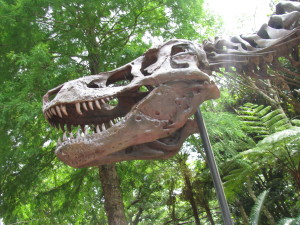 Oddly enough, Finding Nemo – The Musical (which has absolutely nothing to do with dinosaurs) is located in this area of the park. Nemo fans (and guests who need a break from the Florida heat in a comfortable air-conditioned theater) will love this 40-minute show (or at least get in a great nap!).
For years I avoided this area of Animal Kingdom except for the occasional visit to ride Dinosaur. I wasn't willing to embrace the complete departure from the charmingly detailed Africa and Asia sections of the park. In the past few visits, though, I've come to appreciate all that Dinoland U.S.A. is and isn't and am finding my own ways to love this odd little corner of the World.
So, what about you? What do you love about Dinoland?