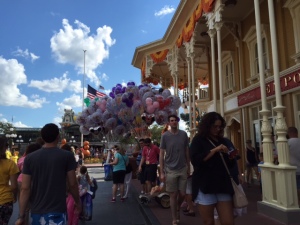 Everyone has a style. I'd be willing to be that in this particular category of Walt Disney World guest, you have a style from which you rarely deviate! I'm talking movement – how you travel within a Disney park on foot. I've had the opportunity to observe Disney park visitors over the past couple of dozen years and I've identified what I like to refer to as….
The 7 Styles of Disney Park Walking
1. Walk OR Talk – If this is you, a multi-tasker you are not. This type of traveler cannot walk and talk (or eat) and must stop and start repeatedly. Walk….stop and turn to a particular traveling companion, speak…..resume walking. No brake lights makes this type of fellow park guest one we shouldn't follow too closely or a collision will most definitely occur!
2. Diagonal Walker – At first these cross-movement specialists seem as if they might be trying to traverse the crowd to reach a specific destination, but no…the diagonal path leads to the very edge of the walkway and then, like a pinball, this vacationer bounces back into the crowd in a new direction back across the path of every other visitor. This is one of Disney vacationing's greatest mysteries to me – If you're a diagonal traveler, please enlighten me – Why must you walk that way?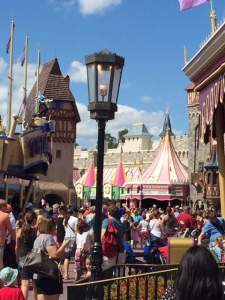 3. Weavers – These fans of the random zig-zag seem virtually incapable of walking in a straight line from points A to B. Not to be confused with the Diagonal Walkers, the zig-zag pattern is very narrow and repeats often – most commonly in the very center of paths and sidewalks. It seems to me that Weavers are more likely to be pushing a stroller which makes me wonder if a faulty stroller wheel may contribute to this phenomenon.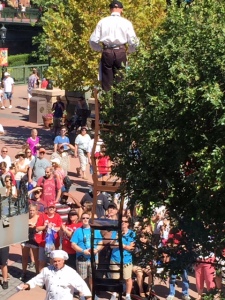 4. Red Rovers – Remember the semi-violent playground game "Red Rover"? The premise was to physically band together in an impenetrable straight line – the goal being to remain attached firmly enough to repel attempts by opposing team members to break the line. The Red Rover style of park crossing involves the same principle: Walk side by side with friends or family across as much of the walkway as possible, allowing no one to pass between you from either direction. Oncoming or overtaking foot traffic must not be allowed to pass! Personally, I find this to be the #1 most annoying type of group walking behavior in Disney parks. Please don't tell me if you are a member of this category.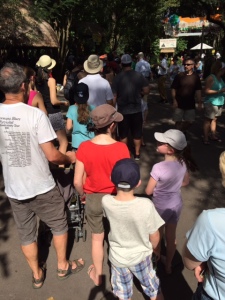 5. The Classic Mosey-ers – I admire them as much as I dislike this type of Disney guest. They care not one whit about getting anywhere in a hurry. The masters of the mosey walk in a straight line while their heads slowly swivel from side to side, soaking up the atmosphere, taking in all the sights and sounds, living the dream, baby! My problem is that I always seem to be stuck behind them with a FastPass that's about to expire.
6. Rear Viewers – This style is so difficult to execute successfully, it may be impossible – but that doesn't keep plenty of brave souls from trying. This method of reaching a final destination involves walking backwards to converse with other travel party members, check on offspring, or gesture in the direction from which they are moving away. Rear viewers have absolutely no idea what they may be walking into! Probably the most entertaining walkers to watch, these Disney tourists are missing some pretty awesome stuff in front of them – mainly the comical flight of the folks they're about to run down!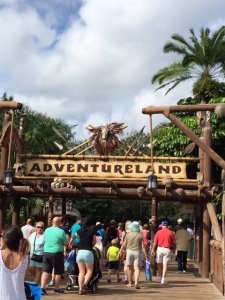 7. Roundabouts (a.k.a. Dodgers or Gappers) – This is the category I call home! We are the fast paced travelers who swiftly negotiate the other 6 types of walkers by taking advantage of gaps and openings wherever we find them. Our ninja-like stealth allows us to flow through all the other park guests unnoticed with barely a ripple. We are always moving forward briskly and with purpose. Oh, okay, I'll admit it – I just want all the non-like-minded people to get out of the way so I can be in front! Since that rarely happens, I've developed what I like to believe are some well-honed skills that make me and my family members amazing crowd negotiators.
Yes, I really want to know! Which type of Disney park walker are YOU?