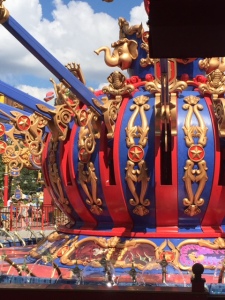 On our last visit to Walt Disney World, we were in the Magic Kingdom and on a roll! We'd started the day on Splash Mountain, dried off by cruising around Tomorrowland on the PeopleMover, we'd seen the Country Bears, Haunted Mansion, Hall of Presidents – We were unstoppable! Then, I thought, HEY! We could try out the updated Dumbo over in Fantasyland. Raymond was okay with that and we jumped in the standby line which had a posted wait of 30 minutes. I'm having a great day, getting so much accomplished, living the dream, baby – what's one 30 minute wait going to hurt, right?
We were outside, enjoying the beautiful fall weather, taking in the sights and sounds of the Storybook Circus area. The first part of the standby line is covered and moved right along. Next, we went inside to wait. At this point I noticed the family behind me (Mom & Dad, little boy and girl) because the little boy, who was probably 8 or so, kept getting really close to the back of me and occasionally bumped into me. Into my posterior specifically. I'd move to the other side of the aisle, but he kept ending up directly behind me, continuing to bump into me. It's no secret that I don't think all children are precious and adorable; I'm also somewhat of a germaphobe and kind of weird about being touched by strangers. Raymond, once aware of my situation, put himself between the personal-space-invader and me, so I could go back to taking in my surroundings.
This was the point where we reached a sort of check-in desk for the Dumbo waiting play area. The fact that not a single Cast Member looked happy or even pleasant should have been a clue to what we were about to experience, but it was my first visit there and I'd read practically nothing but the most general information about the new Dumbo. The dad behind me exclaimed that Disney Imagineers are pure genius to have thought of something so wonderful! We were handed an electronic "ticket" that would vibrate/flash or something when it was time to get on the ride. We stepped through the opening to that waiting area…and into hell.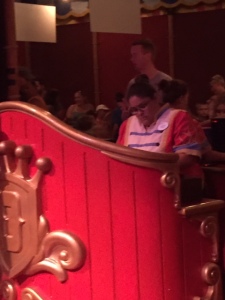 Children were running, screaming, jumping, chasing, climbing, and creating serious mayhem. I was still okay, though, because I notice to the far left in a dark corner of the room was a bench where a handful of other grownups had gathered to wait. I grabbed Raymond's hand and bee-lined for the relative peace of the seating area. We sat. I looked around at all those kids. There was a pretend barrel of rockets in front of us and a couple of girls found that they could push some buttons to make lights flash and pretend fireworks sounds happen. I casually mentioned to Raymond (I did have to talk pretty loud so he could hear me) that maybe if you had children burning off steam in the play area, it was much more tolerable and less hell-like. The instant the words left my mouth, the lady sitting next to me, with all seriousness said, "No! No, it's not."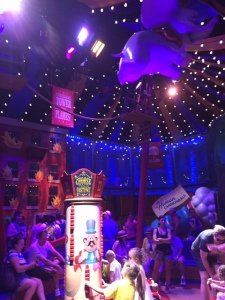 We sat for what seemed like an hour, but was in reality probably 2 more minutes during which those two little girls at the rocket-barrel pushed the same buttons to make lights and sounds about 5,627 times. I turned to Raymond and said, "I'm really sorry about this." – He's sweet, so he told me not to worry about it. He knew what I was going to say next…."I'm pretty sure I can't make it and I have to leave now." Of course, he said, "Let's go."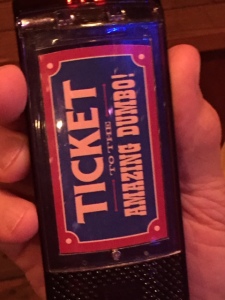 I took my ticket back to the Cast Member at the check in counter and held it out as I told her, "I tried, I really tried, but I can't take it. How can I get out of here?" She, with just the slightest, barely discernable look of sympathy, silently pointed to an exit back through the play area on the far wall and, again, grabbing Raymond's hand we walked as quickly as we could, pushed through the door, and found ourselves in an amazingly empty, and blessedly quiet alleyway. I apologized all the way to the Little Mermaid ride where the line was short and I could recover my composure in the relative isolation of a clam-mobile.
Have you made it onto the new Dumbo ride? If so, I admire your fortitude!!!