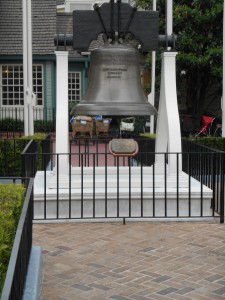 So much goodness can be found in a very special little corner of Magic Kingdom – Liberty Square! I like to approach this section of the park through Fantasyland to fully enjoy this carefully crafted walk through time. Don't know what I mean? Liberty Square is the symbolic beginning of these United States of America! As you walk towards and through Frontierland, you move through history!
Let's go back in time to Colonial America. Check the buildings' architecture, style, and colors and you'll be transported back to a time when there were, in this country, just 13 colonies struggling for liberty – thus the name of today's focus! Don't miss the Liberty Bell (reproduction) and the stockade for some great photo ops! A humble little area with only a very few attractions and eateries, the Magic Kingdom and Walt Disney World would certainly not be the same without it.
Lots of Love for Liberty Square
The Liberty Belle is a beauty! This paddlewheel boat is graceful and majestic and offers guests a relaxing way to enjoy the Rivers of America. While I prefer to enjoy her beauty from the shore rather than aboard her decks – there's no denying how impressive this riverboat is in all her whitewashed glory.
The Hall of Presidents – Don't be ashamed if you're a fan! Go ahead, hold your head up with pride. You're not a stuffy, geeky brainiac – you've got a great appreciation for a unique and very "Disney" experience. In New York at the 1964 World's Fair, Walt Disney's Great Moments with Mr. Lincoln first appeared in the Illinois Pavilion. Once Disney had Honest Abe – the very first animatronic human – the rest of the presidents were not far behind. A virtual haul of presidents! (Don't hurt yourself)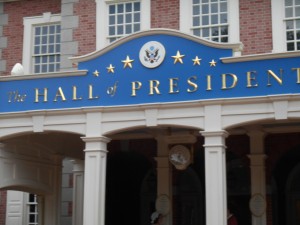 Haunted Mansion – Don't tell me this doesn't rank in your top 10 favorite Disney attractions. Either I won't believe you or I'll have to stop being your friend. This ride's got it ALL! Great sound and special effects, perfect balance of fun and creepy/scary-ness, awesome ride vehicles, great music – what more could a Disney fan ask for?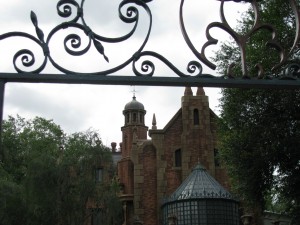 What's YOUR favorite thing about Liberty Square?